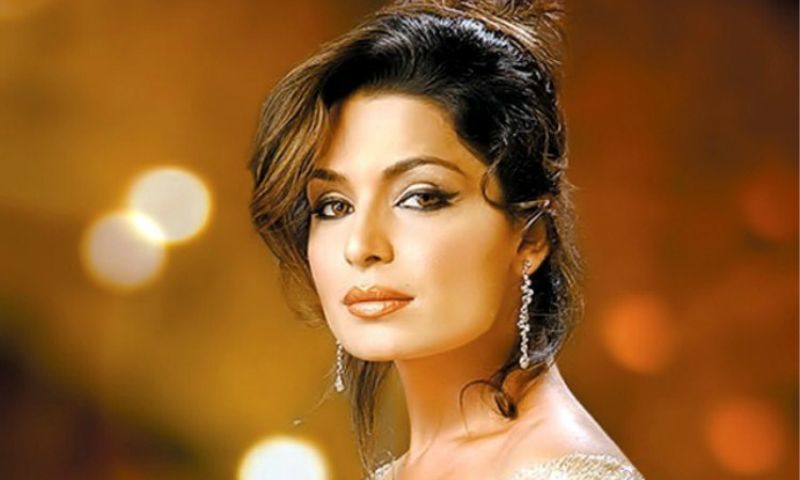 Besides winning the 'best Actress Award' Meera Ji's film 'Hotal' won 'Best Film of the Year' award

Meera jee gets Indian visa and awards on 'face value'.
"I am the celebrity and I can get visa but poor people of Pakistan and poor people of India [pay attention now] have no face value…"
Pakistani film star Meera droned on as I and I'm sure many other 'poor people' fell of their chairs.
To put things in perspective, Meera Jee was making this announcement at the Delhi International Film festival where her film Hotal was screened and awarded. She reached the venue after getting a visa on a very short notice probably because of her 'face value'.
Meera also received the Best actress across the border and Best film of the year award at the festival.
"India has beautiful people and industry. I am over whelmed by all the appreciation they've showered on me tonight. I would like to thank the embassies who gave me visa on a very short notice."
She also thanked Khalid Hassan – the writer, director and producer of Hotal – who trusted her with the film and encouraged her to dub the film in her own voice. She was over the moon for successfully delivering Hindi dialogues. The Pakistani actress is now in full swing according to reports and has planned meeting with various Bollywood directors including her favourite Mahesh Bhatt.
She continued that these poor people should be provided with Visas asap because according to her Indian people want to visit Pakistan (probably to visit various bombing sites). This is not it. The actress actually feels for the 'poor women of India' and insists they be given free education.
'I appeal to the prime minister….[while she tried to recall his name we waited with abated breath]…Narendra Modi saab to give free education to women in India. Hindustaan mein aurton ko bohaaat zyada help ki zarorrat hai. Hindustani aurat bohat pyari hai. Hindustaan mein."
For the record, she also spoke for the Pakistani woman but latter part of her speech was focused on the poor, uneducated and jobless Indian woman. With a literacy rate of 75% (according to TOI), India does need to focus more on education as compared to Pakistan which is merely 20-30% behind India with 57% literacy rate (as of 2013).
She has previously worked in three Bollywood movies – Nazar, Kasak and Paanch Ghantey mein Paanch Crore – and none of them have worked at the box office. Her last film Paanch Ghantay mein Paanch Crore came in 2012.
Meanwhile, Meera continued to make occasional dodgy special appearances with a certain Mr Navaid (Naveed) on social media. A celebrity has got to do what she's got to do to keep her 'face value' alive. Her schedule was quite busy this year despite being on a sabbatical from movies as she made a short trip to LA earlier this year to part take in the LA Fashion week, made headlines when she claimed she was Shaoib Akhtar's first love and when she kicked her mum out because she dared to disagree with her. And of course her philanthropic activities keep her busy all year round.
I'm sure Meera Jee you have some sympathy left for us 'poor people with no face value' as well and that is why you come up with these stimulating monologues to spice our lives. We're not complaining because her shenanigans do add a different flavor to a routine work day.