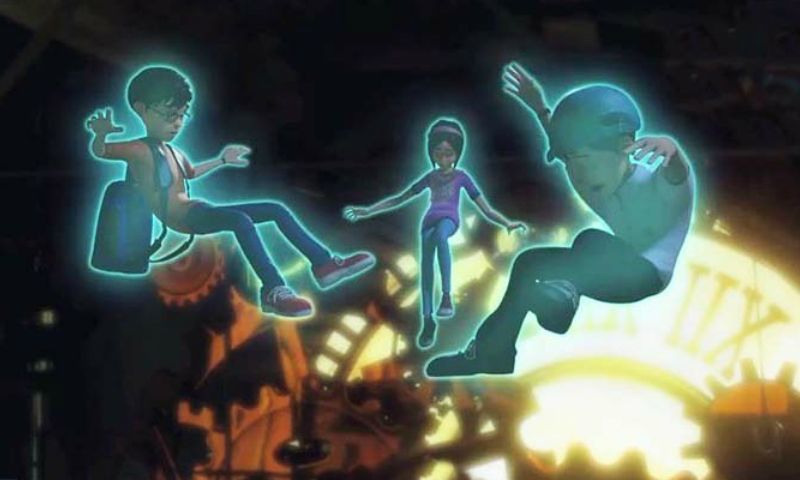 Sharmeen Obaid Chinoy's kiddie adventure is set to release in summer 2015.

Produced by the Academy Award Winning Film Director Sharmeen Obaid Chinoy and made entirely in Pakistan, '3 Bahadur', summers 2015 on precisely on May 22nd.
The joint venture of SOC (Sharmeen Obaid Chinoy) Films and ARY Films includes the voices of stars like Khalid Ahmed and Bahroz Sabzwari and Aly Ahmed.
Chinoy made sure to highlight her talented team of animators and the first few seconds of the first look were dedicated to her incredible team only showing their creative side to the audiences.
---
'3 Bahadur' is not a just amovie but a movement
---
According to Chinoy the film will help learn children that one doesn't actually need to have extraordinary powers to be a superhero, instead they need to use the powers they are blessed with and they will realize they have always been a true hero.
She says the superheroes she has created don't fly, weave webs or have any supernatural paranormal ability. Instead, Amna is blessed with the power of speed, Kamil has the power to hear exceptionally well and Saadi uses his brain to calculate distances - powers that exist in all normal human beings.
"It's time that Pakistani kids have their own local superheroes with whom they can relate, those who speak their language, live in their areas and represent them,"
Taking a leap of faith
The film has is backed by huge corporate giants with three major sponsors for the movie Peek Freans Gluco by English Biscuit Manufacturers as the main sponsor and Safeguard by Proctor & Gamble and McDonald's Pakistan as co-sponsors.
Jerjees Seja, CEO ARY Digital Network, who is very keen on releasing the movie internationally says that the promotions and marketing will commence from January 2015 so that the kidsknow the '3 Bahadur'- 11-year-olds Amna, Saadi and Kamil- through and through and start considering them their role models. And in order to do so, he had several great ideas of unconventional marketing.
They will be launching '3 Bahadur' weekly comic strips series showcasing the side adventures of the '3 Bahadur' along with a colouring and activity book. Furthermore, there will be a website dedicated to '3 Bahadur' which will not only contain detailed information on the film, its story and characters but will also let users download content like photos, music and exclusive BTS of the movie. Additionally, Waadi Animations is also working on a '3 Bahadur' smartphone video game app for all platforms including Android, Windows and iOS. "We have also brought in mascots from abroad to represent '3 Bahadur' and from March we will start visiting schools too," said Seja.
The ARY CEO believes that there's no film entertainment for children in the country and the upcoming motion picture will definitely fill the gap.
On the other hand, Zulfiqar Ali Ansari, Head of Marketing at English Biscuit Manufactures (EBM), had an innovative plan too. Proud to be associated with Pakistan's first ever animated movie, he said their brand will introduce a limited edition package of Gluco Biscuits displaying the three superheroes which he thinks is an effective way of reinforcing the message.
Mr. Aziz from Proctor & Gamble said that they created the first ever local superhero-Commander Safeguard- for empowering families with health and hygiene and through him only they will aim to inspire children across Pakistan to reach their potential like the '3 Bahadurs' and be agents of change.
Out of the three sponsors, McDonald's seemed to come out with the most interesting promotional activities- limited edition meals with '3 Bahadurs' embossed on the packaging, life size cut-outs of the superheroes which will be placed in all the franchises nationwide, '3 Bahadur' badges, specially designed uniforms for the crew and they will all also be made to chant '3 Bahadur' slogans, souvenirs like mugs, lunch boxes, pencil cases and tees displaying '3 Bahadur' and last but not the least – the '3 Bahadur' anthem, composed by Shiraz Uppal, will be played in the restaurant during the entire course of the promotion.
"We need to give this movie a feel which is larger than life," said Jamil Ahmed Mughal, Director of Marketing & Development, McDonald's Pakistan.