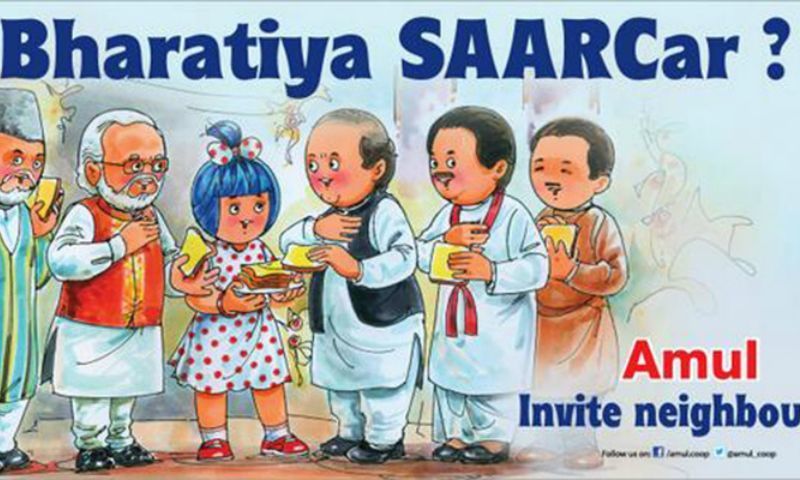 Although Amul is known for capitalizing on hot topics – but it usually goes to far even in terms of satire

If you're into advertising (and even if you're not) you've probably heard of Amul - the Indian brand that claims to be 'the taste of India' but often takes a jibes at neighbor Pakistan in their cheeky ads.
I can take a joke as good as the next person but some of these ads made my blood boil. Over the years, Pakistan has been at the butt of many Amul 'jokes'.
Here is a look back at history as told by Amul.
Khushwant's kiss
Not many of us remember the time when Khushwant Singh, Indian author of Road to Pakistan, in a good will gesture gave a peck to Pakistani high commissioner's daughter. Amul made sure it didn't go unrecognized and released a print. According to Amul, the peck created a furor back home in October 1999.
Nawaz's Nuclear test
I might not remember the Indian author's bhool but I do remember Nawaz Sharif proudly announcing that 'Pakistan will test its nuclear bomb to show India that they've got competition.' We all felt giddy with excitement like little kids who're showing off their brand new bicycle to the snobbish kid next door.
Amul, of course was feeling far from happy so it came up with this.
Sharif's trick backfires
Soon after the nuclear tests, the then prime minister (and present as well) Nawaz Sharif felt all powerful and reportedly decided to get rid of the chief of army staff. General Pervez Musharraf turned out to be clever and got rid of Sharif instead.
The 'Dosti series'
Another memorable occasion was when Pak-India bilateral cricket series was taking place for the first time after very many years in 2004. People were excited. Sponsors were over the moon. And security was 'tight'. Amul's take on the series was pretty accurate. It did seem like if the security officials could have it their way, they would deploy two policemen (or even more) to stand at silly position to catch any stray mosquito that came the players' way.
On a serious note, this was absolutely necessary given the previous encounters of two teams in home grounds. Home crowd would feel no remorse in beating the opposite team out of the ground if their respective team wasn't winning.
'Dosti Series' part 2
Moin Khan couldn't hit the last ball six that Miandad had hit so effortlessly in Sharjah in the last match of the series in Karachi. Pakistanis were distraught, including me who refused to look up as the ball was delivered and was informed about the defeat by a quite sullen friend in a (not so) subtle way: "Oopar mat dekhna." India won the 2004 Friendship series. Inzy and his 'bouys' had to take revenge.
So they did in the 2005 friendship series hosted by India. The tagline 'Sab ka Haq' fit so perfectly because of its dual-meaning.
Imposition of emergency rule
In 2007, Benazir Bhutto decided to return to Pakistan – a few months ahead of the 2008 elections. The then President Pervez Musharraf had no intention of abandoning power so smoothly so he decided to impose Emergency and gave Amul a chance to have another go at Pakistan.
Sania weds Malik
Ahh..the desi wedding of the decade which shocked many! Indians tried to act cool and detach themselves from the event (Indian Tennis star Sania Mirza's wedding with Pakistani cricketer Shoaib Malik) while Pakistanis failed to contain their excitement. Firdous Ashiq Aiwan naming Sania Mirza and Shoaib Malik 'family planning ambassadors' on their wedding day is something which will go with me to my grave. But Amul accepted the marriage open-heartedly.
Khar-ab neighbour
Hina Rabbani Khar's visit to India was probably the most memorable visit of any foreign minister to any country. Her initial visit made headlines such as, 'Hina Rabbani Khar bags the best of pricey labels', 'India falls in love with Hina Rabbani Khar'. But later on when she made the comment, "'Warmongering from across the border," during one of her press meets in 2013, Amul let caution to the wind and said, "Amul not for khar-ab neighbours".
Controversially yours
After the disastrous 2011 cricket World Cup – which I wish to delete from my living memory – Shoaib Akhtar decided to pour out his heart in a book which yelled controversy. Akhtar known for his audacious behavior and statements went all out in his autobiography where he wrote all about Miandad trying to beat Saqlain to Sachins 'kaampti taangein' (shaking legs).
To Bilawal, (not) with love
Bilawal Bhutto – chairperson of Pakistan's political party PPP – is on a spree and has been making bold statements regarding 'namaloom afraad', Immy K's previous job and of course 'Marsoon Marsson Kashmir na desoon' which translates into 'we'd rather die than hand over Kashmir [to India]'. Amul didn't like this and published an aggressive print ad regarding this where the Pakistani burger boy is guarded and n a jeep while the Amul woman is all brave and alone.
Although Amul is known for capitalizing on hot topics – but it usually goes to far even in terms of satire. Using statements like 'Fighting fit' and 'not for neighbours' incite ill-feeling between the two neighbo