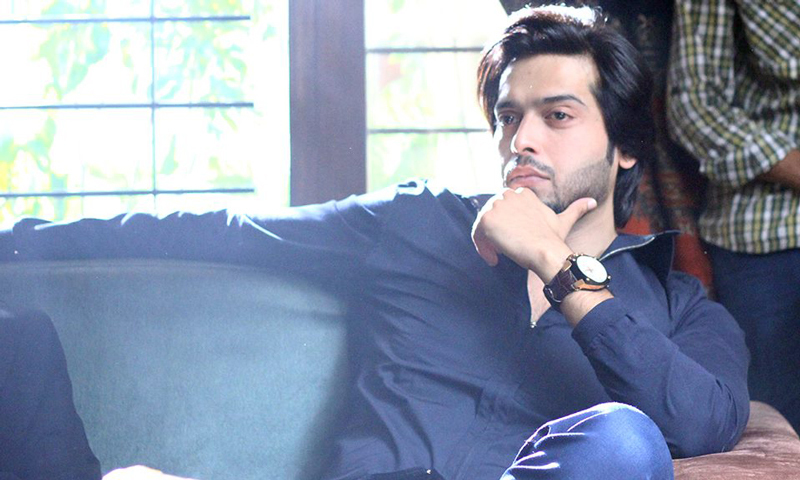 'I never follow the rat race. I want to move at my own pace': Fahad Mustafa

It wasn't easy to meet with 'Jeeto Pakistan' star Fahad Mustafa – I had to bypass the long queue of people waiting to get an entry pass, some safrishi guests and an unyielding gate keeper before being allowed in to his comfy office at the ARY Digital studio. But that was not enough as our much loved artist was nowhere to be seen.
Two hours later when all my hopes of interviewing him were dashed – there he came. Smooth, casual and charming. Dressed in a blue and white denim shirt with stylish spectacles, he looked enthralling. I felt my heart flutter. I immediately forgave him for making me wait.
Carefree and without airs he humbly responded to my questions one after the other.
My first question was abrupt and perhaps a bit obnoxious: why would an actor as talented as him host a game show?
"Shows are something that give you time off and the best part about hosting is that you get audience feedback then and there," replied Mustafa. His response surprised me. In an era where most actors are eager to establish themselves as 'serious' versus 'commercial' Mustafa is able to carve a niche for himself that is beyond any labels.
The star has hosted a successful morning show for Hum, broken hearts as an abusive husband on Kankar and challenged preconceived notions in his breakthrough drama as a cross-dresser in Veena. His ability to switch gears seamlessly between thought-provoking and entertaining is refreshing. The actor says he feels no need to pigeon hole himself.
"Being an artist it is important for you to come up with different stuff rather than doing same thing to avoid monotony in work," he says.
His latest coup is ARY Digital's 'Jeeto Pakistan' which has broken records in terms of TV ratings. Though initially he was accused of copying televangelist Aamir Liaquat (a pioneer of a new kind of game shows through his Ramadan transmission), Mustafa dealt with the criticism gracefully and intelligently. In an effort to make his show more interactive he introduced new segments like 'Committe Sone de' and introduced a his trademark dance step 'thaka thiki' which became really especially among children.
"The man you see on Jeeto Pakistan is the real me," he says. "I don't have to hide behind a character – and I enjoy that immensely. I can be myself and get time to do other projects as well. Working on a regular show like Jeeto Pakistan allows me to be even selective when choosing dramas and film scripts."
Mustafa's rise to fame from actor to producer to film star has been a steady one. He started with a small non-speaking role in a Noor-ul-Huda Shah serial and has grown to become one of the most well known faces in Pakistan. After conquering television, he is now set to dominate films as well.
The actor stars in two upcoming films mad-cap comedy Namaloom Afraad and romantic drama Maah-e-Meer. Both film are unique in terms of style, story and flavor – but they are both the same in one way: Fahad Mustafa appears to be the life of both.
So, how does he do it? Switch from jocular game show host to Meer Taqi Meer? He says he is not exactly a method actor and goes more by got instinct rather than formal technique.
"I am not that kind of actor who practices for hours and hours to get in to the skin of a particular character. I go on set and and do my work and quickly get out of the character," he says.
With two back to back films releases the actor is on his way to becoming a serious super star but what about the telly world? Rumors are doing the rounds that he won't work in dramas anymore but Mustafa strongly denies the gossip.
In an assertive tone he explains, "I have never said that I won't act in dramas – it's just that my focus is now on production rather than acting. If a good script comes my way I will surely say 'yes'."
Mustafa has always prided himself on an actor who makes an effort to do characters that stand out. "I have no interest in always playing the hero. I want to be versatile and push boundaries – that is the fun of being an actor."
It's not just rhetoric. His character choices have been creative and carefully chosen. In the last three years he has done only three serials: 'Daagh' (2012), 'Kankar' (2013) and 'Koi Nahi Apna' (2014) which all turned out to be blockbusters of their respective years. He jokes that doing less work and charging a lot of money is his funda in life so that he can take out time for sleep.
He lives life on his own terms:
"I never follow the rat race. I want to move at my own pace."