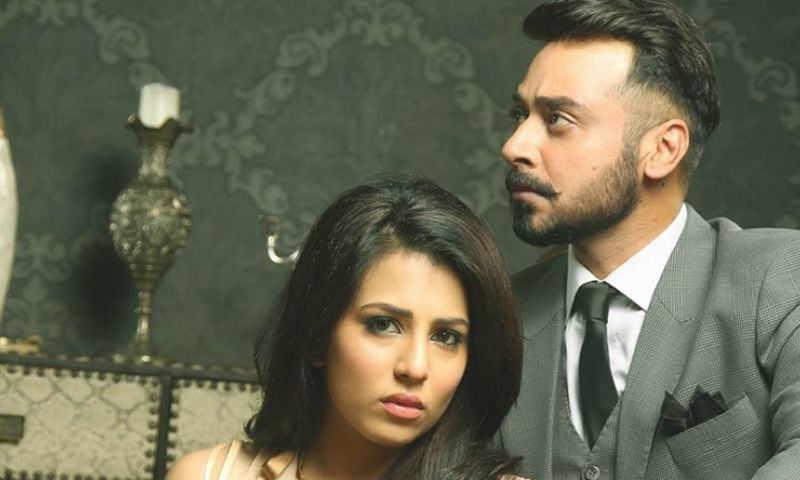 Here are 10 best dramas which kept us hooked to our television screens throughout 2014

As 2014 draws to an end, we look back at the dramas which kept us hooked to our television screens usually during the 8pm-9pm slot- even if that meant pushing our drivers to drop us home from work before these dramas could start or staying up late at night to watch the repeat telecast to keep ourselves abreast of whatever was happening in our favorite character's lives.
Do Saal Ki Aurat
One drama that is absolutely worth watching if you haven't already- yes, it was that brilliant! You may not find the regular dose of pretty faces in this serial but it has loads of substance and brilliant acting of Samiya Mumtaz to keep you hooked.
It is the story of a single woman Hajra (Samiya Mumtaz) who dedicated her life to her two sons – one a spoilt brat, the other full of empathy – but eventually ends up alone. However, instead of crying her life away and staying in seclusion this drama shows the power of a woman and how she can transform her life if she wills. However, the only gripe most of us drama buffs had was Hajra's demise in the end, it would have been great to see a suffering woman like her leading a kickass life after suddenly waking up instead of falling ill and passing away.
Jackson Heights
Mehreen Jabbar, the director, and Vasay Chaudhry, the writer, made sure not to disappoint us with this one and after what seems like an eternity gave us a story which is that compelling. Although the drama couldn't Starring Marina Khan, Aamina Sheikh, Nauma Ijaz, Adeel Hussain and Adnan Jaffar (yes, that stellar a cast), 'Jackson Heights' is an honest story based on struggles people face and ways they cope with it. Not to mention, unlike our usual dramas, this one no romance neither does it have its focus on saas bahu and shadi issues. The best part about this drama besides the director is that fact that shows viewers in a very effective manner that the grass is not always greener on the other side.
Mere Meherban
Produced by Abdullah Kadwani and Asad Qureshi, directed by Farooq Rind and written by Maha Malik with the background score by Rahat Fateh Ali Khan, 'Mere Meherban' was a story of love, lust and relationships. Although it was another run of the mill play with the same old storyline- good versus evil (another Cinderella story to be precise)- it was again the characters who breathed life into and made it such a hit among the masses.
In spite of seeing Rabia Noreen as the vile antagonist so many times, it was her acting again which we loved the most about this play especially the part where she realized her failures- her performance in that particular scene seemed so natural that we couldn't resist admiring her despite hating her in the past episodes for being such a vamp.
Pehchan
Directed by Khalid Ahmad, Seema Razi and Raziuddin Ahmad's 'Pehchan' was undoubtedly a stirring story. Starring Alishba Yousuf as Laila and Iffat Umer as Kuku as the lead characters, the drama's plot focused on the relationship shared by a married couple. It clearly explained its audiences that husband and a shareek-e-hayat might be synonymous to each other but they are not definitely one and the same.
'Pehchan' is one of those wonderful instances where the writing, performances, visuals and direction all match up to give us a thoughtful and visual experience. And most importantly, attention to details, even the minutest ones, is what set this drama above the rest of the serials out there.
Bunty I Love You
Another masterpiece by Khalil-ur-Rehman, this Momina Duraid production wasn't a drama most of us expected to like. Starring the ravishing Saba Qamar as Dania and Noman Habib as her love interest Bunty, 'Bunty I Love You' defied all the set parameters of a typical romantic Pakistani drama.
The girl was older than the boy and they kept reminding this after every ten minutes; the heroine 'buys' the hero instead of the other way round and it got rid of all the typical characters like saas, bahu, brother-in-law, etc. In the end- Dania killing her lover because she couldn't see him being in anyone else's possession- was a bit too dramatic, probably to make it more memorable, but the journey was well scripted and executed. Kudos to director and writer for taking up a different issue.
Shukk
Samira Fazal needs to be applauded for giving us a story where at one time or the other we have felt every character's struggles and and Yasir Nawaz too who has done a commendable job of taking the viewers on a suspense filled ride.
Starring Sanam Saeed, Adeel Hussain, Ayesha Khan and Jibran, this drama again had a mundane storyline- two biwis fighting over the not-so-heroic husband. However, it was the actors and the makers of 'Shukk' because of whom this otherwise ordinary story attracted so many viewers and became such a blockbuster. The fact that we fell in love with the characters of this drama one week and started hating them the other itself speaks volumes about their skills.
Koi Nahi Apna
The plot- a very rich girl falls in love with a poor guy and marries him with her parents acting all zaalim samaj but they all end up living happily ever after by the end- might ring infinite bells in one's mind. However, despite lacking the element of novelty, the way the characters pulled their roles made the drama garner great success among the viewers.
Directed by Badar Mehmood and written by Fahad Mustafa's wife Sana Fahad, the drama had an ensemble cast including Fahad Mustafa (like obviously!), Sarwat Gillani, Ismat Zaidi and Sajid Hassan among others. And the drama's highest point was definitely the mesmerizing performance by these actors. Every character, from leading ones to supporting, from older ones to the child artist, expressed their emotions magnificently.
Chup Raho
'Chup Raho' has become quite the television phenomenon of late and can easily be deemed one of the television shows you don't want to miss.
Making ARY top the rating charts during November, this directorial venture of Yasir Nawaz is disturbingly true and talks about sexual harassment by close family members, in this case the brother in law is the culprit (played by Syed Jibran) and his bechari si saali the victim (played by Sajjal Ali).
This topic is undoubtedly a taboo in our society and the drama's take on it is also not brilliant in any way. However, despite these shortcomings, this drama has a caused a ripple in our society and people precisely women have started speaking up about their horrible experinces and how they too had been once desperate victim like Rameen and acted excatly the same way-stayed quiet. On another note though,I'd be delighted to see the victim standing up for herself instead of ending up dead or divorced.
Pyarey Afzal
Directed by Nadeem Baig and written by Khalil-ur-Rehman Qamar, the epic love saga had the whole country in tears (literally) when it aired its last episode. Yes, it was that touching a drama.
Starring all the right people such as Hamza Ali Abbasi, Ayeza Khan, Saba Hameed and Firdous Jamal, the oh-so-entertaining plot narrated the story of a man as he navigated his life surrounded by women who were flocking to his feet claiming to love him and his own love for an unattainable woman from a higher status than himself.
The drama began with a bang. With its setting in Hyderabad, to its complex and beautifully crafted dialogues, everyone foresaw that this drama was going to be different from the lot and different it surely was.
Bashar Momin
We all had really high hopes from the magnum opus by the renowned A&B productions termed as the desi take on the popular fairytale Beauty and the Beast from the very beginning and thankfully it lived up to everyone's expectations.
The drama's plot revolved around Rudaba played by Ushna Shah (who portrayed Belle here) and how she was forced to marry the political magnate and money laundering criminal Bashar played by Faysal Qureshi aka the Beast.
Bashar Momin's strongest point has undoubtedly been the brilliant script by Zanbeel Asim known for her unqiue plays and BM definitely added another feather to her hat. Well defined and some really outstanding dialogues really did make this drama one of the best releases of 2014.