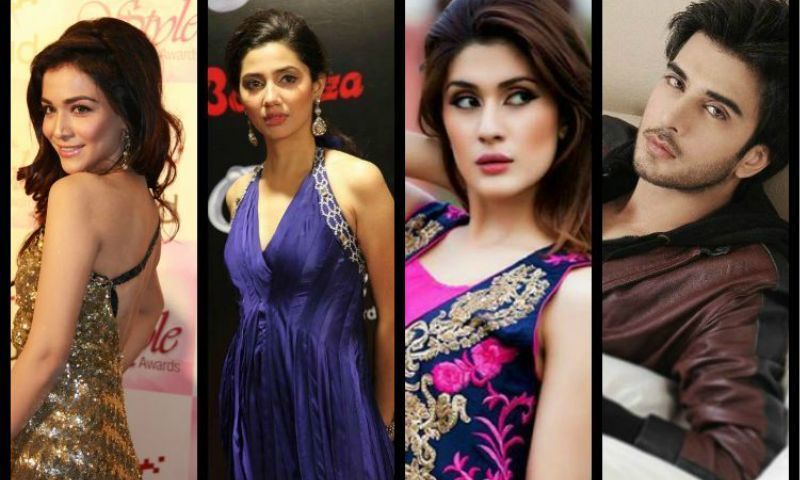 Your guide to the most happening events of 2014 - including celebs weddings and babies announcements and scandals

1. When we said good bye to Maheen Khan on the catwalk
The doyenne of Pakistan fashion world Maheen Khan bid adieu to her long career with a glittering showcase titled 'To Karachi with Love' at Fashion Pakistan Week – though she will remain head of Gulabo. To make Khan's Farwell memorable DJ/model Hira Tareen arranged spell bounding composition whereas Freiha Altaf and Atiya Khan walked the ramp.
Khan has represented the country internationally by designing costumes and embroidery for films like Sweeney Todd, The Phantom of the Opera, Elizabeth: The Golden Age and many others. She has recently created costumes for Hollywood movie Cinderella.
2. When Malala ruled the internet (and so much more)
The brave young girl from Swat became the youngest person to win the Nobel Prize making many Pakistanis proud. Yousafzai dominated the media throughout the year – whether it was her inclusion in Time Magazine's list of the 25 most influential teens of 2014, her confrontation with President Obama on drone strikes, or the
Ogilvy and Mather's India released Kurl-On ad featuring Malala Yousufzai's images which caused an outrage on the social media. English supermodel Naomi Campbell has also become a victim of epic social media faux pas when she misspells Malala Yousufzai's name in a Twitter post and calls her 'Malaria' while congratulating her for the Nobel Prize. The young school girl came into prominence when Taliban shot in her head two years ago.
3. When Ali Zafar and Shaan battled it out at ARY Film Awards
Pakistan's first ever ARY Film Awards were held in 2014 – suppressing the magic of other big events it appeared to be the most happening activity of the year. Well attended by who's and who's of showbiz world and journalist fraternity the award show featured sizzling performances, captivating moments and a controversy. Lollywood superstar Shaan Shaihid hit hard at those who went Bollywood in search of fame and name – the words were a direct hit to Ali Zafar who was among the attendees.The young star struck back with a defense of his Indian films. The event was a hit and Waar was the sure winner in every category.
When Fawad Khan became the hottest man ever
Pakistan heartthrob made a mesmerizing entry in B- town with Rhea Kapoor's Khobsorat. Khan's successful debut in Bollywood has landed him several interesting offers – he has been cast in action flick opposite 100 crore actress Sonakshi Sinha and now he has a mega starrer movie under his belt. The recipient of Masala Debut Bollywood star award Khan is about to break the jinx that a Pakistani actor can't make big in Bollywood. The Indian girls go swoon over the charming desi guy making him 'the most wanted celebrity' of the page 3. According to Indian media Khan has been approached by top notch event organizers in India to be a part of award ceremonies that celebrate and felicitate the stalwarts of Hindi cinema.
5. When Humaima, Imran and Mahira hit Bollywood
Humaima Malick debut in 'Raja Natwarla' bagged the 'Best Breakthrough Performer title' at Masala Awards. Bipasha Basu starrer 'Creature 3D' may be called a wrong debut for Imran Abbas – but it has provided a good gateway for the Pakistani actor. He has been cast in period drama 'Raqs' with Amitabh Bachchan.
The year ended with good news that 'Humsafar' beauty Mahira Khan has been cast opposite the King Khan in 'Raees' which also feature Farkhan Akhter. 'Na Maloom Afrad' actress Kubra Khan and Behroz Sabzwari's son Shehroz Sabzwari have also been cast in Indian movies.
6. When Saad Haroon became the second funniest person in the world
Stand-up comedian Saad Haroon won the position at the final of the 'Laugh Factory Funniest Person in the World' competition. The contestants faced-off in an online voting competition for the prize.
The creator of Pakistan's first ever english comedy show in Pakistan 'The Real News' Haroon used to poke fun at current news events using political and social satire in his show. His popularity graph reached to another level with Pakistan's first improvisational comedy troupe 'BlackFish'.
7. When the term 'revival of cinema' stopped being necessary
This has been a great year for cinema – 'Na Maloom' has turned out to be the most profitable movie of the year but there were some other good movies like 'Tammana', '021' and 'The System' which have although received mixed response but overall they played their part in bringing audience back to the cinema houses. Afifa Natherial's 'Dukhtar' starring Samiya Mumtaz and Mohib Mirza earned accolade locally and internationally for a tremendous screenplay and brilliant performances.
This year also marked for the debut of many television actors into cine world – Fahad Mustafa tops the list with a super-hit movie in the kitty and his next project Mah-e-Meer is one of the much awaited films of the year. Other important debutants included Mustafa Changazi, Ayaz Samoo and Kubra Khan.
8. When the Lux Style Awards weren't a show at all
The Lux Style Awards (LSA) has always been a lavish affair with celebrities, enthralling performances and tributes. This year a low key high-tea was held at held a Karachi hotel. Although an understated event as compared to the usual awards night organized every year but it had the style quotient we have come to expect of a Lux event.
There were celebrities and an all-white classy décor which made everything look chic and polished. Since there wasn't going to be the usual announcement of nominees and then presenting of awards every winner had a dedicated enclave, complete with their framed photograph and nameplate stating the category and the winner's names.
9. When celebrity babies made us all go 'awww'
We have been treated to a host of adorable newborn photos and birth announcements as stars celebrated the arrival of their little ones.
The last 12 months saw some big names become parents for the first time – starting with Syra Yousuf and Shehroz Sabzwari become proud parents of a beautiful daughter Nooreh, Azaan Sami Khan's relation with wife Sophia Bilgrimi becomes stronger with the arrival of baby boy in the family, Veena Malik gave birth to son Abram Khan whereas Sadia Imam and Fiza Ali also become proud moms.
ARY morning show host Nida Yasir was blessed with a baby boy and model turned entrepreneur Nadia Hussain welcomed baby girl in to the family.
10. When celebrities fell in love!
It seems there has been romance in the air as celebrity weddings remain the talk of the town. While some kept it secret others opted for an extravagant ceremony. The year began with Humaima Malick's sister Dua's shadi with musician Sohail Haider in a star-studded event. Sarwat Gillani and Fahad Mirza exchanged vows in the understated event with only close friends and relatives. But it was television popular couple Ayeza Khan and Danish Taimoor who stole the show – especially Khan's drool worthy bridal look which has become the most wanted look for all the aspiring brides this season.
Shamoom Abbasi's younger sister Anoushey Abbasi also walked the aisle with long termed beau Ainan Arif Abbasi whereas Shikwa actress Sonya Hussain also tied the knot with fitness trainer Wasif Mohammad. Mathira also revealed she has been secretly in love for quite some time.
11. When String's version of Coke Studio
Coca Cola sponsored Rohal Hyatt's Coke Studio has been taken over by Faisal Kapadia and Bilal Masood of Strings in 2014. Music duo launched the season 7 with a tagline Sound of the Nation claiming to bring an exciting fusion of contemporary music with traditional sounds of sufi, eastern classical, folk, qawwali and bhangra. Unfortunately, despite of having big names like Abida Parveen, Rahat Fateh Ali, Sajjad Ali and Zoheb Hasan the show didn't create much impact on the audience and has garnered mixed response.
In an attempt to play it safe the musicians hardly opt for any cross-genre collaborations. Sajjad Ali sung alongside Fariha Pervez, Abbas Ali Khan sang a duet with Humaira Channa and same goes for Rahma Ali and Jimmy Khan. However, the most shocking collaboration was between Rahat Fateh Ali Khan and Abida Parveen.
12. Meera Jee controversial sex tape
2014 began with yet another controversy created by Lollywood's Meera Jee. A sex tape allegedly with her and Captain Naveed was leaked on social media.
This video violated Pakistan's Viewership Act, therefore the court issued Meera a hearing in January 2014. At the hearing, Meera denied the video's authenticity and called it as an attempt to undermine her position and credibility. The case is in hearing and no decision has been made yet but soon will be heard. After that controversial video another went viral on internet in which she was shown kissing Captain Naveed while sitting in the lobby of a hotel.
13. When Aamir Liaquat politely fed his guest some mango 'Aam Khao ge Aam'
We'll never look at mangoes the same again, Aamir bhai. Liaquat (one again) humiliated a young guest during a live transmission by shoving mangoes in his mouth in a disgusting way while saying "Khao aam khao aam".
But what is even more disturbing is seeing Dr Amir liaquat trying to justify the 'Aam khaogay' the incident the next day. In one of his recent shows he tried to explain his actions by saying, "mangoes shouldn't be eaten with a spoon." More recently Liaquat has been accused of hate speech and attacking Junaid Jamshed's mother.
14. When Shaista Lodhi took down Geo with a single qawali
Former morning show host Shaista Lodhi came under fire after she held a mock 'shadi' of Veena Malik on her morning show and played a qawali deemed to be blasphemous in the context. The fiasco was so damaging to Lodhi's career and the Jang Media Group that she fled the country and Geo is still struggling to attain it's previous position.
The incident came just as Geo news host Hamid Mir had been attacked by unknown and the channel was criticized for airing speculation about who could be guilty of planning the attack. Geo channels remained shut for months allowing ARY News and ARY Digital to take the lead in an unforeseen jump to the top.
15. When Pakistani cinemas entered the big leagues
Pakistan's first ever IMAX has been launched in Cinestar Cinema Township Lahore with the screening of three amazing movies including Edge of Tomorrow, Godzilla and Transformers 4 (Age of Extinction). The company currently operates in Lahore only and owns a Digital 3D cinema in Civic Centre Township. IMAX is basically being added to the existing set-up, making it a multiplex. The cinema will have around 4870-480 seats and the ticket price is not decided yet but the company plans to keep it affordable, under Rs 1000.
IMAX is an acronym for Image Maximum and this particular film format has a better resolution, hence, you can watch it on even bigger screens without the fear of seeing a dull pixelated image. IMAX technology was introduced by a Canadian company IMAX Corporation back in 2002.
16. When morning shows became cool again (sort of)
Morning show have never been trendy – especially ever since Nadia Khan retired. But after Shaista Lodhi's fiasco the shows took a turn for the worse veering away from any meaningful content. But in the later part of the year a new type of host came in – on Hum TV Sanam Jung replaced Fahad Mustaf who joined ARY Digital as Jeeto Pakistan host. Aamir Liaquat joined Express Network for some time but later made a comeback on Geo with Subh-e-Pakistan. Dunya TV former morning show host Nadia Jamil joins Channel 92 for a weekend show in the breakfast slot whereas Lollywood starlet Noor joins A-Plus for a morning show.
TV One former morning show host Sahir Lodhi has joined Samaa TV when Sanam Baloch left it for ARY News breakfast show. Pakistan Television Network also got a new host Nazia Malik for its Sabh-e-Nau transmission. Javeria Saud joins the morning show bandwagon with Express Satrungri – Rung De Zindagi.
17. When we whisked ourselves a Master Chef
The global reality show hit Pakistan this year MasterChef on UrduOne. The competition was closely watched and the judges including celebrities Chef Zakir and Chef Mehboob. After multiple challenges and eliminations the talented winner Ammara Nauman was awarded Rupees five million in cash, training from a professional chef and a chance to have her own Cookbook published. Gulnaz was the first runners-up and won Rs1,000,000 while Madiha, the second runners-up received Rs500,000.
18. When Pakistan got it's first Idol
Geo Network has finally brought international music franchise 'Pakistan Idol' to the country in 2014. Hosted by Mohib Mirza the show was judged by Ali Azmat, Bushra Ansari and Hadiqa Kiani. The show created much hype not because of its mesmerizing performances but the controversies related to it. Even before Pakistan Idol rounds began one of the participants Maria Meer who couldn't pass the audition round was given her career big break by Amanat Ali.
Other than Kiani's weird hairdos, Azmat's despicable behavior it was Ansari's credibility as a reality music show judge was questioned time and again.
If this wasn't enough the huge reality show came to an oddly anti-climatic end as the results of the finale were leaked by a few overzealous bloggers on the big night. They completely ruined the suspense of who wins for viewers by revealing the name of Zamad as the winner before the show went on- air.
19. When Zee brought some Zindagi to India
A welcome shift, Zee Network launched Zee Zindagi – a channel dedicated to air Pakistani content which turns many local stars into celebrities overnight. Fawad Khan's popularity reaches India through 'Zindagi Gulzar Hai' which was aired on channel even before his debut film in Bollywood. Humsafar girl Mahira Khan was also invited to India where she got her first film offer opposite King Khan.
Indians was introduced to new age of Pakistan dramas – Aunn Zara earned rave reviews for interesting plots and captivating performances.
20.When 'Go Nawaz Go' became a slogan for everything
Controversial political slogan Go Nawaz go chanced everywhere – be it Mustafa Zahid's wedding or Atif Aslam concert. On social media the slogan also became one of the most used hashtags of the year.
Inspired by it, a game named "Go Nawaz Go" has been released on the Google App Store featuring a bat-wielding Imran Khan chasing a Nawaz Sharif. Many songs have been written dedicating the slogan which are regularly played in rallies.
The official website of Indian Prime Minister Modi was hacked by Pakistani hackers and put "Go Nawaz Go" slogan on the main page to protest while in another major website hack of Pakistan's Foreign Ministry, Nawaz Sharif was shown as Shrek and balled as "Go Ganja Go", "Go Tind Go" and "Go Kadu Go".