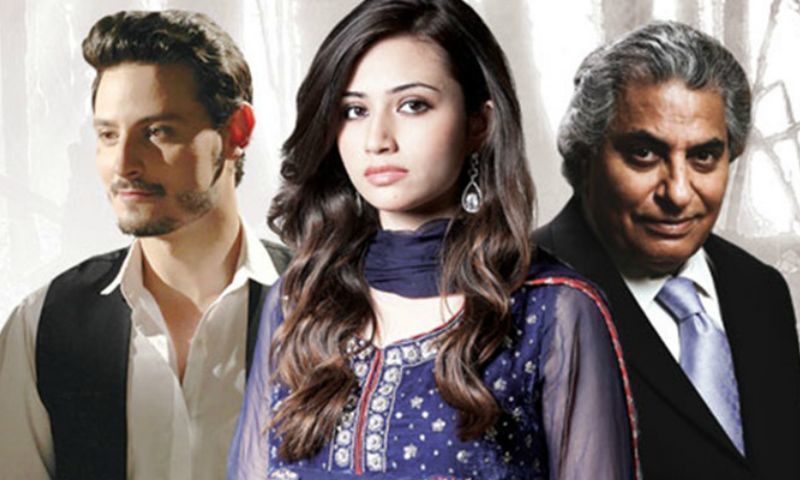 After much hype, 'Goya' finally started this weekend. Starring the dashing Osman Khalid Butt and Sana Javed of 'Pyarey Afzal' fame the drama definitely lives up to my expectations.
If you have seen Fawad Khan's 'Khoobsurat', you will immediately be able to identify some clear similarities between the two ventures.
Meet the cast
Remember Sonam Kapoor's tendency to call her mother by her name and how weird that sounded? Well, in 'Goya' too, our female lead Mohini (Sana Javed) conveniently calls her mother, Asma (Farah Shah). The two share an amazingly casual bond that is not like our typical mother/daughter bondage and share dialogues like
Asma: "Vidya Balan ki film ka akhri show, agar mene miss kardia tu meri bakshish nahi hogi"

Mohini: "Asma tum itni ziddi kion ho?"
While Asma is spontaneous, fun loving and rather filmy, Mohini is a down-to-earth news reporter, who tends to put people in their place and according to Asma is dil khol ke badtameez.
In sharp contrast to this witty family is the Hashmi household, which to some extend resembles Fawad Khan's nawabi family. Belonging to the elitist class, Rahat Hasmi (Usman Peerzada) is a tyrannical father who has a strong hold on his son Omar (Osman Khalid Butt). He dictates every aspect of Omar's life from the clothes he wear to the parties he attends.
According to Senior Hashmi, as he is addressed by their help Mrs. Imtiaz (Shamim Hilali), he is molding his son to take his place in running the business. He does not want his son to become another spoilt brat throwing away his father's hard earned money in alcohol and parties; instead he wants Omar to be married off to his friend's daughter (Hira Traeen) and live an exemplary life. Omar, on the other hand, feels suffocated from all these restrictions and contemplates running away to America.
Though oppressed at home, Omar is a public figure of sorts and is recently nominated as the most eligible bachelor in town. But he is willing to trade all the wealth and fame in exchange for a carefree existence.
The meeting of the two leads
Well we expected a bit more fireworks when the two leads finally meet considering the amazing chemistry they appeared to share on promos.
The meeting takes place at an art exhibition which was being covered by Mohini for her channel and Omar was present on one of his social calls. They come face to face when Mohini catches him off guard and interviews him briefly about the exhibit. Omar remains slightly baffled during this period and Mohini moves on, unimpressed.
They bump again after a while and Mohini quizzes him with amusement about the painting he bought. He replies rather crossly that he bought it because he liked the colors. Mohini then retaliates hilariously,
"Colors dabbe me bhar k deewaar pe de maro, aisa hi naqsha banega"
The drama ends when Omar finds out that his father has asked Mrs Imtiaz for Omar's passport, and he is crushed as his plan of running away to freedom falls around his ears.
Verdict
Be it the veterans like Usman Peerzada and Farah Shah or the contemporaries like Osman Khalid Butt and Sana Javed, the entire star cast is brilliant.
Osman plays the role of the eligible yet masoom sa Omer perfectly and he is complimented superbly by koti on kurta clad Sana as Mohini. There compatibility is just spot on.
To conclude, no review can do justice to the actual experience of watching this drama. I just hope it doesn't lose its charm after the first few episodes and becomes a drag like most of our other serials.