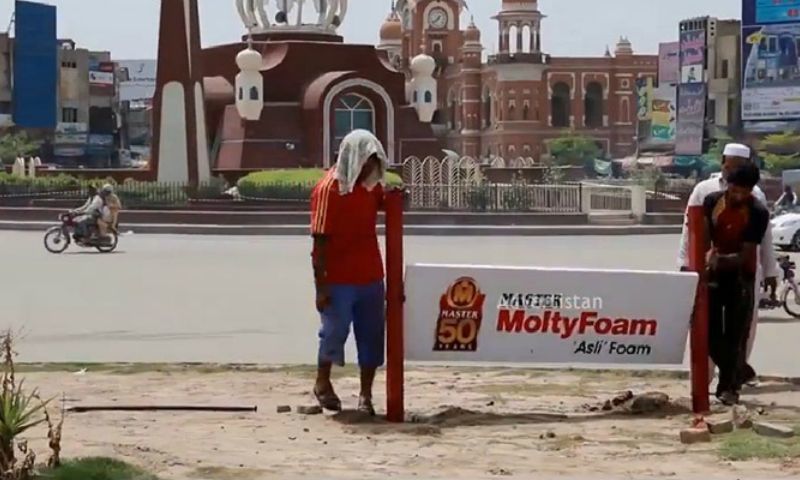 Moltfoam campaign capitalizes on humanity as their BTL making life easier for the working class was a master stroke
'This is the story of divide between those who have it all. And those, who have nothing..'
The heart-wrenching corporate social TVC's voice-over begins with this phrase and a lump forms in our throat as we watch the laborers working under harsh conditions. The voice-over continues the story of their plight and ends with a definitive statement:
"Hard work, Hard lives, hard beds."
BBDO together with Moltyfoam has come up with a CSR initiative where the ad agency has put-up billboards that turn into beds at night. These beds at least enable a peaceful sleep for the laborers who have hard lives and do hard work all day long. This is the best form of advertising that I've seen in recent past although it's more of a CSR activity. We all know that PR activities or fulfilling social responsibility is a way of creating positive word-of-mouth and good feel about the brand which in turn translates into sales.
Campaign idea
Moltyfoam has always played on emotions mainly focusing on the father-daughter relationship. This time around, they've moved leaps and bounds and have capitalized on humanity. This BTL (below the line) activity of making life easier for the working class was a master stroke.
The big idea of Moltyfoam, which is to provide good night's sleep (free of tension), has been incorporated and carried forward in the recent campaign successfully.
Positioning
The target audience – males and females above 20 years belonging to SEC A to C – are now looking at their Moltyfoam mattresses lovingly. They've just formed a bond with the brand which cannot be broken so the positioning is spot-on.
Tagline
Efforts for a Good sleep – the phrase doesn't say much or evoke similar emotions as the TVC but it explains brand's philosophy effectively. They could've done better in this regard but since this was not an advertisement in its true sense, the tagline does not matter.
Execution
BBDO made the audience live those harsh moments of a laborer and then experience the peace that they (laborers) must have felt when they found the convertible billboards to sleep on. Every brand dreams of creating this kind of effect. Although the mini-documentary was simple and had no fancy camera angle or VFX it conveyed the message effectively.
BBDO saw the opportunity to make lives better and with the help of Moltyfoam they did so. These billboards have been installed across nine cities in Pakistan and more than 40,000 laborers are sleeping in peace due to them. The number is increasing.
BBDO Pakistan recently received the Best Low Budget Campaign Award at the Cannes Film Festival for their campaign against Drone attacks titled Bugsplat.
BBDO also made it to the Direct Lions Bronze winners list at the Cannes Lions International Advertising Festival for its 'Not a Bug Splat' campaign against Drone strikes.