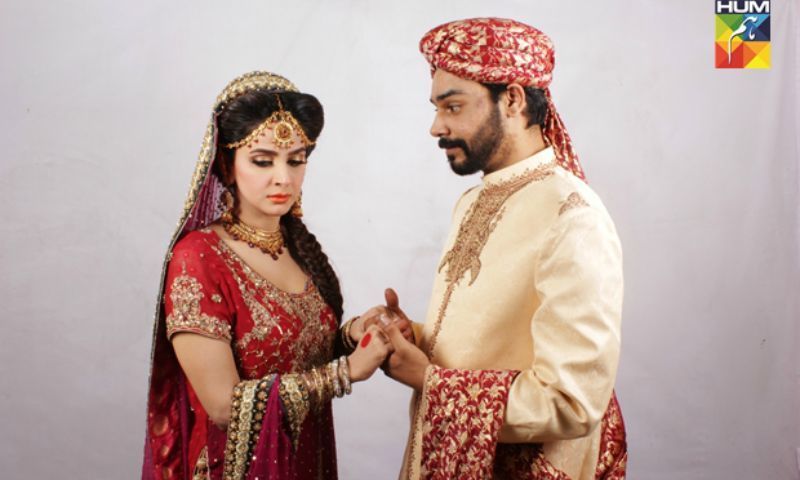 Maybe the writer wants to show that educated girls tend to stay away from clashes but they dont let people run over them

Saba Qamar as Farida may be a bechari bahu but she doesn't act like one.
"Digest ki kahaniyon mein waqai kuch nahi hota per uss se aye paison mein bohat kuch hota hai," Farida said to Shauqat when he disregarded her profession. The protagonist is not a weeping mess and she does not yell her heart out at her in-laws for their crude behavior. Her demeaning 'look' can silence her husband and express her displeasure.
What has happened till now?
Digest writer is the story of Farida, a girl born in a middle class family, facing poverty, lack of good rishtas and pestering relatives. Farida, unlike her family members, is a dreamer and a writer. She wants to have a successful career as an author while all her elder sister (Maheen Rizvi) cares about is getting married.
One of her dialogues has still stuck with me, "Hum jaisi larkian chahay kitni hi haseen kyun na ho, unko achai rishtai nahi milte."
Life goes on and Farida manages to become famous with her first drama despite getting conned by the producers (Farhan Ali Agha and Zhalay Sarhadi) and getting only half of the promised payment. Meanwhile, she keeps on writing for a digest and forms quite a fa nbase. You might imagine Rask-e-Hina (her pen name) surrounded by loads of young bubbly teenage girls but fate has something else in store and one handsome grown-up man (Agha Ali playing Sheheryar) happens to read Farida's story and becomes her fan.
He gets hold of her number through the publisher and they enter a telephonic relationship and then like all good boys he proposes to Farida. But there a few issues:
He doesn't know Rask-e-Hina's real name is Farida. Imagine his plight when he finds out. She belongs to a lower income group. Not that this should bother him but Farida has led him to believe that she belongs to an affluent family. Farida has the tendency to hide facts. As you can imagine, Farida doesn't have the guts to tell him the truth and turns down his proposal and ends up married to her aunt's loser son Shaukat.
Shaukat has been obsessing over Farida since childhood. He likes to wear next-to-skin gaudy t-shirts and is his mother's mouthpiece. His mother tells him to order Farida to stop working after marriage, he does so. Then after the father in law's accident, she asks Shaukat to order Farida to start writing again because they need money.
On the other hand, Farida's mum and dad also rely on her to support them financially. They have a son to educate and the youngest daughter to marry.
This Saturday
Digest Writer shows Farida juggling her work with household responsibilities while her in-laws stayed conveniently oblivious of her plight. Instead, like all susralis, they are doing their best to make her life more miserable. They go on picnics, have leisurely meals while Farida does all the dirty work in the kitchen and doesn't even get to enjoy a timeout because she has a script to finish. As her mother in law puts it, "Hum zara samandar per ja rahe hain [to enjoy]. Tum apna saara kaam [script] aaj hi khatam kar lena." It doesn't even cross their mind that she also might want to join them.
The writer Madiha Shahid has ventured in to something different as she shows the female lead aspiring to have a successful career instead of dreaming of becoming a dutiful wife. But I feel the serial has been at a standstill for the past few episodes. While Farida earlier came across as an independent strong woman but now she's turned in to a damsel in distress. Shaukat and his family are exploiting her (using her as a money-making machine) and she's allowing them to do so which is pretty depressing. Umera Ahmed has written the screenplay and I always expect to see a strong woman in her serials.
We might see Fareeda turn into independent and strong Rashq-e-Hina but currently she's just another bechari bahu. Maybe the writer wants to show that educated girls tend to stay away from clashes but they certainly don't let people run all over them.
Then there is the work aspect where a senior writer Mazher Hayat (Khalid Ahmed) – with a really bad disposition – is out to crush Farida's career as a scriptwriter because he has a strong bias against female digest writers. In my opinion, his sour attitude towards Farida is not entirely due to his prejudice, it has more to do with professional jealousy. The producers did indeed request the senior writer to write more like Rask-e-Hina (Farida).
I really wish Ahmed Kamran would pace up the serial and we finally see Farida emerge as the strong woman that the promos promised her to be.