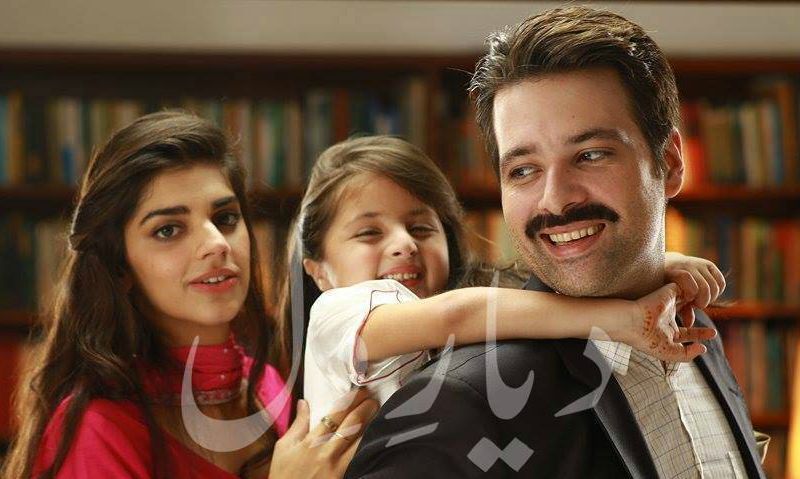 Abid Ali and Sanam Saeed's were the highlights of the episode. Meekal also shined as a strong-willed pathan

After teasing the audiences with its captivating promos for so long, "Dayar-e-Dil" premiered this Tuesday at 8 pm on Hum TV.
Based on Farhat Ishtiaq's novel and produced by Momina Duraid, it has an ensemble cast that encompasses the cream of our TV industry. But the greatest allure of the drama has to be the scenic beauty of the shooting location with picturesque mountains and streams and nestled amongst them this magnificent haveli- residence of the Bakhtiar family, bustling with servants.
Though I am slightly apprehensive about the story, the narration just might make it work.
The plot
Bakhtiar Khan (Abid Ali) fondly called as Agha Jaan by all, is an extremely wealthy man residing in the rural northern areas. And with wealth comes dominance and power over every individual belonging to their clan. While he is in general a good-natured hospitable man, he believes himself to be the master of his sons' fates.
His elder son Behroz Bakhtiar Khan (Meekal Zulfiqar) was betrothed to his paternal cousin Arjumand (Hareem Farooq) at birth. Though he wasn't against it initially, all that changed when he met Rohina (Sanam Saeed) at his university in Lahore.
Rohina belongs to a middle class family and lives with her brother (Behroz Sabzwari) and sister-in-law (Tara Mehmood). She discusses her interest in marrying Behroz with her Bhai and receives an unfavorable response. Her brother points out that there is a slim chance that someone like Behroz's stature would be willing to marry a middle class girl and if he does come with a proposal with his father, he would happily marry off Rohina with him.
Meanwhile, now that Behroz is back home for holidays, he remains in a dilemma through most of the first episode, about how to best break the news to his father, as he isn't used to defiance against him. He is left with no time to be tactful when Agha Jaan announces his nikah to take place in a few days with rukhsati after a couple years. He is left with no choice but to come forth with his love for Rohina, something that leaves Agha Jaan enraged.
Agha Jaan's younger son Sohaib Bakhtiar Khan (Ali Rehman) is a happy-go-lucky guy who is used to living under his father and brother's shadow. Though he tries his best to placate his hyped-up brother, and then his father, it doesn't do much good. (I have a feeling he would end up marrying Arjumand)
Behroz's declaration throws Agha Jaan off-track who was on the verge of announcing another betrothal, this time of Sohaib and Laila (Eshita Mehboob), daughter of his close friend, regardless of the fact that the two had met the very same day.
The drama soon ends leaving us wanting more.
Verdict
The drama has all the elements to be the next big thing.
It has an amazing cast though half of it, namely Osman Khalid Butt and Maya Ali, were not featured in the first episode (Can't wait for them to make an appearance).
The story may seem the usual run of the mill for those who haven't read the novel, but it is definitely going to get more interesting or so we hope.
I cannot gush enough about the mesmerizing beauty of the locations, it was such a breath of fresh air from the usual hustle bustle of the city life. It gave the prehistoric settings a unique dimension.
As for the acting, Abid Ali and Sanam Saeed's brief stint were the highlights of the episode.
Meekal's portrayal of the strong-willed pathan was also commendable though a bit rusty. (or maybe we are just used to seeing him as the boy next door).
We are all praises for this one, and can't wait for the next installment and OKB!