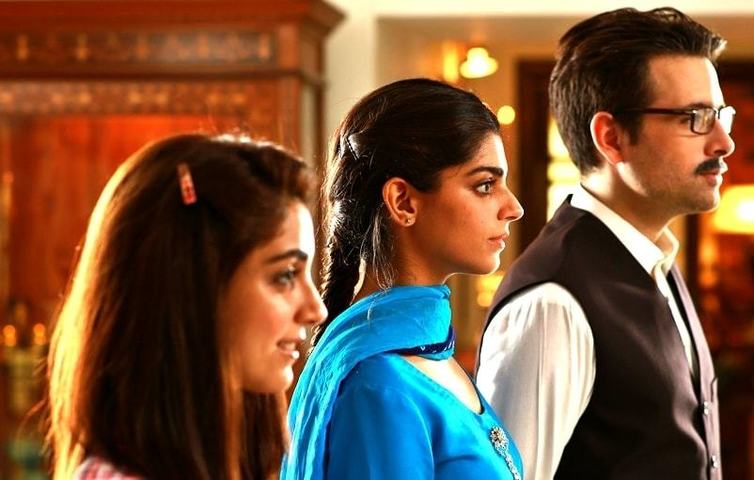 The two were engaged since they were kids. The only problem: Behroz is in love with his class fellow Roohi
---
"Yeh zindagi eik kitab ki tarha hoti hai, bilkul eik band kitab ki tarha, jise jab parhne ke liye khola jae to ye nahi pata hota ke kis safeh mein khushi aur hansi milne wali hai, aur kahan ghum aur ansoo"
Diyar-e-Dil starts out with the above monologue by actor Osman Khalid Butt with the back drops of Gilgit Baltistan's beautiful scenery.
Written by Farhat Ishtiaq and directed by Haseeb Hassan, Diyar-e-Dil is a multi-generational story of Agha Jaan (Abid Ali), his two sons, Suhaib and Behroz (Ali Rehman and Mikaal Zulfiqar), and his grand kids Wali and Farah (Osman Khalid Butt and Maya Ali).
Agha Jaan has given his word to his brother that Behroz will marry his niece Arjumand (Hareem Farooq). The two of them have been engaged since they were kids. The only problem is Behroz is now in love with his class fellow Roohi (Sanam Saeed) and has promised to marry her, They both go to college together in Lahore.
Agha Jaan's younger son is Suhaib who is also doing his Masters. Whereas Behroz is shown to be rigid, rude, and 'his way or the highway type', Suhaib is shown to be the jovial, peacemaker type. He is extremely considerate of other people's feelings.
At the moment he is single (I'm guessing not for long though) but he seems to have taken a liking to his father's friend's daughter Laila (Eshita Syed, who has an uncanny resemblance to Deepika Padukone).
In a very eastern household, Laila gives us the western touch as she has been brought up in London, but here for studies I guess? At his father's orders he goes to pick up Laila at the hostel and brings her to the haveli where her father is also at. I'm guessing it is summer vacations as Behroz too is coming home from Lahore.
As soon as Behroz enters, he runs into Arjumand (who has very patiently been waiting for him) and is quite rude to her, which not only does she notice, but so does Suhaib. Arjumand seems quite happy with her engagement to Behroz. She is kind, educated and deeply rooted to her cultural surroundings.
Upon inquiring, Suhaib learns that Behroz is here to break off his relationship with Arjumand and tell Agha Jaan that is he is going to marry Roohi. While Behroz is telling Suhaib his story, Roohi too is talking her to her brother (Behroz Sabzwari) about her relationship with Behroz. We learn that her parents are no more and her brother has brought her up like his own daughter. He is however married to Tara Mehmood and they have a son.
Bhaijan is a middle class banker and is afraid that Behroz is just playing around with his sister. He doesn't think that he will actually marry her and shares his suspicions with his wife, according to whom do thappar laga ker seedha karna chahiye apni behen ko. Seriously, why are most bhabis shown in such negative light? The one thing I really admired here was how Roohi was able to convey her feelings to her brother without being judged. Usually these type of things go from Bhabi to brother for some reason, so I was really glad to see such a strong and trustworthy (yet still respectful) bond between the two.
Back at the haveli, Agha Jan has announced the Nikah of Behroz and Arjumand on Friday and then Rukhsati after a year. Behroz finally tells his father he can't marry Arjumand because he is in love with someone else and has promised to marry her. I'm sure you can all guess what happens next. Agha Jaan says:
"Dunya idhar se udhar ho jaye Behroz, tumhara nikah jummah ko hi hoga."
And with that episode one ends. I really liked how fast paced the episode was. In most dramas either Behroz would have to wait till episode 3 or 4 to defy his father or would have married both Arjumand and Roohi, so thank you Farhat Ishtiaq for saving us all from that and being precise and to the point without the melodrama.
As great as the script was, the direction was equally fantastic. Haseeb Hassan took the script and visualized it for us with absolute perfection. The cinematography and presentation was beautiful and it was nice to see the beauty of Pakistan, rather than the US or UK.
Acting wise, everyone did justice to their roles, but my favorites were Ali Rehman and Abid Ali. No words are good enough to describe Abid Ali, so I wont even try, but Ali Rehman to me, seemed the most natural in this episode. I also appreciated how all the actors were treated. With such a huge cast it is difficult to do justice to each character, but it has been done. Everyone has their specific role, and no matter how small, it is still important to the story line.
Last, but definitely not the least is the haunting, yet soothing OST - love the lyrics, the music and everything about it.
It really takes you back to the era of havelis and multi-generational families, and innocence, With 30+ episodes remaining, this is going to be a great ride.
Here is episode one for all who missed it.