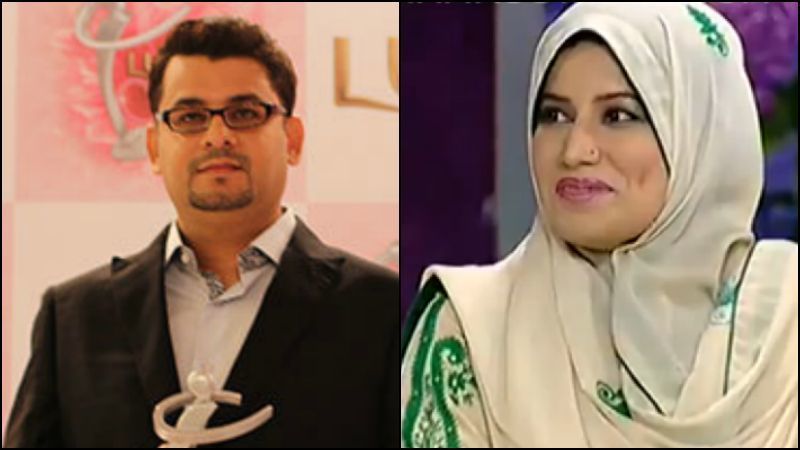 The director and writer of the drama say they are working with a 'dream team'.

Yeh zindagi eik kitab ki tarha hoti hai, bilkul eik band kitab ki tarha, jise jab parhne ke liye khola jae to ye nahi pata hota ke kis safeh mein khushi aur hansi milne wali hai, aur kahan ghum aur ansoo.
The above was a monologue from the first episode of Diyar-E-Dil, which needless to say was a smashing hit. Produced by Momina Duraid, written by Farhat Ishtiaq (as a novel first in 2006), and directed by Haseeb Hassan, it is no wonder that everyone from the viewers to the critics absolutely loved it.
Before the first episode aired though, I wanted to get the writer's and director's take on the novel and why they decided to adapt this into a Drama. Both Farhat and Haseeb graciously accepted my request for a short interview (separately). With 30+ episodes, they both promise that it will absolutely not drag.
---
Is the drama based completely on the novel or are there differences?
FI: There are some differences, but they are very positive. I wrote several drafts of this novel back in 2006. while adapting I took some scenes and situations from my earlier drafts of the novel.(They were never a part of the published novel). Interestingly Momina and I think on the same wavelength.she came up to me once and said Farhat, it would be great if the story had this and this and I said, that is what I had written in the earlier drafts and we just used those. In the novel ,there were flashbacks here the story is very linear.
Now we have a very strong linear story and I have strengthened the characters even more. I have really enjoyed this script and it was very difficult for me. There are so many characters and each with their feelings that I had to do justice to the feelings of all the characters. Enjoyed the difficulty as I had also challenged myself.
Whose idea was the cast?
FI: It was a mutual understanding between Momina, Haseeb, and me. Everything in this script was done with mutual agreement of all of us and I am very satisfied with the cast and very happy. Haseeb is a very hard working and intelligent director and has done complete justice to the novel. He has worked really hard for this project.
There are many details in the characters and really this was a dream cast. I cannot pick out just one person and say this person did better than anyone else because it just wouldn't be fair. They all were just perfect for their roles. I never felt like something was lacking or was left out from the characters.
HH: I'm lucky to have the cast that I do…as big as it is, they were all excellent! Nowadays producers avoid this kind of a big cast because it is hard to manage, but the credit for this truly goes to Momina Duraid…she is a wonderful producer and she managed everything. Every single actor took it seriously with heart and soul…no one can say that one was better than the other.
How many episodes are in Diyar-E-Dil?
FI: There are 30+ episodes, but it isn't because it was the demand of the channel or producer, it is because that's how I wrote it. You will see that it will not drag. But to do justice to the story (which revolves around 3 generations), the characters and their feelings, 30+ episodes had to be written, otherwise bohut kuch reh jata.
HH: It is a long serial with episodes being 30+, but trust me, it will not drag at all. This many episodes were absolutely necessary for the serial.
How was your experience working with Momina this time around?
FI: I love working with her.She is a great person. She gives me full creativity and freedom which is very essential for the writer so I was very happy. I did everything I wanted to and as I wanted to. I had the havelis scenes planned out but was a bit scared ke it might be too much, but Momina made it happen and exactly like I had imagined it. My connection with Momina is very strong. We have the same thinking and same romantic nature so it's a lot of fun working with her. Before I started writing Diyar e Dil's script, Me and Momina discussed the story for many days and then I started writing it. Even small details like wardrobe were taken care of. The one thing I really love in this drama is that we have shown the beauty of Pakistan. People would want to come and see Pakistan for that and InShaAllah tourism zaroor barhega. Humara mulk itna khubsoorat hai, hume use dekhana chahiye and we did that in Diyar –E- Dil.
The promos are very different from what we usually see (roti dhoti khawateen...). What made you change course?
HH: I wanted to come up with something new and innovative…the promos are actually Rumi's quotes and I'm glad people are liking it and appreciating something different and not run of the mill.
What are your expectations from this drama?
HH: I think that if you set your goals ridiculously high and it's a failure, you will still fail above everyone else's success. So I set ridiculously high expectations and the end result was exactly how I envisioned it. I'm getting amazing response so far after airing of initial episode. My hopes are high.
Is there anything you would like to say to the audience?
FI: First I would like to thank the entire team and would like to say that everyone has done a great job. I hope the viewers like it because her eik ne dil se kaam kya hai is mein aur bohut mehnat ki hai.
HH: I would just like to say that perfection belongs only to Allah, but you must watch Diyar–e-Dil as every single actor worked from the heart and you will see that on screen.
And there you have it, short, but a very informative Q&A with the writer and director of Diyar-E-Dil about their thoughts behind this mega project.