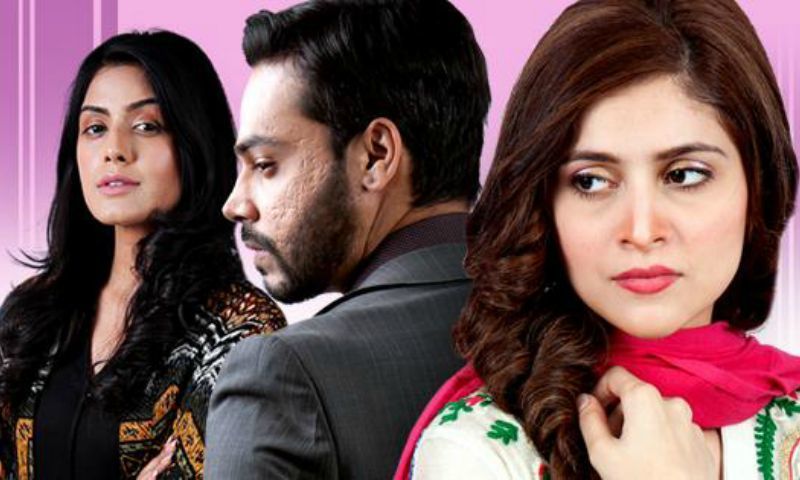 The ensemble cast and their commendable performances compensated greatly for the trite start

The moment I saw the first teaser of 'Khilona', accompanied by its stirring OST playing in the background, I knew I needed to watch this serial although the cast did not include any of my stars.
Last night at 9 pm when the first episode aired on ARY Digital I was disappointed. Here was another love triangle, a plot already done to death by our dramas, but this element ended up playing a major part in the development of the story.
In Khilona the ensemble cast includes the evergreen beauty Zeba Bakhtiar, Gohar Rasheed and Humaira Zaheer and their commendable performances compensated greatly for the trite start.
---
Meet the cast
---
• Omer Murad (Gohar Rasheed) is the only son of the affluent Hassan Murad. It's been a year to his father's demise and it has taken a toll both on him and his mother.
• Fauzia (Zeba Bakhtiar) is Omer's mother who just can't get over her husband's death and also feels that his absence has sharply deteriorated her relationship with her only son.
• Safya (Humaira Zaheer) is Fauzia's bhabhi who pretends as if she loves her sister-in-law's family a lot and claims that she deems Fauzia more than a sister. However, the shrewd woman has ulterior motives behind her actions- She is desperate to get her daughter Maria married in this well-settled family.
• Maria (Alizay Rasool) is Omer's first cousin who acts more like a girlfriend but Omar abhors her for acting like that. She loves Omar and expects the same from his end too, but all in vain.
• Hira Ahmed (Arij Fatyma), a meek yet headstrong young woman, makes the third part of this love triangle. Her late father was best friends with Omar's father, but despite that the two hadn't met each other ever before.
---
The story
---
The episode opens to the backdrop Omer Murad's mansion. The handsome young man looks greatly depressed and downs a few pills which we later find out are anti depressants.
Omar misses his late father immensely and so does his mom Fauzia. However, unlike Omar, Fauzia has company - her bhabhi Safya keeps consoling her day in and day out and tells her to recover asap. Guess why? Because she wants Fauzia to arrange Omar's shadi to her daughter Maria.
Safya also emphasizes on the fact that it's not only Fauzia's family who is mourning the irreparable loss but her family as her daughter Maria makes sure she reads a sipara everyday for her mamoo's maghfirat.
Fauzia being an innocent forbearing woman believes every word her bhabhi utters because she thinks Fauzia and Maria are loyal to them.
Maria has pure feelings for Omar and can't see him upset. She tries hard to make Omar like her by looking after him and cooking for him and gives him company, but Omar doesn't need any of it, because he just wants her to act like a cousin. And says: "Mehman ho mehman bunn ke raho"
However, Maria staunchly believes in the fact that one fine day Omar himself will propose to her.
On the other hand though, Safya has no plans of moving back to her house and decides to delay her stay at Fauzia's on the pretext of some ongoing construction at her place and her allergy to dust and grime resulting from the process.
She also keeps addressing Maria's shadi issues in front of Fauzia and how she has so many suitors who are dying to marry her.
In another scene, we see Hira in a small shabby looking house establishing the fact that she belongs to an impoverished family. Her late father had taken Rs300,000 from Omar's father who he was very close friends with and she being the complaint daughter wants to pay it off at the earliest.
After saving supposedly each and every penny from her salary she has finally managed to collect the staggering amount and keeps calling Omar but he never responds. Hence, she decides she will go to his office to meet him in person.
The fleeting meeting between the two impresses Omar greatly and apparently has his pulses fluttering.
They meet again when Omar is enroute another organization for business purpose which happens to be Hira's working place. And coincidentally, Hira also turns out to be the person Omar has to deal with for a project he has lately taken up and for which he wants top notch creative team for the promotion. Too many coincidences, no?
The verdict
The overworked story with unwittingly funny coincidenceswas fast paced and a drama buff could easily foresee what's going to happen in the next episode even before we saw the precap- Omar asking for Hira's rishta.
Nonetheless, we are intrigued and want to see how the bechari Maria and her mom are going to react.
The star of the show was deifinitely Gohar Rasheed. We loved him as the despicable Shaukat in 'Digest Writer' and I think we will love him even more as the haughty Omar Murad.
Also, it was good to see Arij in a mature role unlike how we have seen her in the past (cue: Ishq Parast and Ek Pal)