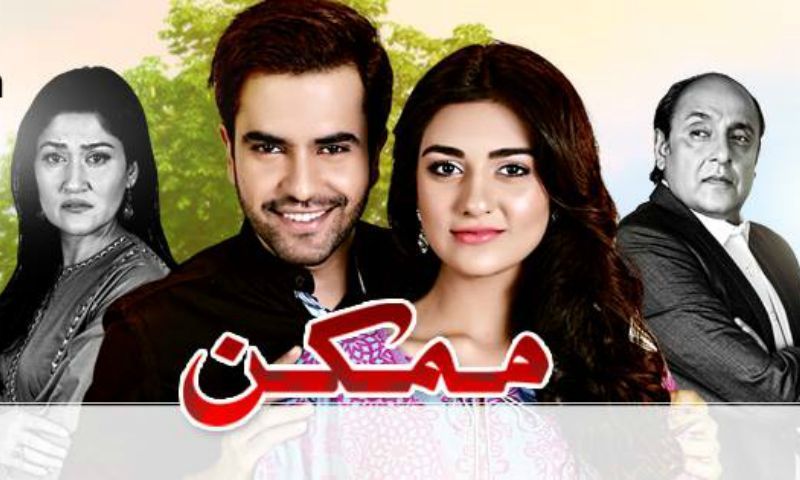 ARY's newest serial "Mumkin" is about the effects of broken families on children and how it moulds their personality into something crippled and scarred.
Written by Sarwat Nazeer, it is the story of Maira (Sarah Khan) who lost her father even before being born and even her mother's unconditional love cannot fill up the void. Her loss has left her naive and foolishly trustworthy, without an ounce of distrust in her heart.
---
The story so far
---
Two episodes down, the drama has managed to provide a deep insight into each and every characters' disposition but story wise it has been on an almost standstill.
Maira has been befriended by the audacious Natasha (Sadia Faisal) who was born and brought up in the UK but has moved to a hostel in Pakistan to pursue her higher studies, while her parents still reside abroad.
Also read: When a boy named Yousuf fell in love
Being engaged to her cousin Waleed and on the verge of getting married, Natasha uses Maira conveniently for doing anything that she finds tedious. This irks Maira's mother, Mehreen (Irsa Ghazal), tremendously as she hates her daughter being exploited so blatantly.
Maira, on the other hand, does everything dumped on her for the sake of their friendship and simply because she likes helping people.
Mehreen often goes into flashbacks to reminiscent about her happy days when her husband was still alive. To the so far monotonous drama, these flashbacks add a hint of mystery due to Mehreen's cryptic remarks about something that her husband wanted to do and she was against.
Moreover, she rarely answers her daughter's inquisitions about her father and possesses no pictures of him whatsoever. All this has shrouded this father character into an obscurity that we can't wait to be unveiled.
Simultaneously, Natasha's devar Muneeb (Junaid Khan), who has been engaged to Natasha's acquaintance, Tania from UK, is often shown bickering over the phone with her about their future.
While Tania wants him to shift to the UK, he cannot imagine leaving behind his mother. On finding Tania's inappropriate pictures on the internet, he breaks up his engagement as he finds his fiancé way too modern to adjust in Pakistan.
Also read: Twists in Goya take a turn for the predictable
Natasha's mother Nageen (Farah Shah) marks her dramatic entry at the end of the second episode. Her imposing nature has insured that both of her brother's sons are engaged according to her own expediency; Waleed is set to marry Natasha, albeit grudgingly, and Muneeb was to marry her friend's daughter. But his refusal to do so sets her off course.
Will she manage to bully him into marrying Tania? And will we have to witness Juanid Khan as a disappointed husband one more time? Or will he show some backbone and stand by his decision? Honestly, these questions don't interest me, for if I do follow this drama, it will only be because of Irsa Ghazal's fluid performance and the suspense behind her character's deceased husband.
Verdict
Behind all this family politics, the original essence of the drama (the effects of a broken home) has been lost somewhere. A powerful topic has been marred by the futile need to inject some kind of vampiness to the story which is very disappointing.