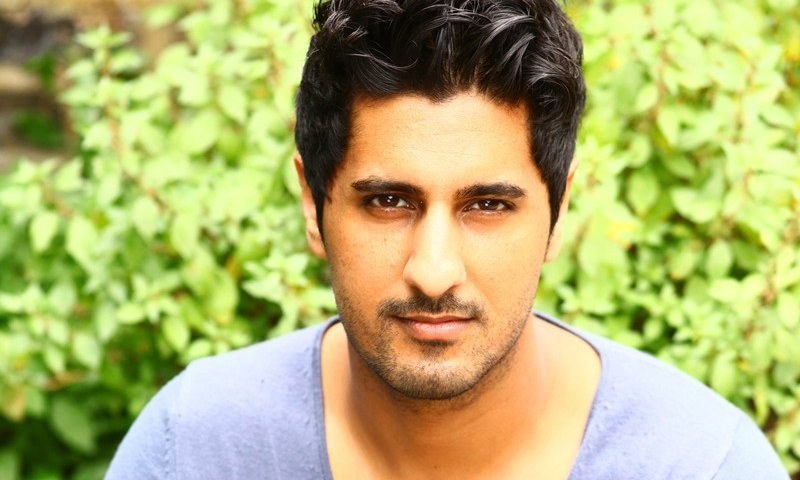 Crowned Mr Asia UK 2004 he started his career as a VJ on Indian music channel B4U but his true passion is cinema

Ruggedly handsome and brutally charming Asad Shan is every inch a star. As he rushes through publicity during his brief stay in Karachi the VJ turned film maker oozes a cool British sophistication.
The Welcome to London actor and director lights up as he talks about his film, a labour of love that has taken him years to bring to Pakistan.
Born to a Kashmiri parents of Pakistani origin Shan is a former investment banker by profession who left the profitable job to make big in films. Crowned Mr Asia UK 2004 he started his career as a VJ on popular Indian music channel B4U but his true passion is cinema – he chose to make his a film on his own terms despite lucrative offers from Bollywood.
His debut project is romantic thriller 'Welcome to London' which narrates the story of a young immigrant who visits London with stars in his eyes but is met with a rude awakening when he realizes that life abroad was not what he expected. Besides Shan, the film stars Pakistani model Sabika Imam, Tim Hibbered and Aliakbar Campwala in the lead roles.
The film had a successful release in United Kingdom a couple of years ago – where Shah's creative effort received critical acclaim from top brass of British and Indian film makers – Karan Johar and Shah Rukh Khan also supported the movie with their tweets and special messages being run on social media. In Pakistan, the film was released last month.
With a combination of Brirish grit and Bollywood masala the film has a unique flavor that will appeal to the local audience and Shan knows that his
HIP talks to the young movie maker about his debut film making experience and his future endeavors.
What do you feel is the main idea behind 'Welcome to London'?
Welcome to London is movie audiences relate to in every sense. People usually think that money grown on trees but in reality it is not easy to earn it especially when you are in some foreign land. In most Bollywood movies we see a handsome hunk land in London on a corporate plane with a luxurious car waiting at his disposal – but reality is far from it.
We have heard that your film story is inspired by a group of students living abroad?
Yes, it is true. My father is a property developer so he has got many properties all over the city where students live so one day I went to one apartment and I saw a group of Tamil boys – they all were dressed up in lungi and eating Sambar with their hands. I was so touched seeing them living together and decided to make a film on them – since their stories were all about happiness I added a little bit of drama. The film gets dark, sometimes scary.
We love the music! What was the concept behind the compositions?
You may be surprised to know that the film music was finalized even before the selection of the actors. It's a combination of underground music with really humming commercial sounds – we have diverse singers singing for us from Falak Shabbir, Sohail Haider, Asad Ali Khan to Zuj Jibran.
When we released our first song 'Tera Saath Ho' it got around 70,000 hits in its first week and that is without a release in India.
A lot of work must be go in the film, as an actor and a director. How did you manage?
Well it has pros and cons too. Being an actor sometimes makes you greedy as you want to get a hold on all the important scenes but being a director I have learnt how to tame myself – if a certain scene deserves someone to take the center scene it's important for you to let him shine in it. As a director you can control those creative calls and control yourself as an actor. As a director you are more committed to the project overall because you are looking at the storyline and not just individuals.
So yes, a lot of sweet and blood going on – I was drinking, eating and sleeping this film and it shaped out so beautifully that I'm satisfied today and there is a lot of hard work went into it.
How has the film changed you as a person?
Well, I have become more disciplined person now – the thing is that when you have given certain time to do some task and you are using someone's money to do a product so you have to get it right. I have learnt patience and film making tactics. But most of all I have developed more respect for the immigrants who are making it out over there – because their stories are all about their passion, dream and hard work towards their cause.
How did Sabika become part of the film?
I remember when we were auditioning for the lead actress role – five girls came in for audition and Sabika Imam was one of them but she had put on too much make-up and look older than me. We asked her to remove the make-up for the next audition but still some foundation was left so I asked her to go to wash her face and eventually when she came she looked absolutely perfect for the role.
We were so busy in the shooting that we hardly cared about the food – most of the time we were ending up ordering fast food and fizzy drink so much so that we thought by the end of the film most of us have to switch to some great diet plans to get in shape again.