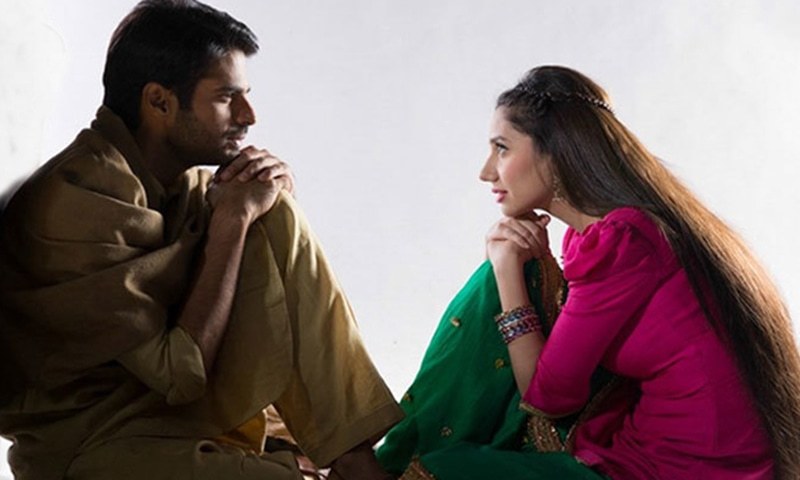 It was a mammoth task to show the different kinds of 'love' Khalilur Rehman Qamar had experienced in his real life.

'Adnan Malik ke ilawa sab kuch,' said one of my dreamy-eyed friends. Her response was too dramatic and understandably so; she was under the influence of her hormones.
My friends and I were sitting in front a big television screen to observe the gorgeousness that was Adnan Malik. It was a Friday night ritual we started in the winter because we had exhausted all other topics and there was nothing left to discuss. We would watch Sadqay Tumhare with much zeal and then look at each other and go, "what was this?" And the rant would start.
If you were also undergoing similar emotions then read on.
It is easy for us to criticize the effort but we need to identify want went wrong with this mega project. It had all the right ingredients – Khalilur Rehman Qamar, Mahira Khan, Samiya Mumtaz, MD production, realistic sets.
---
It had the potential to become the big thing but it didn't. Why?
---
First, writing autobiographically is a difficult job. To make others visualize your life like you did is near impossible. The writer was definitely really close to the project because it was his story and maybe that's the reason Sadqay didn't do as well as it should have. There were too many details (probably to help us visualize the reality) which made the serial slow-paced and didn't translate well on screen.
It was a mammoth task to show the different kinds of 'love' Khalilur Rehman Qamar had experienced in his real life. He wanted the audience to feel the spiritual connection between Shano and Khalil and get disgusted by the more 'physical' nature of love exhibited by Rasheeda (Shano's mom) and Humeira (her BFF). However the audience did experience the latter (A LOT), the on screen evidence for former was missing.
There were various supporting characters – Dr sahab and maulvi sahab – whose job was to tell the audience 'how sufiistic their ishq was'. But the audience was supposed to sense it themselves instead of repeatedly being told that 'their love is different'. We were supposed to feel the difference.
The major failing with what could have ben a landmark serial was that the characters had to vocalize what the audience should've felt. Apart from this major flaw, there were various other (mini) reasons why Sadqay didn't create a place for itself with critcs.
Khalil - spoilt boy or intense lover?
(See, even his mom is confused)
Adnan Malik is a newbie when it comes to acting and unfortunately it showed in the initial episodes. I still can't get over his 'Mujhe bhook lagi hai doctor". Unfortunately, it has become an integral part of my (and my siblings) speech so whenever we're hungry we know exactly what to say to convey the intensity of our need.
As the serial moved forward, Malik's acting skills improved and he delivered some amazing performances like when he was asking his step-dad that 'mein kiska beta hoon, mujhe sach sach bataein'. That was heart breaking.
Anyway, so initially Khalil came across as this spoilt kid who treats Shano like a toy. He had this all Shano-is-my-toy-nobody-can-have-it vibe around him and that annoyed me.
Shano
This woman refuses to right 'Khush' with a 'wow' because she doesn't want anything to come between Khay (for Khalil) and Sheen (for Shano). Wow!
And just btw, Shano isn't even her real name. I was definitely s (for stunned) after digesting this. Also she's just a teenager and instead of concentrating on her studies, she's busy drooling over her bachpan ka mangetar. Apart from her over-mushiness, Shano was pretty sane and Mahira did a brilliant job.
Treating love as *'jihad'*
One of the most hilarious response to 'the fight' – which involved a lone Khalil beating up a (big) bunch of laathi-laden dudes – came from one of my friends. As we sat on a takht at her place and spoke about the 'drama' that was Sadqay Tumhare she recapped the fight scene in one short phrase, "Uski [Khalil] personal Jang-e-Badar hogayi wahan."
She was obviously referring to the Maulana's sahab's reference to Shano and Khalil's love as something else. "Ye ishq se oopar ki cheez hai". I agree. Beating up six people to mesh and that too alone is definitely something that goes above (oopar) my head.
Again, as I mentioned earlier, why did Maulvi sahab had to say this. I, being the audience, should've said, "This is so intense." Instead my friends and I had a good laugh on Khelu's hulk-move and Maulvi sahab suggesting that angels descended to help him.
Which Pakistan did Khalil live in?
This was the 70s and however modern Pakistan was at the time I don't think it encouraged public 'jhappies'. Or unadulterated stays at 'hotals'. Or allowed bachpan ke magetar to have a chit chat session in the girl's room while the parents felt helpless downstairs.
If Shano is this innocent, spiritual girl then why does she allow a namehram man in her bedroom? Don't worry Dr sahab has an answer for this as well. "Bohat izzat karta hai Khalil uski. Beech mein ek foot ka fasla hota hai dono mein," he told his parents but that was just an excuse to satiate the audience's conflicting emotions.
Did the director want us to go 'Ohh, they follow the one-arm distance rule? That's cool. They should totally date in Shano's room now'.
Was it actually real?
Sadqay Tumhare was so melodramatic and had so many dirty-minded people that I often wrestled with the idea of it being reality once upon a time. We don't know how much dramatic license the write took to make it more television-friendly but if this is what his real life was like then I thank the lord of sanity for sending me in the eighties.
The seventies was surely a mad mad time where a mad woman like Rasheeda existed.
The zillionth narration of the hotal-scene by Rasheeda gave me nightmares (featuring a hotel room of course). This woman is not sincere with her husband or children and neither she was an exemplary fiancé because she cheated on Abdur Rehman with Sadiq (her elder sister, who is Khalil's mom, ex-husband). Confused?
We were too when Shano narrated this riddle to Maulvi sahab. I almost expected her to clap her hands and say, "ab batayen, kaun kis ka beta aur kaun kis ki biwi hai?"
So I was at Rasheeda not being a sincere person at all. This woman is only sincere with her lust. And I still can't get over the fact that she was once a real person.
This is how we (and I presume the rest of the audience) reacted to a particularly disturbing scene.
[Scene: Shano's mom (Rasheeda) being flirtatious with Khalil's dad]
*Friend1: Rasheeda asked Abdur Rehman to divorce his wife who is also Rasheeda's sister. She then suggested she'd also divorce her husband. And then they'll live happily live ever after.

Me: And imagine she was once a real person!

Friend 2: Rasheeda was acting soo cheap! Braid agay karke sharma rahi thi! A forty plus woman!

Me: Aur ye asli aunty thi!

Friend 1: Poor Abdur Rehman was there for Shano and Khalil's rishta scene. Usko khud rishta offer hogaya!

Me: Rasheeda 'actually' existed.

Friend 2: Writer ki khala mind nahi karegi?

Friend 1: She's probably dead.

Silence
Sadqay Tumhare had so many avenues that the focus easily shifted from the protagonists to other characters which then lead to but how come everyone else except Shano and Khalil had ulterior motives and finally to the they-were-once-real-discussion. Maybe the writer should've kept it simple to make it more reachable and relatable for the audience. But then again, it was his story and he can choose to show it however he wants.