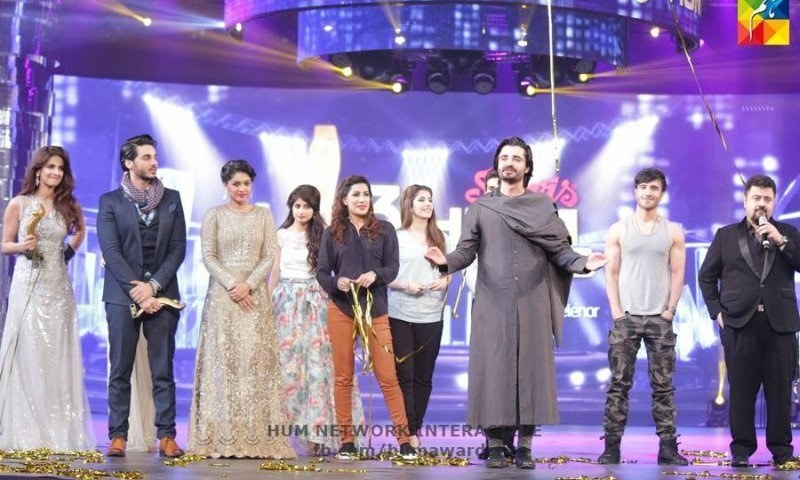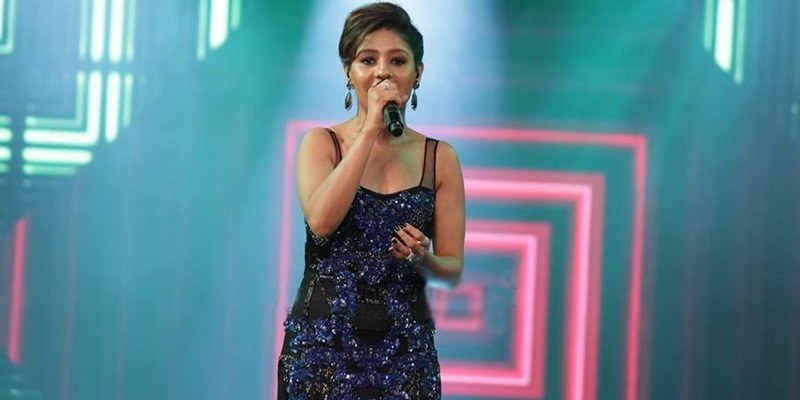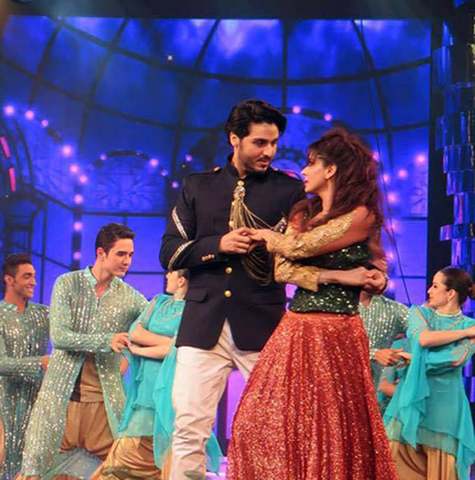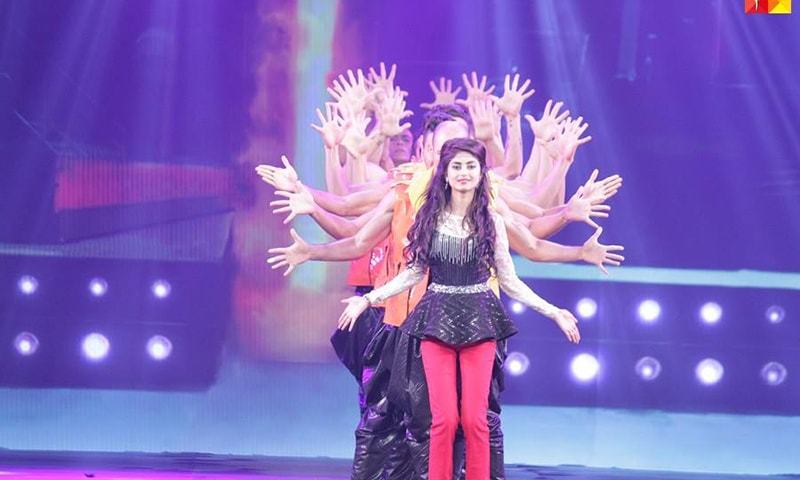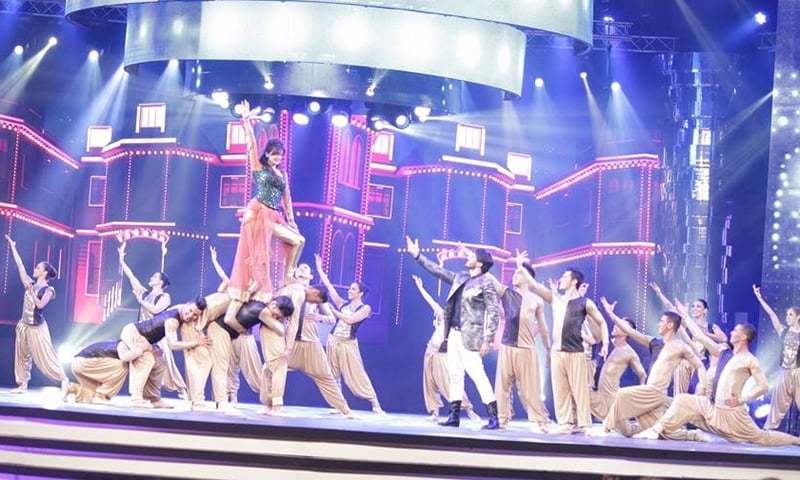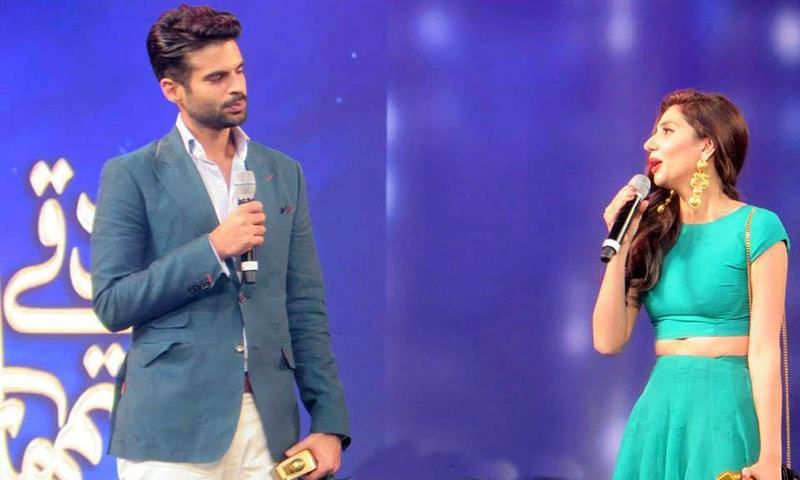 'Sadqay Tumhare' gets lots of love from the audience while 'Bunty I Love You' woos the jury.

The stars milled about in Dubai World Trade Center's corridor. The males looked dapper in their tuxedos while the females (most of them) flaunted the oh-so-famous (and now oh-so-boring) red pout. Anoushey Ashraf, now an expert on hosting red carpets, interacted with the celebs before they stepped into the actual award ceremony.
The grand event was held in Dubai last night. The show started off with Sanam Jung – in a digital sari - and Hamza Abbassi (in his Mahmud-Khan-Achakzai-look) hosting the show. Later on, Vassay and Ahmed Ali Butt took over and did their usual drill where they interact with the audience and torture poor Humayun Saeed for being overly romantic.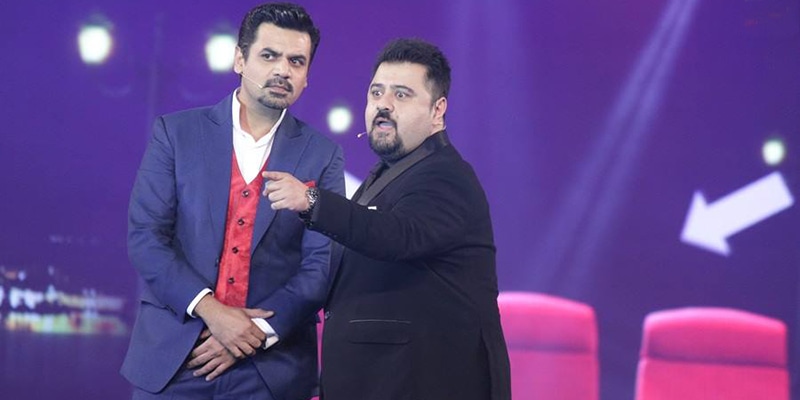 Eeep! It looks like they've spotted Humayun Saeed
The Sadqay Tumhare fest started soon after. It clean swept the popular/viewer's choice category. Mahira Khan the Best actor female (popular) award for her role as Shano in Sadqay Tumhare. I may have issues with how the character is too cheesy but the again that's not Mahira's fault. She, being the opposite of cheesy in real life, pulled of the soft spoken character really well.
But I do feel it's not fair for other nominees to compete with Fawad Khan and Mahira Khan. They have this massive not-so-objective global fan following (thanks to Humsafar and Zee Zindagi) end up getting lots of votes. Saba Qamar did deliver her best in Bunty I love you – another Khalilur Rheman Qamar script – and should have impressed the audience. Other actors in the category – Ayesha Khan for Mehram, Ayeza Khan for Mere Meherban, Sanam Jung for Mohabbat Subha Ka Sitara and Saba Qamar again for Digest writer – weren't outstanding.
Read: The Best Drama: Hum Viewers choice
How can I forget. Mahira Khan and Adnan Malik received the Best onscreen couple award. I do not care who else was nominated in the category; these two look adorable together.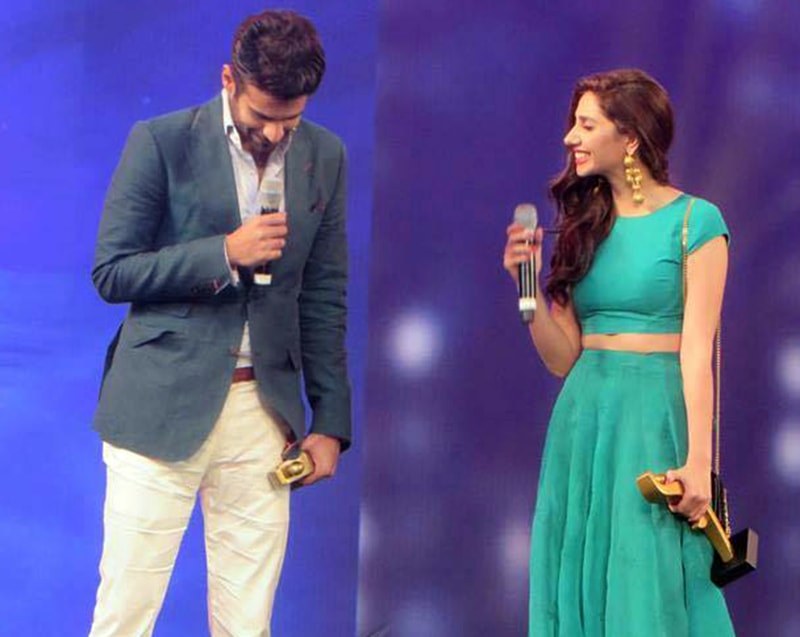 Evidence!
Samiya Mumtaz as Rasheeda is one of the most hateful characters I've ever seen on Pakistani television. And kudos to Samiya Mustaz for looking so cunning and changing her expressions from guarded to sly to guarded again in a nanosecond. Mumtaz has won me over with her performance in Sadqay Tumhare. If an actor – playing a negative character – makes you go and puke or turn off the TV (which is not good for the ratings) then he/she is definitely doing something right.
She deservedly received the Best Actor in Negative Role and the most Impactful Character for Sadqay Tumhare.
Rehan Sheikh received the Best Actor in a Supporting Role for his role in Sadqay Tumhare. He plays this annoying abba who refuses to see how evil and disloyal his wife his. And he acts all hopeless when Khalil come to meet Shano in her 'room'. Yes, so Rehan Sheikh did annoy the hell out of me and that's whu he got the award.
I was happy that Khalilur Rehman Qamar received the award for Best writer…until I got to know that he got it for Sadqay and not for Bunty I Love you. Yes, it takes guts to write a biopic and the convoluted plot (with lots of shaadis, affairs and breakups) was cleverly written but did the story actually lead the audience somewhere?
Okay, this one was the least expected. Ehtesham Ud Din bagged the Best Director award for Sadqay Tumhare. The serial is beautifully shot with realistic sets, fake smoke, moonlight and all that jazz but ti's too slow-paced. And isn't that the director's job to keep the audience interested in the show? Well, when I look at the other popular shows aired on Hum Tv last year (Mausam, Mere Meherban, Muhabbat Subha ka Sitara, Digets Writer and Mehram) then Sadqay probably did stand a chance.
It looks like most of the Sadqay cast received award for torturing the audience. Is this even allowed?
And I almost forgot the OST. 'Ishq pehle tha ya Aashiq pehlai' has this really disturbing similarity with a popular Urdu riddle 'murghi pehlai ayi thi ya anda?' and unfortunately I identified the resemblance when I first heard the OST. But other than this little disturbing element, the song is soulful. But Laa's OST was 'much' better and gave me goose bumps. Have a listen.
Only Adnan Malik couldn't grab the Best Actor male (popular) Award for Sadqay. Last year, Meekal Zulfiqar complained to Hamza Abbasi that 'humein das saal hogaye industry abhi tuk award nahi mila aur tum abhi se complain kar rahe ho?' It looks like the audience was hanging on to his each word. The viewer made sure he didn't go empty hand this time and he bagged the Best actor (popular) award.
---
Sane Jury
---
I looked around vapidly for booty looted by Bunty I love You at the Hum Awards and finally saw that it had indeed been recognized.
Finally 'Bunty I love You' got its due attention. Although not that popular (maybe because of the weird name), 'Bunty I love you' was a masterpiece. The acting, script and direction; everything was perfect and it deservedly got the Best drama serial (jury) award while the popular award went to? You guessed it right Sadqay Tumhare. Saba Qamar received the Best actor Female (jury) award.
---
The newbies
---
Islamabad ruled the 'New Sensation' category. Adnan Malik and Hareem Farooq both are originally form Islamabad and they won the Best New Sensation Male and female award respectively.
The popular Khelu (Adnan Malik) has indeed entered the drama industry with his Best New Sensation Male award. Adnan Malik had been part of Pakistan's music and ad industry. He worked on the popular Coke Studio and did numerous ad projects before finally saying yes to Momina Duraid for Sadqay Tumhare.
The female version went to Hareem Farooq for her brilliant performance in Mausam. Farooq was first scene in Pakistan's first horror film Siyaah. Although the film itself didn't do well, the makers identified this Farooq's potential. Currently, she's doing a brilliant job in Hum TV's serial Diyar-e-Dil.
Mansha Pasha also received her first ever award for her role as Sanam Jung's annoying khalazaad in Muhabbat Subha ka Sitara hai. I loved her in Zindagi Gulzaar Hai and I'm currently enjoying her performance in APlus' Zuekha Bina Yousuf.
Lifetime achievement awards
I'm sure the list for this category was made during the first ever Hum Awards. Each year they just strike off one name after giving them the award. Let's just hope nobody from the list dies before the list is finished because then that person won't be able to get the 'lifetime' achievement award.
In the third Hum Awards, three people received the award (maybe Hum TV is also scared of people dying off). Excellence Awards for music went to Abida Parveen and for TV went to Samina Peerzada. Anwar Maqsood got the actual Lifetime Achievement Award. Should Samina Peerzada still expect another award for her overall achievement?
---
The 'other' awards
These are the 'thanks for coming' awards. Hum Awards wouldn't have been a comlete success if Fawad khan didn't attend the show so the organizers made sure he was given one award. Relax ladies, I'm not suggesting that he didn't deserve the award. He is indeed the best ambassador of our country that I've ever seen. He's intelligent. He's sober (not overzealous). He loves his wife. And he totally deserves the international Icon Award.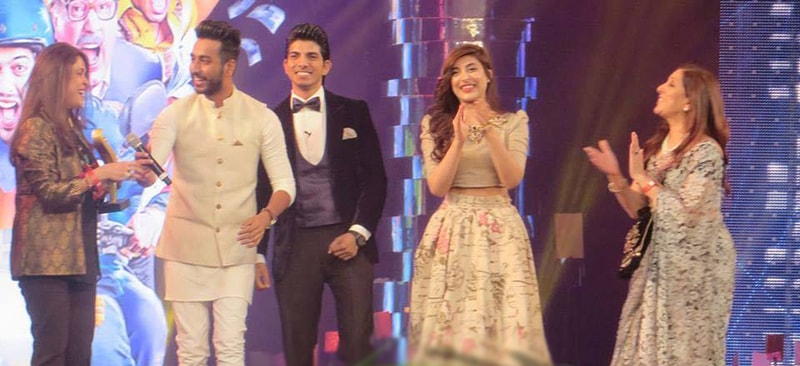 The 'Namaloom Afraad' team being appreciated
Namaloom Afraad – a film which is still in cinemas!! – was also given a token of appreciation.
Fashion
Cybil Chaudhry won the Best model female award beating, Fauzia Aman, Nooray Bhatti, Amna Babar and Sabeeka Imam. Cybil made her acting debt last year as well with Hum Tv's serial Firaaq and I hope to see more of her on screen and of course on her home ground (runway).
Read: Our picks for Hum Awards viewer's choice category
The Best Model Male went to Shahzad Noor. He left Jahan e Khalid, Umer Shahzad, Hasnain Lehri and Rizwan Jafri behind.
Music
Farhan Saeed won the Best singer Award for his song Roiyaan. Honestly, I didn't expect this. But looking at the competition, Saeed did have a fair chance. There was Faakhir's Shikva which reminded me of Sooraj Hua madham from K3G, Sketches with Meena – a Sindhi song, Ghalti mein shta by Naseer and Shahab and Nimmi Nimmi by Overload.
The downside is that these songs were nominated in the popular category and they're not even popular. Naseer and Shahab received the Best video award for Ghalti mein Shta. The video was a piece of art and kudos to the audience who actually understood the concept and voted for it.
---
The not-so-important awards (sorry) were given in a jiffy in the begining.
The Best Actor Soap (male) – Danish Taimur for Hum Teray Gunahgar

The Best actor Soap (female) – Zarnish for Susral Mera (tou Raaj mera – this song is a nightmare)

Best Telefilm – Main Cuckoo aur Woh by Showcase communication
---
It is great that Hum TV is trying to revive the sitcom culture in Pakistan. I'm yet to see a Shashlik, Family Front sort of a comedy but with Mr Shamim we're slowly going towards it. Maybe. Anyway, Uff Meri Family starring Azfer Ali and Naveen Waqar won the Best Sitcom award.
The performances
It was 2014 all over again during Ahsan Khan and Saba Qamar's performance. Ahsan left the stage and we witnessed the Ahsan Khan-Bushra Ansari moment yet again. Their impromptu dance has become a regular at Hum Awards.
Mehwish Hayat gave her Billi-esque performance and Feroze Khan and Sajal Ali's debut performance at was a hit. The young on screen couple started the award ceremony with a bang. We all saw Shehroze give a brilliant performance last year. He delivered the same this year but Twiterrati thought Syra needed 'much practice'.
Read: Hum Viewers Choice awards: Our picks for Best actor and actress