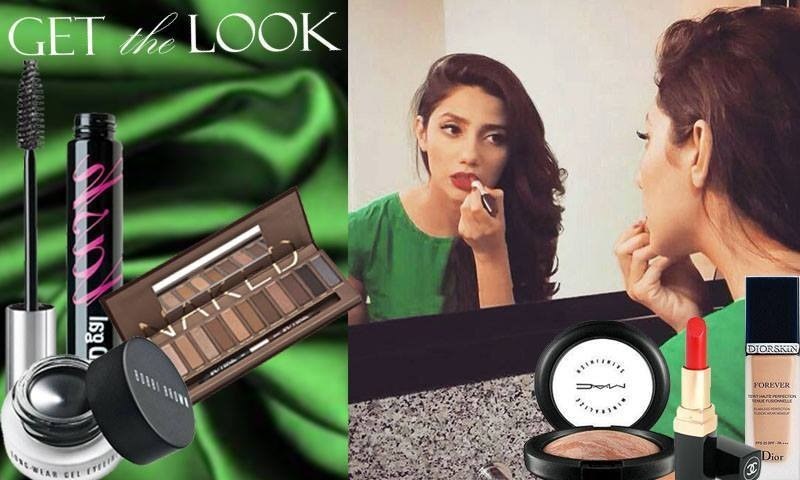 The timeless beauty was bang on trend and as usual, it was all in the accessories for Miss M

Thursday night was a celebrity galore at Dubai's World Trade Centre.
While all the actors were busy admiring and taking selfies with each other (according to Instagram), there was one star who stood out amongst them. I have a feeling that the moment that style icon stepped on the red carpet, everyone there must have turned around to have a glimpse of the sight that was 'Mahira Khan'.
Check out: All that happened at 3rd Hum Awards
Donning an emerald green lengha skirt, designed by her best friend Feeha Jamshed, coupled with a matching cropped top, her outfit perfectly complimented the Best Actress winner's winning look.
Although not sporting a very different look from her previous appearances in Hum Awards, the timeless beauty was bang on trend and as usual, it was all in the accessories for Miss M- with artistic statement earrings, a solid gold palm ring and a chic YSL long chained shoulder bag finishing off her immaculateness.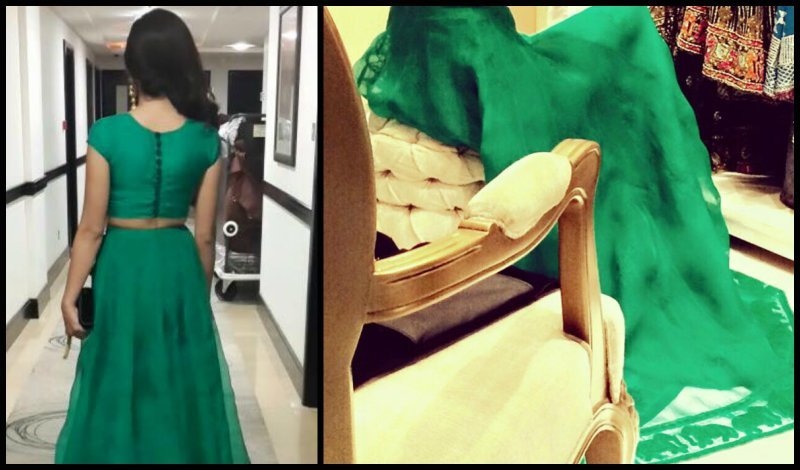 Details of the dress- yes, the lehnga had self embroidered elephants on it!
We assume MK's diehard fans, precisely women, must have been taking in each and every bit of her current look.
---
So, why not compile a DIY guide for all you Mahira-style-fanatics out there to capture the spirit of her look so that you can recreate it yourselves.
---
Here is how to get the look:
Check out: Get the look- Zhalay's Bunno in 'Jalaibee'
Makeup
One feature of Mahira that has stuck with most of us is her flawless radiant, skin; and in order to achieve it, it's best to use a high end foundation, obviously after moisturizing and priming your face, and we are currently in love with Dior's Diorskin Forever.
Her under eye area also looks well concealed and we suggest you use the concealor (our favourite: Benefit's Erase Paste) after the foundation so that you don't end applying too much of it.
For those well-defined eyes like Mahira's, we suggest you sweep the shade 'Sin' using the 'Naked' Palette, all over your eyelids and line them prominently using an intense black liner- we can't sing enough praises for Bobbi Brown's gel liner. Also, don't forget to shape those unruly brows and coat those lashes multiple times using a good mascara (use Benefit bad gal lash perhaps?) for your eyes to stand out.
Red lips are Mahira's signature style and if you are one of those people who still haven't been able to find a perfect red lippie for yourself then we suggest you invest in Chanel's classic 'Pirate' (it's okay, you can thank us later).
Give your skin a natural yet a glamorous sheen using a gorgeous highlighter- our favourite: Mac Mineralize Skinfinish in 'Soft and Gentle'.
Don't forget to add some body and texture to your hair using a sea salt texturizing spray and blow drying them later.
Et Voila, you are all set to head out feeling like a Goddess.
Accessories
For a dress like Mahira's, your darzi should be your best bet- just get him/her a good quality raw silk in your favorite color for the top and self embroidered matching cloth in the same material for the bottom, and you should be good to go.
However, besides the dress and makeup, it's the accessories which are playing the most important part. So, in order to take Mahira's look a notch higher, jazz it up with bold ear cuffs in a solid gold colour with a shiny stud on it which matches the colour of your dress.
We thought Mahira could have worn a hair jewelry to add an extra oomph to the whole look and we would suggest you buy an antique style metallic leaf hair comb. This beautiful hair jewelry will make for a stunning spring accessory whether you're at a shadi or at a formal dinner at your university.
Get your glam on with a sexy red nail colour (just like Mahira's) preferably with Essie's 'Russian Roulette' and don't you dare leave the house wearing a delectable scent- we suggest 'Versace Dark Crystal'.