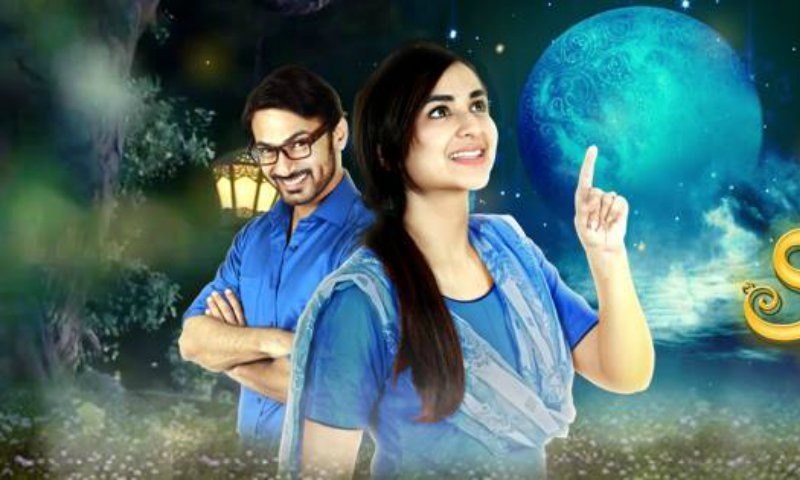 The drama falls under the comedic genre. So, if you are looking to watch something serious, you will be disappointed

Replacing the classic 'Sadqe Tumhare', 'Jugnoo' commenced this Friday at 8 pm and might I add, the promos were a lot more impressive then the first installment.
Directed by Farooq Rind and written by Amna Mufti, the drama narrates the story of the titular character Jugnoo (Yumna Zaidi), a fatherless young girl residing with her mother and khala, who also supports them, and she dreams of only one thing- to get married to someone rich so she can escape the daily household chores and live an idyllic life.
---
The story so far
---
Jugnoo is not your average orphan; she is street hardened, from meandering around all day buying groceries and running errands, and possesses a sharp tongue which she uses abundantly.
Also read: 'Dil Sey Dil Tak'- Resham embraces hosting opportunity head on
Her confidence irks her mother and khala alike but while on one hand her mother wants to get her married off as soon as possible, her khala prefers the muft ki maasi as Jugno often terms herself.
Her desperation to get married leads her to a crook Imran. They met by chance the first time and when they bumped again the second time, Jugno informs him that she isn't willing to have an affair but would happily marry him if he comes over to her house with a proper proposal adding that she lives besides Sheikh sahab's (Rehan Sheikh) farmhouse (we'll get back to Sheikh Sahab's story after a while).
Imran, who was just looking for a meaningless fling, nonetheless hires an actress to be his aunty and goes over to Jugno's house. While Jugno's mother is in awe of his pretend wealth, her khala drives them away stating they looked shady.
Desperate, Jugnoo goes over to find Imran only to bump into the devious Bakshi, an old man who is an accomplice of Imran's, an acquaintance of Jugno's family and the caretaker of Sheikh Sahab's farmhouse. She asks him to invite Imran to her house on Friday for their nikah. Bakshi agrees and the episode ends with Jugno all dolled up waiting for her nikah.
---
---
As for Sheikh Sahab, he is a filthy rich business man residing outside Karachi. His younger of the two sons, Zulfi (Zahid Ahmed) is forced to move to Karachi in their farmhouse, in order to pursue his education, which he has no interest in. So far nothing more is revealed about this family.
---
Verdict
---
The drama has to fall under the comedic genre with its meaningless storyline and senseless characters. And if you view it keeping that in mind, you might actually find it interesting with its crisp cutting dialogues and the characters' prompt delivery. But if you are looking for something serious to fill up your Friday evening, you will be sorely disappointed.
The acting is just on the brink of being over in most of the cases while the only crowd puller of the drama, Zahid Ahmed, with his deep resounding voice is hardly featured in the first episode.
Not writing off the drama completely as we feel it still has certain potential to get better, the first episode did end on a cliff-hanger so suspense may reel you back in for the second episode. We'll just have to wait and watch how Jugnoo's fate rolls out!