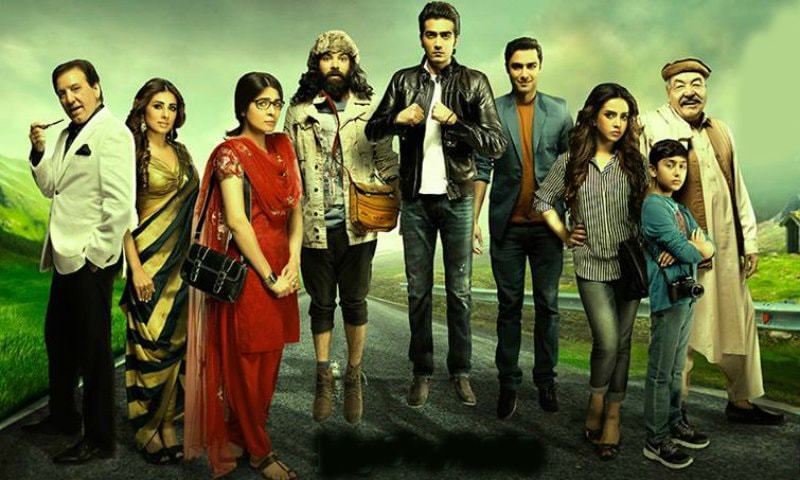 In his film Karachi to Lahore, Rauf hopes to recreate a youthful abandon.

When award winning director Wajahat Rauf began his first of many road trips from Los Angeles to Los Vegas over a decade ago he was a different man.
His travels as a college student changed him and he often looks back on those trips from his youth as rites of passage. Driving across the highway was about so much more than getting from point A to point B to him - the road trips represented a spirit of adventure, camaraderie and freedom.
In his film Karachi to Lahore, Rauf hopes to recreate that youthful abandon.
"I wanted to make a movie about young people on a journey of discovery together," he tells me.
He wrote the basic plot for the film a few years ago - a story of five completely different people on an unlikely adventure together.
"There is something about being on a trip together that binds you and that's what happens to the characters of Karachi se Lahore," he says.
The film's characters are more than what we see at first glance they surprise us - and perhaps more importantly, they surprise themselves.
Who is Wajahat Rauf
There are few in showbiz who have their finger on the pulse of the Pakistani youth quite like director Wajahat Rauf. His talent has always been to bring a Western concept to Pakistan and mesh it with a local aesthetic. Whether it was as the owner of a popular café called Mlive in Karachi modeled after The House of Blues in Los Angeles or 'the Pakistani Woodstock' he organized 'Aag Alive '09 titled Dunya Daikhay Gee'.
As the former content head of AAG he pushed the envelope by airing socio-political shows that shaped the way many young people continue to think today like Iqbal ka Pakistan (with Zaid Hamid) and Thori si Siyasat (with Ahmed Qureshi).
While AAG fizzled out, Rauf burns on as a successful television director.
He has been in television for thirteen years and his forte is witty comedies with a few slapstick elements. Now, his life's biggest production is almost ready for release: Karachi to Lahore.
The road less traveled
When I spoke to Wajahat Rauf to his film he reminded me of someone in love - gushing and passionate yet trying carefully not to sound too eager. He describes each character with a careful fondness as if they are a personal friend and not merely a plot devices for songs to be inserted around.
The biggest talking point for fans has been Ayesha Omar - first dressed as a plain jane and then transforming in to a bubbly dancing girl.
"Maryam, played by Ayesha Omar is a no nonsense tomboy - she feels she has the responsibility of the whole world on her shoulders and it's very hard for her to relax," he explains.
---
"I wanted to make a movie about young people on a journey of discovery together."
WAJAHAT RAUF
---
Conversely, her neighbor Zaheem played by Shahzad Sheikh is interested in having a good time - he hasn't ever fought for anything. Through their journey we see the not only the two leads but all five characters grow and develop to learn that first impressions can be misleading and that your journey ultimately depends on your choices.
The motley crew must reach Lahore within 48 hours otherwise Zaheem will lose the girl of his dreams.
Finding your own path
Rauf wrote the basic plot for the film two years ago after a trip to Northern Pakistan, and although he was happy with the basic structure he felt something was still missing. That was when co-writer and actor Yasir Hussain stepped in.
According to the director, Hussain sprinkled with the script with pop cultural references and local zingers that lifted the dialogue from funny to iconic.
"The script is hilarious! Just come to the cinema for a good laugh because that is one thing you'll get," he says with confidence.
While the Rauf s a master of comedy, he is quick to point out that the film has more to offer than just laughs. One of the most exciting aspects of the film will be it's original soundtrack created by Noori and Shiraz Uppal - most of the songs will have a fun light hearted sound to match the tenor of the film.
Also, no, what you saw was not an 'item number' it was a 'performance song'.
High hope and big business
Since the Pakistani industry is relatively small in terms of screens producers often worry about breaking especially when releasing high budget films. But the situation has started to change as corporate sponsors step in to the market to back creative projects like Cornetto has with Karachi se Lahore.
Product placement is certainly not a new concept in local films but the presence of brands is steadily increasing as the industry grows and silent investors remain scarce.
According to Rauf the shoot of Karachi se Lahore was a road trip itself which involved the entire cast and crew traveling from the beaches of Balochistan to the city of Lahore - they were in a way living the movie while they shot it.