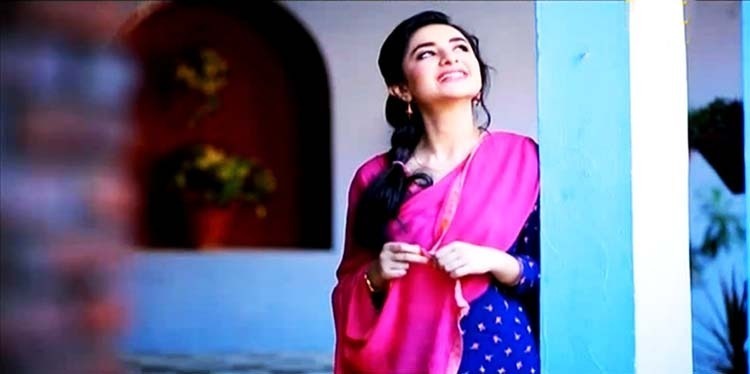 Mausam's first episode airs in place of Muhabbat Subha ka Sitara hai.
Directed by Romi Insha, penned by Aliya Bukhari and produced by Momina Duraid, Mausam is a new drama serial which will replace the just concluded, highly rated Muhabbat Subh Ka Sitara hai and will air every Friday. The OST and the teasers promised that Mausam has the potential to get high TRPs.
The cast includes Ahsan Khan, Hareem Farooq, Umna Zaidi playing the lead roles – with Naila Jaffri, Shazia Naz, Yasir Mazhar, Humaira Zaheer playing supporting characters.
Both the writer and director have many successful serials to their credit. Aaliya Bukhari has written serials like Dil-e-Muztar and Mere Qaatil Mere Dildaar while Roomi Insha, son of famous writer Ibne-Insha (late), has to his credit serials like Najiah, Madiha & Maliha, Tair-e-Lahooti, Tum Jo mile, Mastana Mahi, Manchalay.
The story of Mausam revolves around a middle class family: two girls Shazia (Yumna Zaidi) and Saman (Hareem Farooq), who are first cousins and live with their mothers played by Naila Jafri and Humaira Zaheer.
Both gitls are in the last year of the college –yet have a different approach towards life.
While Shazia dreams of wealth and fame with a lavish lifestyle. Saman is a sober, introverted girl who is content with whatever life has given to her. She is also very sughar and into cooking unlike her cousin Sazia who is more into make-up, clothes, shopping.
Meanwhile, Shazia's Khala, who is a kind of shallow, boasting lady has set her eyes on her for her son Yasir.
Yumna Zaidai, contrary to her character in Ullo Barae Farookht Nahin, where she was persecuted by her brother due to family norms, has dominating body language. She is rebellious but not in a negative way. She can rather be described as a dreamer. Shazia with all her positive energy seems fit for the role and has good screen chemistry with Saman.
Siyaah lead Hareem Farooq is new in the drama industry and this is her second project with Momina Duraid where she plays the role of a down-to-earth girl. Hareem is successful in making the sughar beti phenomenon more believable and realistic with her flawless acting.
The male mead Ahsan (Hashir), is a rich bachelor facing all the usual problems that people from that class face (or that's what TV tells us) – a modern, empowered, independent but indifferent mother who ignored her children in their childhood, and as a result receives same response from them when they grow up.
Dejected and depressed with his routine business life, Hashir meets Shazia, who narrowly escapes an accident by his car. Hashir takes her to the hospital for the first aid and it was like a dream come true for the dreamer-by-default Shazia to meet her stunning dream boy (who is not looking so stunning in the first episode) and she falls for him. But as is evident from the way Hashir oggles at Saman (Shazia's cousin), who just comes out of the house to take Shazia inside where her family is worried due to the tense city situation.
The promos suggest that as the story will proceed, another girl Shazia Naz (Ahsan's friend) will join the race to impress Hashir.
Humaira Zaheer (Shazia's mother) is the strict mother who wants her daughter to be very Saleeqamand and wishes her daughter should have all the traits which make her a good Bahu. While Naila Jafferi is not so uptight and wants to give some liberty to the girls as well so that they could live with the demands of time. Both the older women are Nand and Bhawaj and enjoy good relationship.
While watching the first episode it looks like a woman-oriented drama with very few roles for men and that is also not very dominating. Besides, there is only one boy, and apparently three girls are going to go after him. The production was probably running short of good boys in the society? There is no father in this serial or probably not shown in the first episode. This sudden increase in woman-oriented dramas forces us to think if we are going towards a matriarchal society?