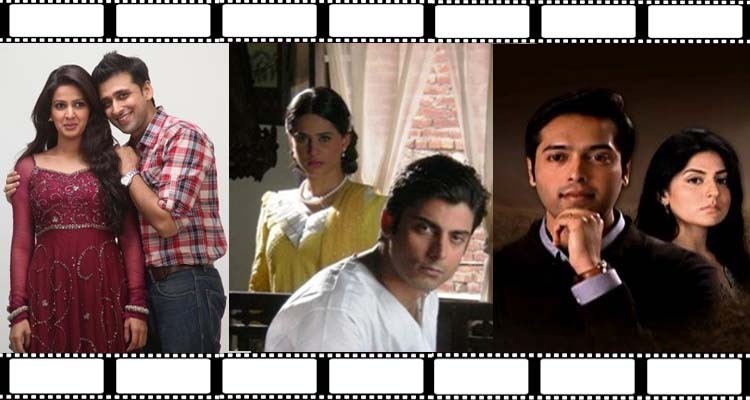 After privatization of Pakistan television, a barrage of dramas appeared on the silver screen and to keep up with the pace; directors and producers started adapting novels into dramas. It was a trend to stay.
Here's a look at five dramas which were better than the books they were based on.
Main Chand Si
Novel: Main Chand si
Writer: Maimona Khurseed Ali
Director: Babar Javed
Based on the concept of falsely swearing on the Holy Quran and thinking that you've fooled everyone, all the while forgetting that retribution will follow, the drama dealt with very dark themes. Saba Qamar gave a mind blowing performance as Isra- the non conformist free spirited girl married into a religious family where she's asked to wear a burqa, give up all her favorite things and distance herself from her family.
Then as the drama progresses she aborts a child, falsely swears on a Quran to get her husband Salaar (Sami Shah) to divorce her, marries Farhan (Fahad Mustafa) and is diagnosed with HIV thanks to her new husband.
The drama turned out better than the novel because of the few major character changes. For instance; Farhan is shown to be madly in love with Isra from the very beginning; which makes more sense when he marries her despite having AIDS. The fact that the drama gave the characters conclusive endings with the final confrontation between Isra and Salaar strengthened its appeal. I liked how they showed Salaar's relationship develop with his new wife rather than sending him off to Saudi Arabia with her). Perhaps the adaption gave Memoona Khursheed a new-found look at her characters and a chance to develop them more.
Kankar
Novel: Woh dil ke theher jaaney ka mausam
Writer: Umera Ahmed
Director: Abis Raza
Bear with me as I go on and on about how amazing Kankar was and how from the first episode to the 25th (the fact that it had 25 episodes under normal circumstances would have seriously pissed me off) every dialogue made sense, every single twist in the story led to new debates at our dinner table and how it changed the way so many women saw domestic abuse.
The short story that Umera Ahmed had previously written was pretty much the blueprint that she based this drama on. The plot might have been the same, but the development of the characters, the addition of new ones with their own story arcs and an overall outlook of the drama made the basic story a million times more interesting.
Kiran (Sanam Baloch) was Sara, Sikander (Fahad Mustafa) was Haider and the short story focused on how domestic abuse witnessed by children tends to shape their life, and how negatively it influences them in marital problems of their own. The drama though very subtly handled not only highlighted the main issue but sparked new ones through Rukhsar, Arzoo, Adnan and most of all Faiqah.
Not many writers can tackle such an intricate issue with such excellence that all the people watching the drama from the very liberals to the very conservatives and traditional could digest it and happily so.
Dastaan
Novel: Bano
Writer: Razia Butt,
Screenplay: Sameera Fazl
Director: Haissam Hussain
I grew up listening to stories of pre partition India; the grandness with which my Grandparents lived and a completely different lifestyle than the one I've opened my eyes in. Reading is usually the same as listening to the stories. The vivid imagination is not less than any 3d movie.
Haissam Hussain stated that the pre production took two months (understandably) while filming wrapped up in one month only; and that clearly shows.
The drama brilliantly directed that it took you in the pre partition subcontinent and made you fall in love with the sherwani-clad men.. You found yourself debating on whether or not you would've joined Muslim League.
Razia Butts Bano was a tragic tale; of not only the loss of love but of ideals. Reading the book was tragic enough but to watch it on screen; to witness the brutalities, the massacres of so many innocent people was heart wrenching. It reminded me of what my ancestors lost to gain this country and it reminded me of why every single drop of blood that runs through my veins was willingly shed in the name of Pakistan. Well done Haissam Hussain, well done!
Also two thumbs up for using the hottie Fawad Khan.
Aun Zaara
Novel: Hisaar e Muhabbat
Writer: Faiza Iftikhar
Director: Haissam Hussain
The last Faiza Iftikhar drama that I enjoyed was Akbari Asghari, because the rest that followed were a testimony to how even good writers can run out of ideas. But Aun Zaara reinstated my faith in Faiza Iftikhar and had me handing out an Oscar to Haissam Hussain in my vivid imagination.
Because as the title of this article suggests the novels was not as well received as the drama was. The story focuses on Aun (Osman Khalid Butt) and Zara (Maya Ali), a couple who are trying to escape from the attention their respective families have bestowed upon them from the beginning.
The thing which made the drama great was Haissam Hussain's direction and the perfect acting. From Osman Khalid Butts maturity in portraying the over-the-top Aun as a three dimensional character to Maya Ali's now typical role of a headstrong girl.
The play had some strong female and male casting. We absolutely adore the phuppo and dadi.
Aanch
Novel: Behtey Darya pe makaan
Writer: Naheed Sultana Akhter
Director: Tariq Jamil
Long ago when PTV was the only entertainment channel; we saw Aanch and fell in love. It starred the young Shagufta Aijaz as Ulfat, who was born into a lower middle class family, and Shafi Muhammad (late) played the character of an enigmatic divorced middle aged father of three children.
As fate would have it, Ulfat's parents were afraid of her overage and marry her off to the rich and classy Jalees (Shafi Muhammad). The story really begins when the children and Ulfat find each other at loggerheads at each and everything. The plot unravels as the fighting and differences lead the couple to court. I won't give away anything because I want you to go watch it.
Aanch was an extremely well-executed where the main lead as well as the children knew their characters well and played them a brilliantly. While Behtey Darya pe Makan was a well written novel, it was much slower and so detailed that the readers would find themselves irritated. The thirteen episode drama was well-paced drama. Also Shafi Muhammad sahib was an amazing actor and made every role that he played, realistic.
p://i.hipinpakistan.com/primary/2015/05/5555a48f0eb91.jpg?r=1842856588