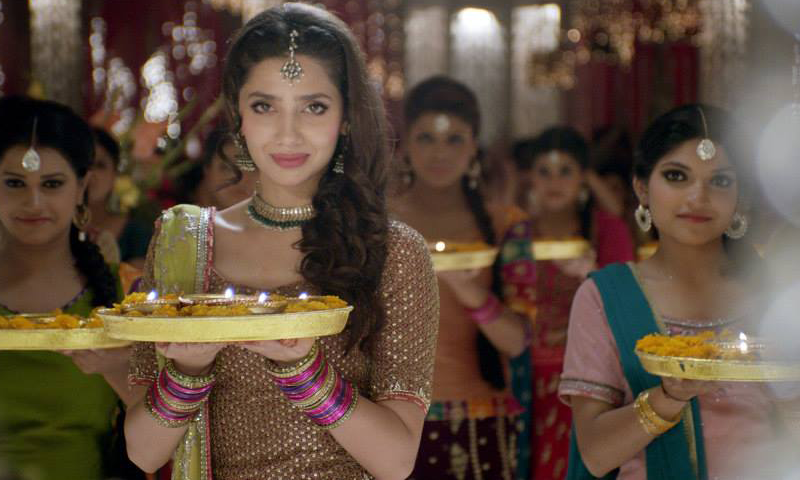 She was fashionably late. Over one hundred reporters and bloggers fidgeted in their chairs looking towards the door, waiting for her so the event could truly begin. Finally, in a blur of black silk, porcelain skin and joyful laughter - Mahira Khan had arrived.
The actress who rose to fame with Humsafar is a cultural and style icon in Pakistan and plays Saba - a young girl who learns that love is not as simple as she had dreamed when she must marry Irtiza the man she once thought was the man of her dreams but is now an ugly memory. Destiny and guilt play off each other in this complex story based on the cult favorite Urdu novel by Farhat Ishtiaq 'Bin Roye Ansoo'.
When Khan talks about her role she says it impacted her personally:
"I have lived with this character for the past two years and the guilt she feels in her life has stuck me so strongly that I couldn't come out of its trance ," she said
Khan says she feels this film is close to her heart even though the character didn't have any resemblance with her.
One story, a movie, a serial and lots of drama
Bin Roye has two directors: Momina Duraid and Shehzad Kashmiri and will be aired as television serial. The unique format pushes the envelope in Pakistani storytelling and capitalizes on an unexplored terrain of genre for film in the local market.
Producer Duraid has promised that both mediums will offer unique products to audiences - if so then the film is one step in the right direction towards developing a thriving fan culture. For a thinking audience who need to know more about a characters and want back story, a novel and a serial to provide this are the perfect geek material to create universe of Bin Roye fandom.
The film features the stalwarts of Pakistan entertainment industry including Mahira Khan, Humayun Saeed, Armeena Rana Khan, Javed Sheikh and Zeba Bakhtiar. Renowned television actors turned film stars Adeel Hussain and Junaid Khan will also do a brief cameo in the movie.
Shooting the film over a period of two years wasn't an easy job and many obstacles came on the way - the Dastaan director Haissam Hussain left half way leaving the job on Duraid to complete.
Initially Fawad Khan and Sanam Baloch were approached for the movie but later Humayun Saeed and Armeena Rana Khan were taken aboard.
"It was a nerve-racking experience but I am glad to complete it on time. We made it with love and affection and I am sure it will touch the peoples' hearts, Duraid said.
Confident as always Khan was in complete jovial mood, winking to the audience while sharing anecdotes happened on the sets of 'Bin Roye' – be it Shahzad Kashmiri's hug in the air after shooting in the scenic magic hour or the existence of ghosts in the haveli.
When asked how important 'Bin Roye' was for her she proudly calls it her 'first film'
"Although I made my debut with 'Bol' but I considered 'Bin Roye' as my first film. I have been associated with it since inception – interfering at every level and constantly giving my feedback about what needed to be done to make it more grabbing,"
Khan who has set a benchmark for herself with the blockbuster television serials like Humsafar and is hopeful that 'Bin Roye' will continue her streak as a successful star..
When asked who was the best co-star: Shah Rukh Khan or Humayun Saeed she smilingly said, "Since Humayun is called the Shah Rukh Khan of Pakistan, that makes Shah Rukh Khan the Humayun Saeed of India."
Lead actor Humayun Saeed, who made a comeback after a brief hiatus, was also excited for his role.
"My character in a movie is that of an intense lover – I have played a similar character on television but this is the first time that I am doing it for a feature film."
Saeed added that in order to be experimental we often missed out on basics. The actor said that while a lot of people are trying their hands on diverse scripts hardly anyone has opted for 'drama genre' which is our biggest strength.
Mahira Khan's wardrobe for the film has been done by Elan, Feeha Jamshed and Sania Maskatiya whereas two songs in the movie have been directed by the talented Asim Raza and Sarmad Sultan.
Bin Roye was shot at multiple locations, including Karachi, Dubai and the scenic locations of Santa Barbara and San Francisco and as announced earlier it will be released this Eid in Pakistan and seven other countries.
The music launch of the film will be held at Telenor Bridal Week in June.