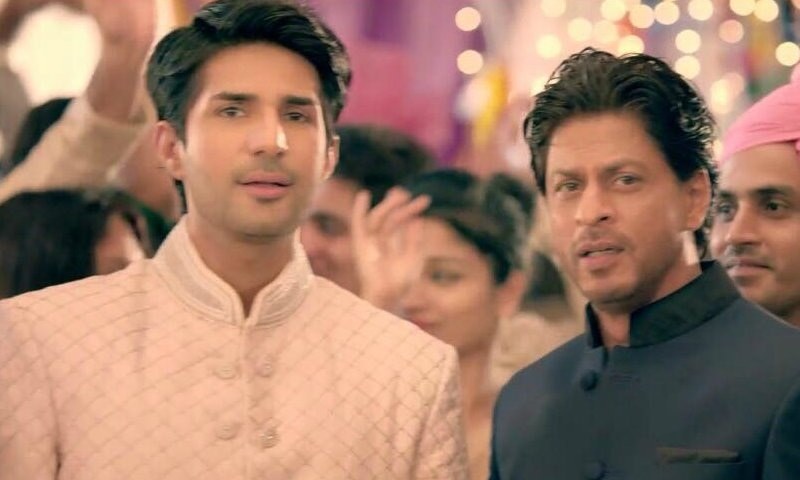 The quirky ad shows the Pakistani singer looking self-confident with SRK

Ever since we had heard the news of Adeel Chaudhry to be the first Pakistani ever to star in an Indian commercial and that too alongside the Bollywood superstar, Shahrukh Khan, we just couldn't keep calm.
Dying to see how the Pakistani hottie will look and act opposite King Khan, we were unable to contain our eagerness when the singer posted the much publicized TVC on the social media. And to our delight, the star did justice to our excitement looking very comfortable and composed.
Based on enjoying the lighter moments of life, the lively TVC shows Chaudhry in a sober yet a playful avatar, bringing life to Pan Villas new ad – the first of a three-ad series.
The juicy storyline of the TVC begins showing the typical Indian wedding festivities which Chaudhry and SRK are very much a part of. Clad in an ivory-colored nicely fitted sherwani, Chaudhry spots a beautiful girl in the crowd and its love at first sight. Khan notices their eyes locking and knows exactly how to get things going.
Out comes a jar of Pan Villas from Khan's pockets which as soon as he downs, his spirits go high. Feeling instantly fresh, SRK ask the girl's hostile mom, the very popular Reema Lagoo, to dance with him. In the meantime, he instructs Chaudhry to proceed with the girl.
We loved the cinematography, the execution and the appearance of a local star, however, the plot of the ad made no sense at all. But who cares about that! We just want to bask in the glory of Chaudhry's success across the border who will soon also be seen in two Hindi movies this year, 'Rhythm' and 'Bhaangarh'.