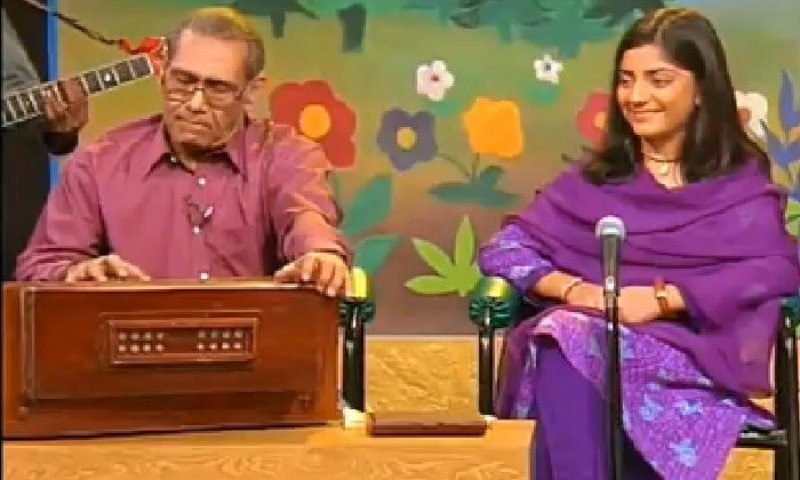 Mahwash Ajaz recounts the time she was 12 and co hosted a children's program on state broadcaster

They were simpler times – and that's what they all say.
That's what everyone, who is looking back at their pasts, has to say about the 'good old days'. In my case, however, it's actually true.
They were simpler times, in my case, because there was only one channel, known as Pakistan Television, that broadcasted throughout Pakistan and represented Pakistan throughout the world. PTV was not only a state television but it was also the only television to air original programming – especially for children.
When I was in sixth grade, I accompanied my father to meet a PTV producer at PTV Karachi centre. It was a meet between two friends, my father was an old friend of Tajdar Adil, and they had some hi helloes to catch up with. I remember walking in the giant grounds of PTV for the first time. The security back then was strong (though not as strong compared to procedures that exist now). A lot of loops to jump through before you actually get inside, a number of steps for verification. Once you are inside, there is a gazebo on your left with a mosque and a small green portion on your right with "PTV" written with grass. Then you walk up to the building's gate and enter, the front lobby holds pictures of many prominent artists such as Moin Akhtar, Talat Hussain and Uzma Gilani. The goosebumps begin.
I was an excessively talkative twelve-year-old and by the time I was done meeting Tajdar Adil, he was thoroughly amused. He asked me to revisit and soon enough I found myself on the set of a children's magazine program. It wasn't half as surreal as you would expect it to be. Except that getting makeup done on my face (also something that was unheard of, for 12 year old girls in the 90s, as far as my family was concerned) was a thoroughly new experience. I was co hosting with an older girl named Bint e Zainab, who was quite popular at the time. The program was in magazine format and Zainab and I had to introduce different segments.
I don't think I was fazed by the experience, or when I asked my classmates to come over and watch the program with me when it aired. I do remember being extremely happy with a small check I received a few days later for my work with PTV. It seemed as if whatever I had done was not some random activity but was actually – work.
As time grew, it turned out it was work. I began getting calls for more programs and those recordings took all day. I would have to memorize scripts, arrange for clothes, cope with studies and remember a ton of other things. Remember this wasn't a time when there were plenty of channels and many sponsors. PTV was state-owned, on a budget and everything was meticulously planned in advance. Our scripts were pre-approved, if we fumbled, we would have to re-take the shot.
One of the programs I hosted was a singing program with Javed Mir, called Hanste Gaate. It was a re-edition of Sang Sang Chalte Rehna, an old PTV program where children (who were now grown up and singers such as Mona Benjamin, Afshan Ahmad, Salman Alvi, etc) would come and sing with Javed Mir, myself and a group of new kids in the same age bracket of 10-12. Javed Mir, a singer, composer and lyricist, was someone I learned a lot from. Apart from the program providing a lot of information to middle school kids about music, lyrics and musical instruments, what I think of now when I look back is that there are no programs like that for kids anymore.
Songs were so much simpler, healthier, the messages was straight-forward, while in keeping with our culture and tradition. Sure, it could also be diabetically sweet but what with all the craziness that surrounds our kids today – perhaps what they need is a dose of innocence, a dose of simplicity. Now that I am a mother to a small child, I sometimes wonder what kind of healthy entertainment is available for children? Also, how much of it is available in our mother language, Urdu?
I have been associated with Pakistan Television for over 10 years now. I have conducted live transmissions and hosted children's quiz and game shows , even did a short tv serial for kids. I did go on to do more work for private channels as they emerged later in Pakistan, but nothing made me feel connected to my work as PTV did. Even though the institution has its faults and drawbacks (there is a strong bureaucratic set up and everything is monitored and has a lot of red-tape), it is an institution that has given a lot of Pakistani generations a lot of memories, a lot of lessons and a lot of brilliant programming. It has produced fine, fine artists and has carved and shaped individuals into professionals. I have personally learnt the value of patience, work ethic and professionalism from Pakistan Television, a set of values that are difficult to learn in other channels mainly because private channels operate on a financial profit principle. PTV, being state run, focuses on content and programming rather than the question of advertisements and ratings.
Of course old order changeth, yielding place to new. There are hundreds of options for viewers today and Pakistan Televisions' programs face a lot more competition than they did fifteen years ago – but no one can deny what wonderful saga PTV has and how it has been an indelible part of Pakistan's cultural and historical fabric.