One of the youngest writers in Pakistan television is just 20-years-old. Zain Raza wrote his first telefilm at the age of 17 for ARY. He writes for Pakistan Television, while going to college and residing in Canada. Having written for HUMTV, ARY, and TVOne, and worked with big production houses like MContent, A&B, and MD Productions, he has already accomplished quite a name for himself.
Raza will enter his final year this September and is studying BA Honors in Cinema & Media Studies.
We caught up with Zain Raza to see what's next on his plate and to talk about all he has accomplished so far.
Why did you want to be writer?
Being a writer wasn't my initial plan. I always wanted to be a director and that's what my only plan was. However, I realized that not being in Pakistan doesn't work in my favour in this regard. So my only way to work with the TV industry was if I worked as a writer and that is how it began. I do plan to write my own films later on because I don't think I can work well with anyone else's script, and the way most directors have directed my scripts, I don't think they can work well with mine either.
What was your first play?
Phuppi Ka Larka Ya Khala Ka Larka starring Hina Tareen, Danish Nawaz, and Mani. It was an Eid special in 2011. I originally wrote it in 2010 for fun and made my friends read it. They encouraged me to send it to television producers to try my luck. Those days I was watching Shaista Shaista and their producer Adeel Farhan (MContent) seemed like a cool person. I thought he might want to work with a new writer. I tried my luck and sent the script to him. A few days later he responded saying he loved the script and wanted to produce it. I still remember I was walking out of my class when I read the message, and felt like telling everyone that I was about to write for TV.
What was your first dramas serial?
Mera Pehla Pyaar starring Faisal Qureshi, Nousheen Shah, Aijaz Aslan, and Sana Javed was my first serial. It was also an accidental thing just like my first telefilm. I had three episodes written just for the sake of it, and I shared them with my friend Jewairia Hafeez who used to read all my scripts and write reviews on them. She really liked it and told me to continue writing. I told her I'm not the serial-type, and I cannot continue writing something long unless someone is continuously pushing me. That's when she said that if that's the case, she will write it with me and this way I can be motivated enough to not leave it halfway. We discussed Mera Pehla Pyaar with Raamis Tanveer Ahmed who was with A&B productions at that time. He liked the concept and decided to give us a chance. It all worked well and seemed like a dream come true for someone like me who only had one telefilm to his credit.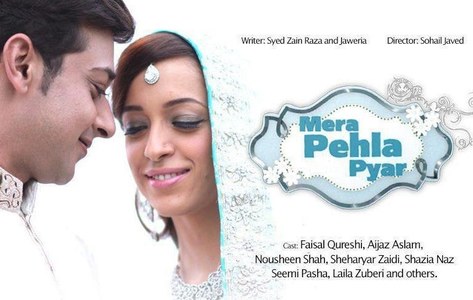 You've worked with biggies like A&B Productions, Faisal Qureshi, Sohail Javed, and so on -how does it feel?
It feels wonderful. Working with a reputed production house like A&B itself was a dream come true. I asked if Faisal Qureshi could play the main lead because I had him in mind for the whole time while I was writing the script. Surprisingly, when Jewairia asked Baber Javed if that was possible, he happily agreed. That was also a big thing for me because an actor of Faisal Qureshi's stature would rarely agree to work with a script written by new writers. But I didn't like how the drama turned out halfway down the line. From a few changes in the first few episodes, it went to becoming something completely different from what I wrote. I did see bits of my work here and there through the later episodes, but it was like 20% my work, and 80% of the content department's work. Nonetheless, the overall experience of that serial was a great one and I am still proud of it. Also, a big thank you to A&B entertainment for giving a chance to new people, as there aren't many production companies/channels who do that.
What's next for you?
To be honest, the kind of content we have running on our TV channels, I don't think I can write anything like that. Therefore, the option of writing TV serials is out. I did try for a while but none of my concepts were approved; some were male centric which is a big no-no, some were too controversial, and some talked about the 'actual' issues that our people face. So I don't think I will be writing a TV serial anytime in the near future. However, I do want to write a sitcom and that might happen soon.
One of your short films is being shot on Canada; what is that about?
It was a university screenwriting project that I really wanted to direct but it required a big budget so I knew I wouldn't be able to do it. But then I was talking to a producer/director regarding a sitcom to be shot here in Canada. That plan didn't work but when I told him about this short film, he got really interested and decided to make it. We have been working on the drafts of that script for over three years now, and it's finally on shoot in its last stages. I am hoping to see great results, fingers crossed.
Do you have any Eid telefilms coming out this year?
There are three telefilms for Eid as of now. However, one never knows how things often work with channels, so nothing is ever confirmed. One of them is called Lucknow Waale Lateefullah, (starring Zara Sheikh and Hasan Ahmed) for HUM TV, which is a romantic comedy that shows an interesting contrast between the lifestyles of the Muslims in India and those in Pakistan. Another one is Ready Steady Bhaago, (starring Humayun Ashraf and Erum Azam) for TVOne. It was a script I wrote five years ago and I am really excited for it. The final one is Tamasha, which is also for HUM TV. The script is one of my favorites and I hope that it goes in the right hands.
What is your dream project?
Being a film person, my dream project is of course a feature film. I wrote a script called Humaara Pakistan in 2010. In my opinion, it is the best I can ever write in terms of a script. It is a socio-political thriller, and is definitely my dream project. I want to personally direct it someday, as it is so close to my heart that I cannot trust anyone else with it. However, if things work out with someone who has the same vision regarding the project, I might go with it. But it is so controversial that I doubt that anyone will take the risk of making it for now.
What do you want to accomplish?
Entertainment with a social message. I cannot pick one or the other. I believe that the main purpose of a work of art, especially TV shows or films, is to entertain. If people are spending their money on your movie's ticket over the other five new movies, or choosing your TV show over a hundred other options, then they deserve to get entertained by it. However, what's important is that writers/directors do their part by adding some social messages in their work. It shouldn't be "in your face" or preachy, but something just between the lines; visible enough to notice and faded enough to not stand out. This way, we will be entertaining and enlightening at the same time. I think right now our TV channels are doing neither. Our films, however, have picked the social message part over entertainment, which is also problematic. There has to be a blend of both, but I think slowly it will all work for the better.
And there you have it...Zain Raza is a testament to the fact that age is but a number when you are passionate about your work. Not only is he creative and intelligent, I found him to be extremely patriotic and someone who genuinely wants to change the mindset of people in Pakistan for the betterment of society, and he chose television as his medium to do so.