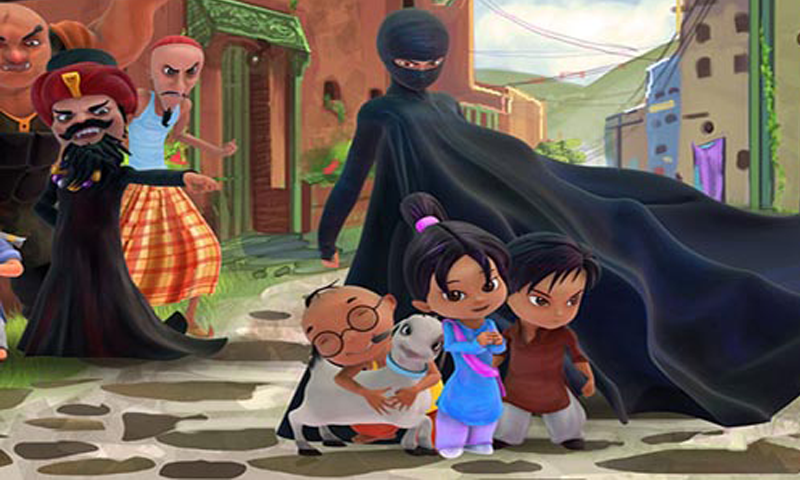 Burka Avenger animated film will depict original story of the lead character and how she came to be the Burka Avenger

The tremendous success of Pakistan's first animated movie 3 Bahadur has paved the way for the others to follow – and the next offering is likely to come from Unicorn Black Studios, the masterminds of internationally awarded animated series 'Burka Avengers'.
The director of the Burka Avenger, Haroon Rashid, has recently revealed his plans of turning the animated series into a feature film.
"I have written a few drafts, rough outlines and potential ideas for the film version," he said in an interview with The Express Tribune.
Released in 2013, the slick action-comedy animated TV show is about a veiled female super heroine Jiya, an inspirational school teacher who came out to save her people from evil.
Read: 'Burka Avenger' all set to inspire audiences in India
With a unique martial arts form of 'Takht Kabaddi,' she throws books and pens as projectile weapons to those who came to attack her hometown. She fights for Justice, peace, and education for all.
Giving details about the feature film Rashid said that it will most likely be a standalone film depicting the original story of the lead character and how she came to be the Burka Avenger.
Rashid has decided to head the film project too by being its director as according to him after heading the first three seasons of the animated series he truly understands the ins and outs of the project.
Read: Burka Avenger stands against match fixing with new song
The Unicorn team is expected to complete the project within a year but the director knows that meeting this deadline is going to be tough because he has kept the standards really high for this project.
"I want it to be like an animated film by DreamWorks or Pixar and for that, we require time," he said.
The first episode of the Burka Avenger TV series premiered on Geo Network in 2013 and was loved by both children and adults alike. The third season of multi-awarded animated series will start on June 22 on Nickelodeon Pakistan.