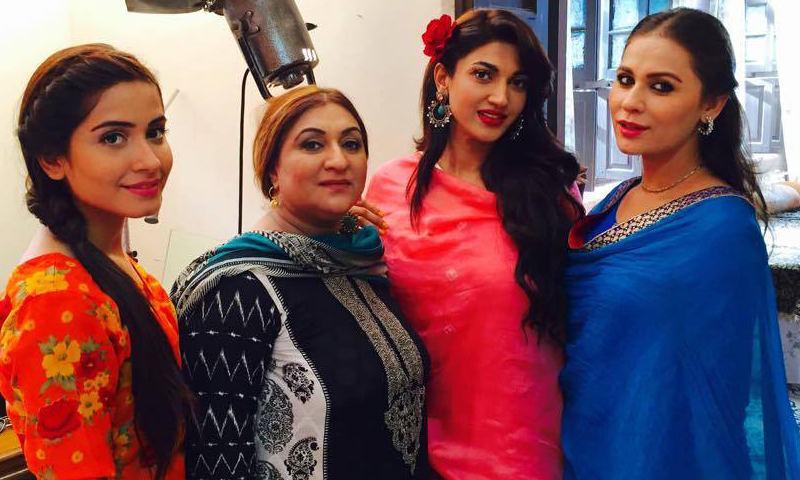 Eid is all about mehndi, chooriyan, and greeting family and friends - but once we are done with the festivities, we rush to television to see what our favorite stars are doing to celebrate this auspicious occasion.
Here we jotted down a list of Eid special telefilms and serials to air all three days. Have a look at it!
Ishq for Sale on Hum TV
The gorgeous Sajal Ali has united with the very talented Mohsin Abbas Haider of 'Na Maloom Afrad' fame for Hum TV Eid telefilm 'Ishq for Sale'. Written by ace comedy playwright Vasay Chaudhry, it also stars model turned actress Fia Khan. The telefilm will air on the second day of the Eid at 7:00pm.
Pani da Bulbula on A-Plus
Based on Sara Riaz's novel 'Asal Hakayat,' this Eid comedy series stars Mansha Pasha and Imran Aslam in leading roles. Other cast includes Shagfta Ejaz, Khalid Anum, and Behroz Sabzwari. Directed by Sohail Javed and produced by Sadia Jabbar, the play will air on all three days of Eid at 9:00pm.
She on Geo
After years of drama, the multifaceted Saba Qamar returns to comedy with a hilarious role in Geo's Eid play 'She,' where she portrays the role of a female police officer named Baji Rao Mastani.
Penned by veteran Dr. Younis Butt, the play shows a lady police officer who is never influenced by any man or superior individuals.
Baji Rao Mastani was created by the writer as the modern day superwoman to be an inspiration for all girls.
Talking to HIP about her role the actress said that the lighthearted play revolves around social issues in our society and every episode will deliver a a strong message to the audience.
The play has a very amusing tagline:
Mazloomon ke liye baji, zaalimon ke liye rao, waise mai badi mastaani.
Bubbly Darling on ARY Digital
The multifaceted Hina Dilpazer will is here to make your Eid a little more special with her quirky looks and witty dialogues in Fasi Bari's 'Bubbly Darling,' to air on Ary Digital. The play has been directed by Mazhar Moin of 'Quddusi Sahab Ki Bewah' fame. 'Bubbly Darling,' also stars Arij fatima and Salma Hasan.
Bus Ek Sanam Chahye – Hum TV
A comedy telefilm starring Sana Fukhar, Nousheen Shah and Shamoon Abbasi, Bus Ek Sanam Chahye will air on the first day of Eid. The play has been directed by Saima Waseem.