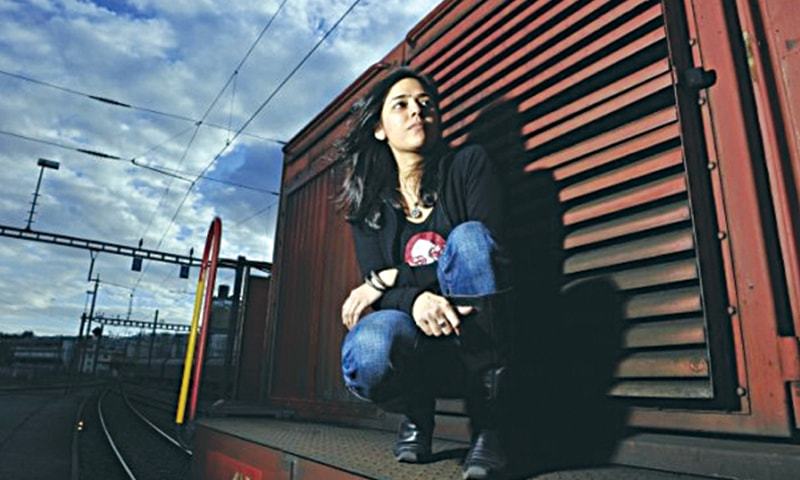 Get caught up with all that's going on with the director par excellence, Mehreen Jabbar!

Mehreen Jabbar is a name that needs no introduction. She began her career in television with TV films and drama serials under the banner of TasVeer Productions. She then continues her work as a free lance director working for a number of TV channels and production houses in Pakistan. Her award-winning short films and TV dramas include 'Daughters of the Late Colonel', 'Laal Baig (Cockroach), Daam, Coke Kahani, Mata-E-Jaan, Doraha, Jackson Heights, and Mera Naam Yousuf Hai, to name a few.
Her first feature film, Ramchand Pakistani, was released in Pakistan, India, and the UK in 2008 to wide critical and audience acclaim. The film premiered in the competition section of the Tribeca Film Festival in New York in 2008. It won the FIPRESCI Prize from the International Federation of Film Critics and received many other awards at film festivals around the world.
When contacted for an interview, Mehreen very kindly said yes and below is all she had to say.
Who is Mehreen Jabbar?
Someone who is still trying to figure it all out. I feel like I'm always on a journey, and one that is never ending. I'm pretty chilled out & laid back unless people anger me.
What made you get into direction?
I was born in a family that was always in the media...I grew up around cameras. I just wanted to take a camera and shoot people (in a nice way) and have them tell their stories. I was very shy growing up, hated public speaking, still do, so it was easier to be behind the camera.
You are one of the few female directors; do you get treated differently?
Personally I haven't experienced any prejudice and the reason is that I've had the good fortune of working with professionals, and also because I would never tolerate any kind of harassment or disrespect. However, am very well aware of what problems women in any kind of work force face around the world and there is lots to be done in that field. Unfortunately women directors, even in Hollywood and Bollywood, have been discriminated against and some not taken seriously at all. I do feel thought, that the number of women directors is rising compared to what it used to be even 5-10 years ago.
What went wrong with Jackson Heights? You are from New York yourself, but still so many
loopholes?
There were lovers and haters of Jackson Heights. Originally it was supposed to be 19-20 episodes. But since it was shot in the US, which is much more expensive, more episodes were needed to make business sense for the production house and Vasay Choudhery had to extend the story line. I think the serial had a very real, slice of life feel to it and stood apart from the usual rona shona, and shaadi barbaadi, type stories that are the norm. However, yes it did have its loopholes and flaws and one must own a project as a whole with the positive and the negative. Shooting a serial in the US is always a challenge because of the expense involved and the average number of crew on a serial is 8 people including me, while in Pakistan crews tend to be around 25 plus so you can see how stretched and insane the process it. However, while the shoot itself is grueling, the experience is always unforgettable.
**People expect the best from you, how do you deal with criticism and the high
expectations?**
I have spent 20 years in the business lehaza chamri tagri ho gayee hai. Sometimes I learn from it and sometimes it's depressing. Once you put something out there you have to be ready for all types of opinions. It's like your child has been put on stage and people throw either flowers or stones, and sometimes both.
There are some critics like AO Scott who writes in the NY Times that I really look up to because of how he deconstructs a film and gives a wider perspective. With social media on a rampage, everyone's a critic but at the end of the day one has to remember that it is one person's opinion and I have never been and hopefully never will be the person whose work is motivated by ratings. One never knows what the audience will be like. This field is very unpredictable, but if one produces something with sincerity, integrity and takes it as an artistic endeavor, it will hopefully resonate with at least some people :)
What do you think has been your best work so far?
Am still trying to produce the 'best work' but there are many projects that I had a great time doing like Putli Ghar, Farar, Kahaniyaan, Daam, Doraha, Mera Naam Yousuf Hai, Malal, Jackson Heights, Ramchand Pakistani, etc.
What is your dream project (barring any restrictions)
My second film that I'm making after 7 years. It is titled Dobara Phir Se and stars Adeel Husain, Hareem Farooq, Sanam Saeed, Tooba Siddiqui, Ali Kazmi, Atiqa Odho, Shaz Khan, and child actor Moosa. It is written by Bilal Sami and produced by ARY Films. Am excited and nervous about it. I think it's a great story with strong characterizations. A story about love, friendships and growing up.
What is most important to you in a project?
The kind of script I take on, especially with what our country is going through, I feel a great responsibility to it. A good script is something that is not retrogressive…doesn't perpetuate the same kind of narrative, something that will entertain and educate people.
I hear a lot that production companies do not pay on time, sometimes it even goes beyond a year or two…has that ever happened to you?
Yes unfortunately the weakest part of the industry is production planning. A lot of work still needs to be done to improve that. There is a tendency to not plan in advance, do things last minute, and have this Allah tawakkal attitude. To be fair though they themselves have their own issues and it's part of a greater inefficient system of payments and receivables.
**Writers, directors, cast members are all over morning shows before their serials are
on air…I have never seen you though, why?**
One reason is I don't live in Pakistan so it is different to coordinate. The other, is that I am not a huge fan of going on TV shows. Kabhi kabhi it's ok.
When is Lala Begum going to air?
This telefilm is actually part of Zee Zindagi. Six directors from Pakistan and six from India have collaborated to make twelve tele-films for the Zee Zindagi festival.
**Speaking of India, any thoughts on the ban people are proposing on Indian film
releases in Pakistan?**
I do not believe in banning anything, be it a movie or a book. Bollywood and Hollywood is why Pakistani cinemas have revived and competition is always a healthy thing. However, I strongly believe in Inspiration rather than Imitation and feel that filmmakers should also be aware of and see films from other countries like Iran, South Korea, Japan, Europe, etc so that there is more exposure to films from other parts of the world. Having said that, I think there should be some kind of quota system for Pakistani films because we are still a burgeoning industry and a little help will go a long way in creating a strong platform for our films.
Your message to fans/detractors?
Thank you for watching, for having opinions, and hope you continue that :)
With the above, we ended the interview. She is not only a brilliant director, but someone who goes against all odds to only make what she thinks is right. She isn't in it for the ratings game, which why she takes chances. We wish Mehreen all the best in her future endeavors and can't wait for her film, Dobara Phie Se!