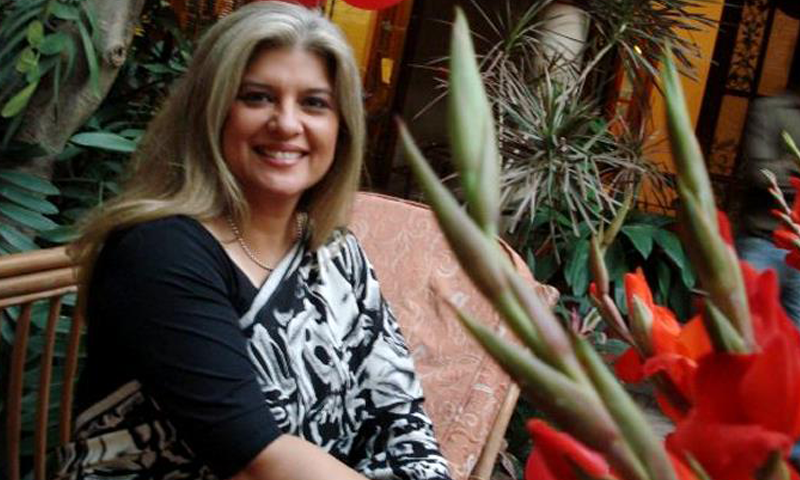 "Don't hurt anyone and spread lots of love around," says Saniya of 'Tanhaiyan.'

In my relatively short time frame of conducting interviews, I have done a fair amount - and that too with some fantastic artists of our industry. Never had I ever been star struck though; never until I interviewed Marina Khan. When she got on the phone and said "Hello, how are you," it took me a few seconds to comprehend what just had happened and who I was talking to. I could literally feel her smile while she was speaking without even looking at her. At 11pm Pakistan time, she was full of energy and laughs and I was just like 'WOW!'
Read on to find out what Saniya of Tanhaiyan, Zoya of Dhoop Kinare, and most recently, Michelle of Jackson Heights, had to say.
Why did you decide to join A&B?
I think I've been wanting to work in a nine to five type of work environment for a while. This, in contrast to the irregular production regimen that I had been involved with for so many years. You know … sit in a chair and boss people around!! (she says jokingly). No, like I said, I had been looking for something solid and regular for a while and when this opportunity came up, I thought it was great. Business Unit Head at GEO A&B Productions is my title at work now.
There were rumors that Asif Raza Mir is no longer involved; is that true?
Asif is not as involved as he used to be. He is mostly based in Canada these days. Asif and Babar worked out a big merger of their already successful Production House with Geo TV. The company went from being A&B Productions to GEO A&B Productions – Asif continues to be the "A" in A&B.
What do you plan on accomplishing?
Geo is now well on it's way to regaining its top position amongst the entertainment channels. Babar Javed has tons and tons of new ideas. It is a very exciting time. I would not have joined this organization if it had meant getting on the same old bandwagon.
Is Geo finally going to stop with the 'roti dhoti khawateen' story line?
Well now that I'm on the other side of the fence there are a few things;
A lot of those types of plays are not designed for you and me. There is, however, a significant appetite amongst the general audience for the roti dhoti khawateen and the over dose of depression that you see on TV these days. People actually like it; it is, in fact, reflective of the state of the country too.
Having said the above, Geo is now looking to portray emancipated women going forward. It won't happen overnight, but slowly and surely it will happen. We already have a couple of projects where the woman isn't crying … rather she is being portrayed as a strong character. I think the key is to find a nice middle ground. Maybe give equal slots to both types of story lines for both types of audiences.
We are losing our fictional heroes and we want to bring back the type of man who will stand up for his woman.
With the new wave of films in Pakistan we are losing a lot of our top tier actors to the cinema. We have actually started finding and introducing new talent in a big way. The ideas and mindsets are changing at A&B GEO, but it's going to take time.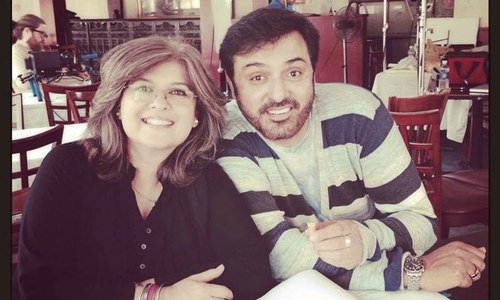 You played the older woman in Jackson Heights; how was the experience?
Very challenging, as I usually run away from any kind of romantic stories. Even in Tanhaiyan 2 Haseena Apa wanted Saniya to get married, but I said "no no, that's not happening!" (poor Qabacha). But you reach a certain point in life and you think ke chalo yeh bhi ker ke dekhte hain. Adeel is a great actor and the comfort level was there. Shoots in NY were a lot of fun; we'd wake up every morning and take the train to work instead of being driven there. Very different production experience than what we're used to here in Karachi.
How do you deal with criticism and the high expectations people have of you?
I don't deal with it actually. I just do my best. I don't have any problems with failures. I'm never conscious about projects failing. I try and live up to my own expectations and do the best that I can do … and that's it.
What do you think has been your best work so far?
The work I've enjoyed the most was Tanhaiyan; it was like a dream for me. We were suddenly around all these people who are such giants … and just being around these people was so much fun. After that was Nijat, and then the adaptation of While You Were Sleeping. Jackson Heights was definitely a big challenge for me. Oddly enough, the one I didn't enjoy or don't remember most was Dhoop Kinare. It was a time when my husband and I were courting each other and all I wanted to do was be with him, not on set. How ever it turned out was all due to the efforts of Sahira (Kazmi). I don't know how she managed it, but she did. I actually saw it a few years ago, and I didn't even remember doing some of the scenes.
Another project I really enjoyed was one with Yasmin Ismail (She played the "Veeda" character in the original Tanhaiyan). She was an accomplished theatre director and used to do kid's plays with social themes. These were German plays adapted into Urdu and put up by The Gripps Theatre. Imran Aslam adapted the stories. Having been part of these plays is something I am very proud of.
What is your dream project?
To direct a romantic comedy film. Otherwise I've never been a dreamer or a competitor. Making a slight dent for the positive at A&B GEO would be something I would like to achieve.
Your favorite people to work with so far?
I definitely enjoy working with Mohammad Ahmed. Otherwise everyone in the field is generally nice, I mean everyone comes with good and bad, including myself … so no real favorites.
Is there a Tanhaiyan 3 or another Barat series on the way?
Definitely no Tanhaiyan. As for the Baraat Series, that was a project in which Nadeem Baig and I collaborated as directors, but he is now with Six Sigma who produce mostly for ARY, so that too, probably is not in the cards. We at A&B are, however, doing something else that is kind of like the Baraat Series … it's a marriage between a Punjabi family and a Gujrati family. Let's see how that turns out.
When will we see you on screen again?
Not for a while, at least not as long as I am working on my current projects at A&B. Perhaps, if things settle down at office, and I get permission from them, then maybe you might see me on screen in the future.
What is Lala Begum about?
It's a tele-film commissioned by Zee Zindagi. Pakistan is making 6 tele-films and Lala Begum is one of them. It was written by Mohammad Ahmed and directed by Mehreen Jabbar. It's based in the 70's; a story of the relationship between two sisters. It was a very tough project, but we had 6 days of great fun. Something I'll look back on as good memories. It was probably the most challenging role for me. The Urdu spoken in it was difficult, as the weight of the jumla had to be just right. Ahmed was there so it made it easier, lekin bohut sakht Urdu ke jumle likhe thay Ahmed ne. Lala Begum is a very stern and khuroos type of a person, very principled and disciplined.
Why did you decide to take on acting and then direction later, as a career?
My entry into acting was a fluke. My friend Kehkashan Awan, ('Anji' of Dhoop Kinare), started acting before me. I used to visit the drama sets where she would be acting at the Karachi PTV Studios. At that time it so happened that Director Schazad Khalil was auditioning for a teleplay. He convinced me to act in it, and then as he got to know me and my harkaths better, he decided he wanted to cast me in the role of Sania in his upcoming serial, Tanhaiyan. The rest, I guess, is history.
How did you feel about Shehnaz Sheikh not being in the second Tanhaiyan?
We all missed her and I think it would have been great if she had decided to participate.
Message to fans and detractors?
Life is too short … think about what you do and do it with responsibility. Don't hurt anyone and spread lots of love around.
With that we ended the interview. Needless to say I had a fantastic time talking to her and it was one of the best experiences I have ever had as she is just amazing to talk to!