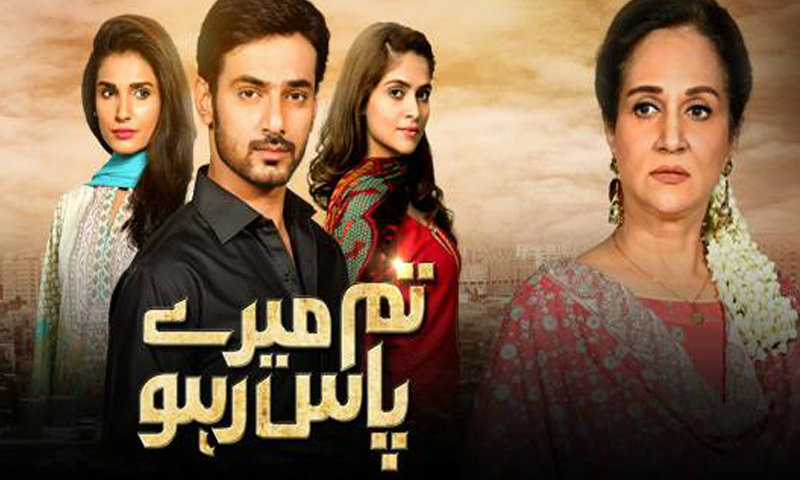 Is Bilqees Kaur back? Bushra Ansari is back with a saasu maa bang in Tum Mere Paas Raho.
The new drama directed by Saife Hasan, began last Wednesday at 8:00 pm on Hum TV.
The first episode reveals a straight forward love story of a possessive mother (Bushra Ansari) who is afraid of losing her son Tabish (Zahid Ahmad) to a girl of his choice (Amna Ilyas). She tries to protect her precious son from the 'trap' of love.
The plot moves quickly with Ansari's character match making and struggling to accept her son's choice (a medical student raised by a divorced mother) as daughter-in-law. She is insecure and afraid of losing her son to a girl who she feels has cast a spell on her son.
She will go to any lengths to undo the love her son feels towards his girlfriend.
The drama explores patriarchy, superstition, and the nature of love. Is her obsessive behavior justified because she cares so deeply for her son? Should her son obey his mother blindly if he truly loves her back?
The trailers hint at a love triangle where Tabish will perhaps marry both his choice and his mother's, or first marry one and then later the latter.
We have seen similar plots where men are 'forced' into wedlock with an innocent girl who listens to mum in law, cooks for all and madly loves her husband even if he does not return her love - in this case she is played by Aryj Fatima. Let's see how it actually goes. We may all be surprised in a good way as the drama moves forward.
No matter how cliché the plot may be, Bushra Ansari adds a pizzazz to any the screen. And this drama already has a life which is complimented by her spark.