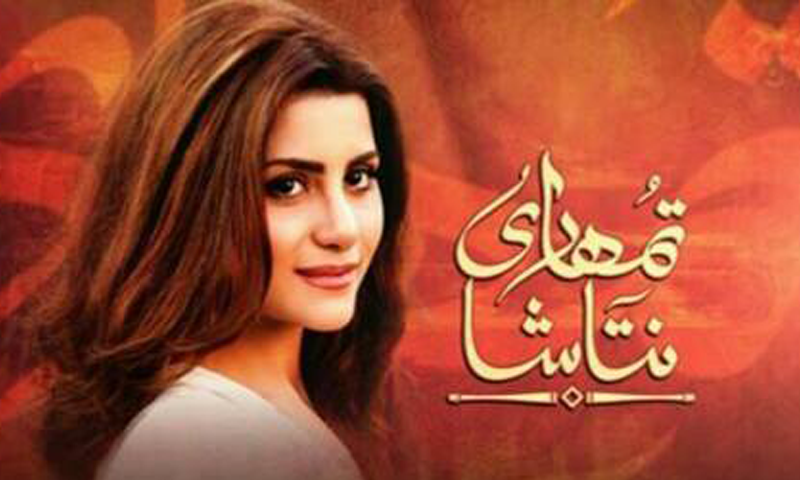 Please no more Hum TV! Why does every other drama being have a twisted tale of love surrounding three lives? It has become more of a math equation than a love story. A loves B, C loves B but B is confused and waiting real love with D.
I mean seriously? Do all Hum TV dramas have to go like this?
Tumhari Natasha, is a new drama series of Hum TV. Its first episode was on aired on Friday on Hum TV.
From the first episode Tumhari Natasha is a complete Hum TV cliché. The lead character of Natasha is being played by talented Sohai Ali Abro. Natasha is a happy go lucky girl if slightly bratty only child in a well off family. Natasha has always found herself caught between fighting parents who are at the brink of divorce.
Natasha has two close friends, Kaif and Sumbol. Kaif; her best friend, has recently confessed his love for her making her uncomfortable. Sumbol is a sweet and romantic girl who Natasha reaches out to take a break from her own life and family issues. Sumbol belongs to a middle class ideal, loving family. Sumbol's parents are caring and concerned for the bright future of their kids. Sumbol has an older brother who is seeking job these days and also has formal interaction with Natasha and also secretly admires her. Natasha is completely unaware of his emotions towards her.
Natasha's mother (Saba Hameed) is business obsessed status conscious woman who always looks down to Sumbol's family and dislikes her daughters' friendship with her. Natasha, on the other hand, looks at Sumbol's family as the perfect family.
One day, Natasha drops by at Sumbol's place for the simple lunch of daal chawal served on a dastarkhwaan on the floor. She takes a photograph while having lunch and uploads it on social media. This made her mother mad at her and she lectures her daughter on the greedy nature of middle class people. In all this hype Natasha fights with her mother.
This is when the situation escalates and she discovers her parents are finally getting a divorce. Natasha's father asks her to move to the US with him and marry her cousin Arsalan (Taya Abu's son). Naturally, Natasha is taken off guard. Seeing her parents, she doesn't believe in love and marriage.
She rushes to her best friend Sumbol's house to share her troubles. When she reaches gets there Natasha learns that her friend is not at home and her brother is alone to accompany her till his sister gets back.
While they wait for Sumbol, Natasha suggests that they visit the neighbor who can read faces and predict the future. The Uncle tells her that someone near her loves her and will take away all her pain and troubles. Natasha assumes that Kaif might the one man is referring too. The mystic tells Sumbol's brother that his face is full of love for Natasha and that she is pure of heart.
The love story of poor versus rich is typical - I am personally disappointed and it seems that Hum TV is taking inspiration from the Bollywood of 90s. Let's just hope it turns out more interesting in the next episode.