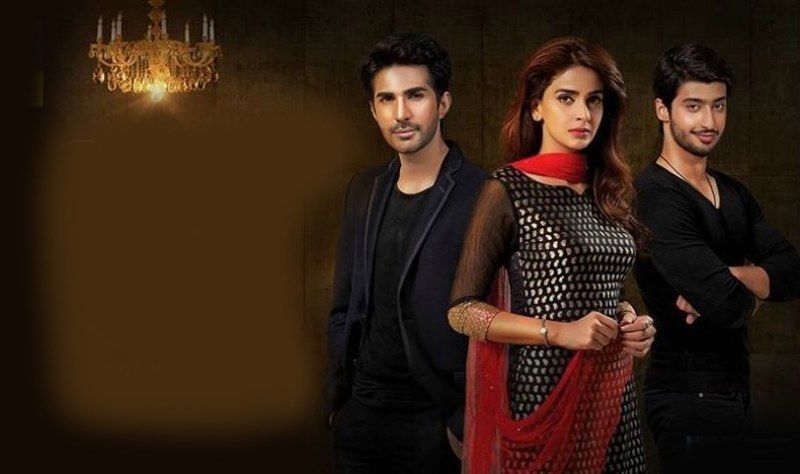 Hoping the next episode isn't as drab as the first one

Saba Qamar had already warned us that her upcoming drama is going to be another run-of-the-mill story and that she only took up the project because of the scenic location of the shoot, Murree. However, being her doting fans, it was natural to anticipate something out of the ordinary from her drama and hence I tuned into HUM TV with the same excitement and zeal I had for 'Digest Writer' that I would religiously watch every Sunday.
Sadly, I was in a for a disappointment.
Penned down by Maha Malik and directed by the well known director of our industry Fahim Burney, 'Kaise Tum Se Kahoon' premiered last Sunday at 8p. The intriguing drama had appeared to be a love triangle with Saba Qamar, Adeel Chaudhry and newbie Farhan Ahmed playing the lead role, ever since it released its first poster. However,I thought that such a situation wound't be possible as Qamar plays a married woman,but boy was I wrong!
The plot
The drama starts off showing Anamta (Saba Qamar), a mother of two, as the happy-go-lucky housewife who is too occupied with her son's birthday arrangements. However, her husband Mansoor (Adeel Chaudhry) is no where in sight- obviously a disturbing observation for Anamta's adoring dad.
Anamta, being the typical wife, tries to convince her daddy dearest that all's well between the lovebirds, but inside, even she is agitated by Mansoor's absence as she has always seen him lovey dovey and sticking to her at all times in the past.
Mansoor, on the other hand, is stuck with his colleague Bakhtiar who he saw suffering from a cardiac arrest in the parking area of his workplace and hence rushed him to the hospital. The caring man goes as far as cancelling all his appointments of the day for his ailing contemporary and even decides to miss his child's birthday party.
Anamta (called Annu by family) is naturally pissed. But it's not like she is devoid of company because her long lost cousin Minhaj (aka Mannu) has recently returned from abraod and is in town these days. The flirtatious man always had a soft corner for Annu and still does despite her being married. He shows up a the party and both spend some quality time together.
Mansoor tries to make amends by taking his family to picnic, bus as luck would have it, Mrs. Bakhtiar calls him and tells him how her unwell husband needs him badly at the hospital. Lo and behold, the caring Mansoor again cancels the picnic and decides to go tend to his colleague.
Annu is sad and mannu who also comes to the picnic rubs salt into her wounds by inserting misconceptions in her mind about her beloved husband.
The drama ends showing Annu flabbergasted by the presence of an unknown lady at her house sound asleep in her room with a child. We the audiences know who she is- Bakhtiar's wife along with his child who Mansoor as a helping gesture brings to his own place- however, Annu doesn't.
Will I be watching it again?
Although the drama did nothing to excite and keep me hooked as I had been expecting, I will watch it nonethless because (a) I love Saba Qamar's acting and (b) I want to know how the story unfolds.
On another note, I loved Qamar sartorial choices in this drama that shows her donning stylish capes teamed with culottes with interesting prints. Also, I loved her hairdo- shorter hair which was tied into a fun pony tail with curls and a beehive. Not to mention, the haircolor suited the svelte star quite a lot too.