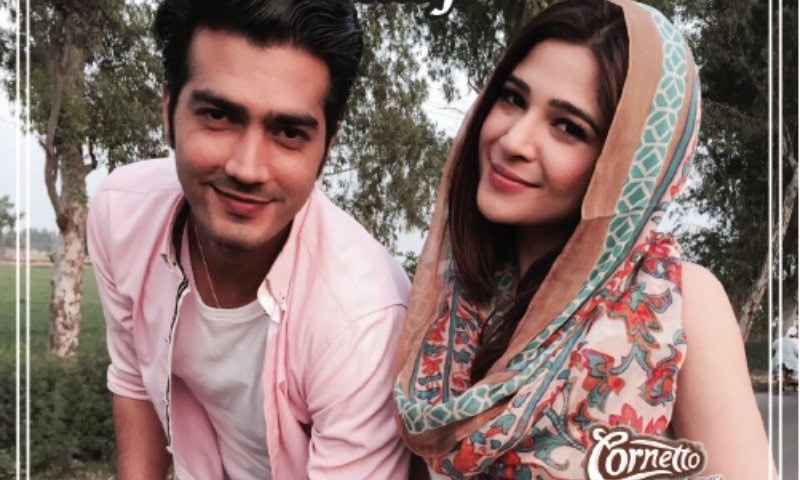 It is also an effort to get away from my 'Khubsoorat' character from Bulbulay, says the leading lady

Wajahat Rauf, the director of the upcoming Pakistani film Karachi Se Lahore, recently shared on Facebook that the movie will be the first ever Pakistani film to premiere in Hollywood. "It is my honour and privilege to announce that Karachi se Lahore will be the 1st Pakistani film to have a premier in Hollywood on the16th of August, 2015. God is Great!"
We recently got in touch with the leading lady Ayesha Omar who is absolutely ecstatic about not just the release of the movie, but also its premiere in Hollywood. As per Omar, "the movie was a lot of fun and none of us did it for the money. It is Wajahat's baby and all of us just wanted to completely support him."
Read on to see what else she has to say.
Can you tell us a little bit about the film?

As the name goes, it is about a road trip from Karachi to Lahore with a bunch of friends. The story details the obstacles the friends faced in the journey; how they discover their strengths and weaknesses and come to know who they are. There are subliminal messages about not judging others due to their appearances. There are social messages about relationships and how you might think someone is perfect for you, but you find that the values and culture they come from is completely different from yours. It is about acceptance and friendships. The audience will get to see a lot of scenery of Pakistan as it has mostly been shot outside.

What is your role in the film?

I play someone coming from a middle class family. I'm on a road trip with a bunch of boys and it is very daunting. I have three completely different looks in the film as my character keeps evolving. It is also an effort to get away from my 'Khubsoorat' character from Bulbulay. I was actually offered Yalghaar two years ago, and in the middle of shooting for that, Wajahat offered me this. Yalghaar is a much bigger project and a completely different film so it is taking it's time to complete so this [Karachi to Lahore] is actually my debut film release.

How does it feel to be part of the first Pakistani film premiering in Hollywood?

It is unreal! A dream that none of us thought would come true. I just got my visa for the US yesterday and I'm just over the moon about all of this. We are not taking this lightly and there are no bragging rights. This is serious and we are humbled and honored to be part of it all.

Why should people go out and watch this movie?

Because it is a really fun and relate-able movie. But most importantly I want to show people that we Pakistanis are have feelings like normal people. I want them to know that Pakistan is not at all like they see on the news. Most of the films that have released internationally have either highlighted the weaknesses of the negatives of Pakistan. This movie highlights the positives of Pakistan. Since the movie is mostly shot outdoors, the audience will get to see the beautiful scenery of our country. I really hope this movie makes an impact and changes peoples' mindset about Pakistan.
Besides Ayesha Omar, the movie also stars Javed Sheikh, Shahzad Sheikh, Mantaha Tareen Maqsood, Yasir Hussain, Ahmed Ali, Eshita Syed, Asshir Wajahat, and Rasheed Niaz. Produced & Directed by Wajahat Rauf (of Showcase Entertainment), the movie releases all across cinemas in Pakistan on July 31st.
Check out some fun BTS pics Ayesha Omar shared exclusively with HIP.