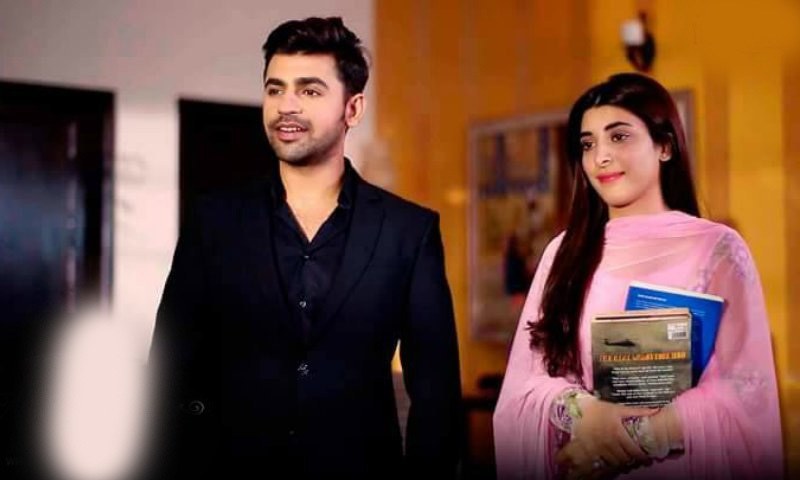 Although i'm sure the real-life lovebirds won't disappoint us, the drama still needs a lot of substance
The much awaited Urwa Hocane and Farhan Saeed starrer 'Mere Ajnabi' finally aired its first episode on ARY Digital last week. And To be honest, I regarded it as nothing more than the usual typical filmy kind of love story ever seen since its much publicized promos had started airing
However, I thought maybe, there might be something different about it... but to my utter disappointment there wasn't. Here is what the first episode was like...
The innocent girl Hareem (Urwa Hocane) is a huge fan of Urdu poetry. She has a strong family background with her dad being a successful business man residing with his family in Defence.
Us Pakistani's usually don't know any conservative families that live in Defence so this serial is definitely breaking stereotypes. Hareem's father, played by the great Firdous Jamal, is a really crucial character. He has great anger issues and he doesn't even support Hareem's education so he obviously wouldn't support her passion for poetry too. The mommy (Saba Hamid) is helpless like almost every other mommy in our serials.
Hareem along with her friend goes to pursue her dream at some poetry related event. As they head back home it starts raining. And guess what happens next?! Mohid Shuja (Farhan Saeed) comes to the rescue! Totally looked like a scene from a Bollywood movie.....
Anyway, Hareem declines the offer to take a ride home in his car but the friend advises her to take the offer or else they'd be late and Hareem's dad would find out that she was out somewhere.
Mohid Shuja too comes from a rich family background and he was basically heading to the airport for his flight before rescuing Hareem and her friend in the heavy rain. I wonder if guys like him really exist in Pakistan.. I thought everyone's just scared of getting robbed...
So as he drops Hareem and her friend home and heads back to the airport he finds a diary at the backseat right where Hareem was sitting. Well duh! Destiny wanted them to meet again. Of course. And just when you think that's it, let me tell you, the diary had quite meaningful information as well. Apparently, Hareem is self obsessed and carries her own picture in her diary and also doesn't remember her daddy's contact number so she also has that written in her diary. Mohid calls on the number and hangs up when he realizes its not Hareem's voice but her dad's! Becharaa!
We are also introduced to another family in this episode. Hareem's maternal uncle and his family will also be contributing a lot to this story. This uncle's son Ayaan is whom Hareem actually likes but it all seems one-sided and this is the twist in the story, because now Mohid will have to try really hard to take his place in Hareem's heart.
There are a lot of things Hareem's daddy doesn't like and one of them is this family and especially this guy Ayaan who is a huge cricket fanatic. He lives for cricket. Cricket is to Ayaan what poetry is to Hareem!
Hareem along with her family is invited to Ayaan's house since his sister has done great in her exams. They enter the house where he is already playing cricket and accidentally the ball hits Hareem's dad! Even though Ayaan apologized, he still gets a loud thappar from his uncle's side.
On the other hand Hareem's dad, while reading the newspaper finds a picture of his daughter from the poetry event she went to and loses his temper. He rushes to look for Hareem who is talking to Mohid on the landline telling him not to contact her anymore. She probably wrote her landline number in her diary too. Very convenient indeed. So her dad grabs the phone and listens to what Mohid is saying... His exact words were:
"Hareem abhi pichlay haftay mene aap ko aur aap ki friend ko ghar drop kiya tha na aap ko yaad hoga..."
....And daddy dearest hangs up the phone.. Cant wait to know if he kills his daughter or not!
In my opinion, this serial seems far from reality. There are a lot of aspects in the story that are quite unusual but lets wait and watch...maybe it'll all make sense once the story proceeds. We're yet to see the chemistry between the two love birds Urwa and Farhan and I'm sure they wont disappoint us since it seems the only reason for this serial's popularity are these two!