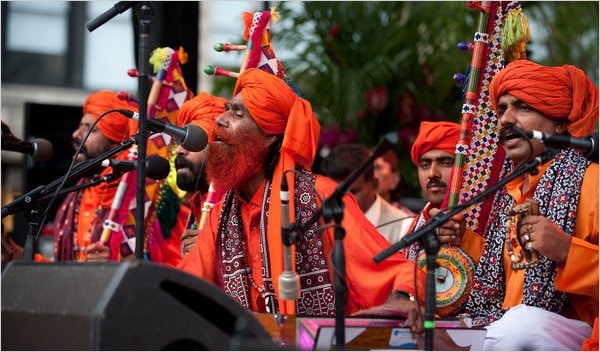 Two days long event features music mentorship series, music dialogues, and spell binding performances
As part of the cultural campaign, 'I am Karachi,' the first music festival ever, was recently announced in Karachi in collaboration with MAD school and Fuzon.
The aim of this festival is to revive and reclaim the music culture of Karachi, which is in line with the overall mission of the 'I am Karachi' movement that has been striving to rebuild the social and cultural fabric of the city for over a year.
This was announced by the President of 'I am Karachi' and former CPLC Founding Chief, Jameel Yusuf, at a press briefing at Port Grand.
"Pakistan was once at the cusp of a rising music industry and Karachi was the heart of the music scene in terms of greater concerts, greater avenues for recreational engagement as well as spaces for people to come together for greater interaction", he added.
A large number of 'I am Karachi' members and partners were present at the press briefing including prominent personalities such as the Founder of Port Grand and Founding Member of 'I am Karachi', Shahid Firoz; MAD School founders, Nida Butt and Hamza Jafri; Meekal Hasan; Fuzon band's Shallum Xavier, and Imran Momina aka Emu.
Meekal Hasan, who is leading the festival program, gave a detailed account of all events that have been planned for the Festival.
"This unique festival has multiple components bringing together emerging and established musicians from across the city. The components include a Music Mentorship series – a day long program being held at the MAD School; Music Dialogues – a series of 12 interactive panel discussions as well as performances being held on August 4th and 5th at the Beach Luxury Hotel and finally a 2-day music festival being held at the Port Grant on August 8th and 9th with two stages attributed to traditional and modern music respectively, bringing together performances from leading and emerging names of both genres.".
Speaking on the model of the festival, Shallum Xavier said that festival also hopes to encourage emerging youth talent to showcase their work and take the stage with performances from a myriad of genres such as rock, indie folk, qawwali, and experimental etc.
The entry ticket of the two days music festival at Port Grand costs a nominal charge of Rs. 500 per day.
Reasons you shouldn't miss this festival:
The festival will bring three major components to its audience.
Music Mentorship:
A unique opportunity for young and aspiring musicians to develop and build upon theoretical and technical skill on categories ranging from guitar to eastern vocals. Registrations are made available via the official Facebook page and will take place on 6th August at the MAD school.
Music Dialogues:
A two-day interactive panel discussion and series of workshops featuring discussions on topics ranging from music appreciation to using Pakistani music as a viable cultural export etc. This will take place on the 4th and 5th August 2015 at Beach Luxury Hotel.
Music Festival:
A grand two-day music festival featuring live musical performances ranging from folk to contemporary to qawalli to fusion, to take place on 8th and 9th of August 2015 at Port Grand. A diverse range of well-known as well as emerging artists will be performing. Over 60 artists will play 30 hours of live music from over 15 different genres on two kinds of stages, a modern and a traditional stage. These artists include: Shehzad Roy, Humaira Channa, Farid Ayaz, Zoe Viccaji, Mai Dhai and new talent such as Alicia Dias an,d Sarah Haider amongst others.