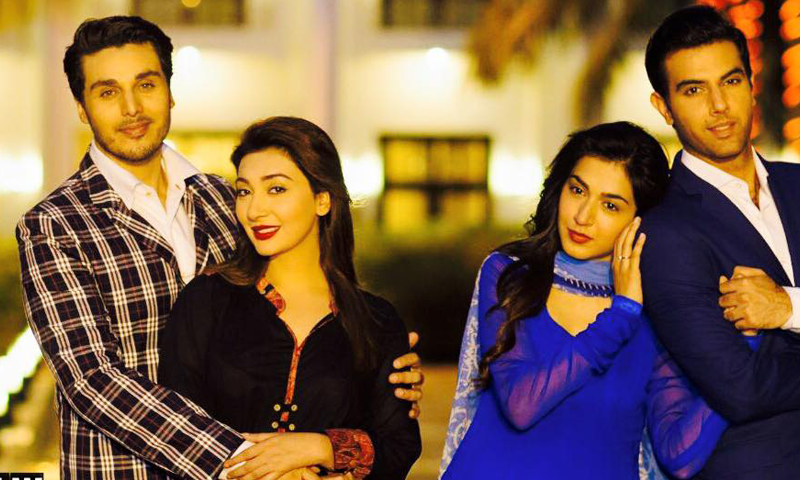 The new season of entertainment has kicked off on television and every other channel is presenting a tempting list of programs to watch in their slots.
Here is a list of a few drama serials which have raised our expectations with their compelling promos.
Yeh Mera Deewana Pan Hai (A-Plus)
Featuring the odd couple Junaid Khan (Jahangeer) and Saima (Mehtab) this play is all about a young guy falling in love with much older woman. His biggest dilemma is that he can't express his feeling to the love of his life because she treats him like a kid. How and when will he confess his love to her? What are obstacles he has to face to finally make Mehtab his own?
The answers to these questions will only be solved once the play gets aired.
The promos are out and they are making a bold attempt on television as they show the romantic couple drenched in rain and dancing with umbrella in hands – and what's more surprising is Khan's kiss on Saima's hand.
Starring Javed Sheikh and Isra Ghazal, the drama has been penned down by Zanjabeel Asim whereas ace filmmaker Shahzad Rafique has directed it.
The drama will air every Saturday and Sunday at 8:00pm from August 15.
2. Aitraaz (ARY Digital)
Sharing the screen with the gorgeous 'Goya' star Sana Javed and stalwart Sania Saeed, Jaanisaar actor Imran Abbas will again be seen as a passionate lover in ARY Digital's upcoming play Aitraaz.
The play has been directed by Aamir Yousuf and written by Sameera Fazal (of 'Alvida' fame). The recently released promo of the drama indicates that Abbas is in love with Javed, but it's not in their destiny to stay together (shocker)!
What are those circumstances that force them to stay away from each other? Will they unite again? What tactics will Saeed use to snatch Javed's lover?
To know the answers to the above mentioned questions we have to wait for the drama to air tonight at 8:00pm.
Tumhare Siva (Hum TV)
Starring television favorite couple Ahsan Khan and Ayesha khan, another intriguing story is making its way to our hearts through Hum Network.
Headed by actress turned directed Sakina Samoo the play is a Hum TV home production and also features Mansha Pasha in the lead role.
Whereas the story of the play hasn't been revealed yet, celebs are quick to post BTS pics on sets. Check them out here.
Mohabbat Hogai Tum Say (TVOne Global)
The veteran playwright Hassina Moin is back after a long time with an interesting tale of four teenage friends. The play captures the innocence of their childhood, dreams of their teenage years, and rapture of young intense romance.
Just like Moin's yore hit plays Tanhiyaan and Dhoop Kinare, this play too has a strong woman, Zofeen, playing the protagonist in the drama.
The prominent cast includes Adnan Siddiqui, Hira Tareen, and Azfer Rehman. The play has started from August 5 on TVOne Global at 8:00pm.
Mera Yahan Koi Nahi
This upcoming drama rotates around an uncertain father-daughter relationship. The father is reluctant to disclose to the world the fact that he got secretly married before and had a daughter whom he introduced as a friend's daughter.
On the other hand for the poor girl there is no one to support her and she is the victim of pity and loneliness.
The drama leading cast included Farhan Ali Agha, Anum Fayyaz, Zainab Qayyum, and Nida Khan. It has been directed by Mohsin Mirza whereas Nusrat Jabeen has penned down the script.
Starting from August 15 the play will air every Saturday at 8:00pm.