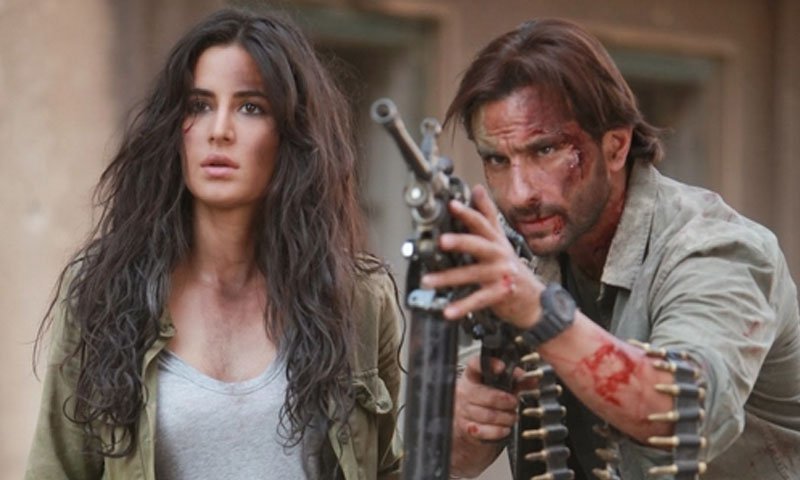 'I was not surprised when Hafiz Saeed demanded a ban on Phantom," says Saif Ali Khan

Although Pakistani fans of Katrina Kaif and Saif Ali Khan aren't happy with their favorite stars upcoming film Phatom being banned here, the film's lead actor isn't surprised at all.
The film is likely to ban in Pakistan as Jamat-ud-Dawah chief Hafiz Muhammad Saeed has filed a petition in Lahore High Court mentioning that film contains 'venom against Pakistan and Jamaat-ud-Dawa' and contains "filthy propaganda" against the country.
The film is about 2008 Mumbai attacks and features Saif Ali Khan and Katrina Kaif as spy agents who fights with Pakistani terrorist group in the movie.
The film antagonist Hariz Saeed (the master mind behind the attack) has shown striking similarities with Hafiz Muhammad Saeed.
Now the news about the film being banned in Pakistan has been surfacing on internet the film lead actor Saif Ali Khan presents his point of view in a media brief.
"I was not surprised when Hafiz Saeed demanded a ban on Phantom. A movie of this kind was bound to be banned in Pakistan," reported Bollywoodlife.com
Emphasizing on the need to take drastic actions against terror mongers, the actor further said,
"Something should be done about such infamous terrorist attacks so that they think twice before executing such a horrendous act."
He also pointed out that a few videos of Hafiz are full of hate speeches.
Phantom is set to hit screens on August 28, but whether it is released in Pakistan or not, is yet to be seen.