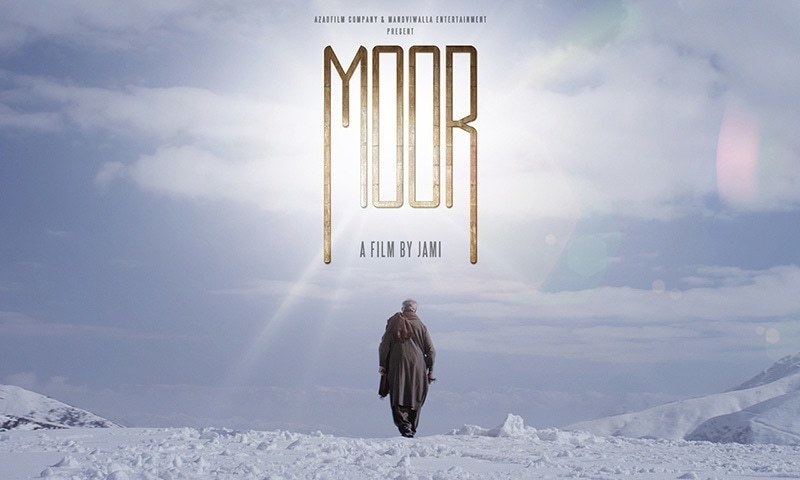 The movie will definitely take the Pakistani cinema's status to a new high

It has been almost a decade that movie enthusiasts had been hearing about Jamshed Mehmood's (popularly known as Jami), home production 'Moor' and were waiting anxiously for its release. If I recall correctly, it was in 2013 when Atrium Cinemas started to show Moor's trailer as part of their upcoming attractions. Fast forward to August 2015, it was definitely high time the much anticipated movie saw a release and that it exactly did.
The two-and-a-half-hour long movie, which is finally ready to hit the big screens in cinemas across Pakistan this Independence Day, held its premiere last night and needless to say it left me immensely impressed.
The background
'Moor', meaning mother in Pashto, is a story of a family living in a small, distant town of Baluchistan and their struggles amidst the corruption and dishonesty rife in our country.
The film also recognizes Pakistan Railways and sheds light on its demise by emphasizing on how the corrupt bus and truck mafia has had a detrimental effect on the national railways service; especially how its influence led to the closure of railway tracks between Bostan, Pishin to Zhob valley in Baluchistan during the early 80's.
The plot
Wahidullah Khan (Hameed Sheikh) is a poor station master of a remote, deserted town of Baluchistan, married to Palwasha (played by the seasoned actress Samiya Mumtaz).
Following the unexpected death of Palwasha, their son Ahsan-ullah Khan (Shaz Khan) returns to his home town from Karachi where the bright, young man had shifted to to make a living for himself but had sadly lost his job and was quite perturbed already.
The first half of the movie that was very dark, cold, and tragic, and focused solely on establishing characters, but it would have attracted a lot more attention had it been a bit fast-paced. However, it was during this time only that the audiences got to learn a great deal about the lead characters, Wahid and his son Ahsan, along with their backgrounds and what they have seen throughout their lives.
Wahid, in Baluchistan, finds himself in the middle of an illegal land controversy of the railway property spearheaded by his elder brother and other tribesmen. He is forced to choose between a comfortable life for himself and his family or the railway station he served all his life. However, owing to his deceased wife's wish who had strictly asked him not to be a part of this corruption, he is unable to deicde which path to choose. Also, his older brother continuously coercing him to follow his elders and sign off the deal adds insult to injury.
Simultaneously, in Karachi, Wahid's son Ahsan, like his father, is also experiencing a difficult situation due to his association with a firm involved in forging legal documentations. Additionally, being devoid of any company in the new city, the insensitive man surrounds himself with corrupt people. Upon the sudden closure of the deceitful organization he works at, Ahsan partners with his colleague, played by Ayaz Samoo, to open up their very own firm involved in similar illegal activities. Things eventually take a disastrous turn for the two when they find themselves stuck in the suicidal case of a student.
Sonya Hussain plays a young working woman, who develops feelings for Ahsan and tries hard to keep him steady during the testing times he is going through after his mother's death. Sadly though, her character had nothing special to offer and it won't be wrong to say audiences will forget it quite easily.
On the other hand, one performance that will be etched in the audiences' minds for a very long time is that of veteran PTV actor Abdul Qadir. Essaying the role of Wahid's devoted servant Baggu, Qadir besides his brilliant performance also gave audiences a lot of light-hearted moments amid the intense drama. Backed by great improvisations by the director,rest assured, Baggu 's awe-inspiring character is sure to win audiences' hearts by the end of the movie.
Thoughts
One of the greatest things about 'Moor' is the brilliant cinematography showing Baluchistan in a completely different light. That, coupled with excellent music by Strings, makes Jami's labour of love a thoroughly captivating experience. Whether it be Rahim Shah's 'Gul Bashri' during the first 15 minutes or Jawad Bashir's 'Talabgar' at the end, the soulful music compliments the storyline and screenplay at its optimum.
All in all, 'Moor' will certainly serve as another shining star on the director's resume but may not make the producers very happy with its commercial success. Undoubtedly a visual treat to watch, it greatly lacks the entertainment value. While genuine movie buffs will appreciate its serious tone and message, the masses might not be too thrilled with the lack of the said 'oomph factor.'