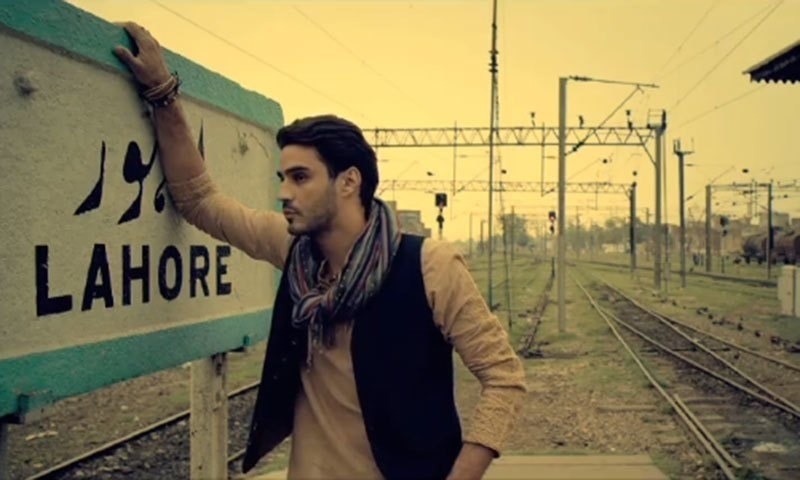 Will the culinary expert be able to impress the public with his acting this time around? We really think so!

Move over Fawad Khan and Ali Zafar, we have a new hottie to drool over!
Popularly known as Xander, (which also happens to be the name of his cosy café for those of you who weren't aware), the restaurateur turned actor Sikander Rizvi is thrilled about his movie alongside the gorgeous Humaima Malick, 'Dekh Magar Pyar Se' and rightly so; after all it's his debut movie!
Currently in Dubai for a star studded premiere of his movie, the delectable hottie recently caught up with HIP and shared a few tidbits about his character and experience with his co stars and the team of Dekh Magar Se. The excerpts are as follows:
Q: What's your character like in DMPS ?
A: My character has lot of variety I tell you! As evident from the trailers already, I'm a rickshaw driver who is also a dreamer. I fall in love with Humaima. However, besides this light side, there is also a clever, sharp, and cunning side of mine hovering in the background. You just need to wait and watch!
Q: What are some of the challenges you faced in DMPS ?
A: I am actually into the restaurant business. Although almost my entire family is into the arts starting from my grandmother Noor Jehan, to my sister and cousins Sonya Jehan, Zille Huma, and Ahmed Ali Butt, I had never ventured into acting. Prior to taking up this role however, I did take a few courses to get the hang of acting though. As far as the challenges are concerned, I think the biggest one would be being there on the sets for 18 longs hours at a stretch. Ok, I might be exaggerating, It might have been 15 hours, but yes that was what I found to be the most daunting part. Also, my command on Urdu needed a lot of improvement too.
Q: What is that one thing you loved the most about being a vital part of DMPS ?
A: I seriously loved how Asad-ul-Haq brought me before the camera and took me out of my comfort zone. When you get out of your comfort zone, you grow and that's exactly what happened with me too.
Q: You say you play a hopeless romantic in DMPS; can you relate to this fun character in real life also?
A: Of course, it's not relatable! It's like a fantasy movie wherein I experience a lot of flashbacks and if truth be told, I am not so much of a day dreamer so I don't know if the character is me at all.
Q: What are your expectations from DMPS ?
A: I just really hope people like my performance as it's my debut movie. Although I'm really not sure how the audiences are going to react, I'm hoping they shower the same kind of love on me and my performance as they they do when they see me at a public place. It of course goes without saying that 'Dekh Magar Pyar Se' will be getting many negative responses also but we plan to take all the criticism constructively.
Q: How was it working with the multifaceted actress Humaima Malick?
A: Honestly, it was great! She is an actor of a completely different caliber. Acting for the first time ever, I naturally felt nervous and apprehensive. I would feel like the director and my co actors would get fed up with me but surprisingly I was quite comfortable before the camera. I would also like to credit Humaima for making me feel relaxed on the set, and yes of course kudos to her acting, because had it not been for her brilliant acting, I wouldn't have been able to pull of my character at all.
Q: Since you're the new heartthrob of Pakistan, we would love to know what some of the things are that you don't leave the house without.
A: A comb, a hair gel, and perfume. No, jokes apart , it's comfort that matters the most to me. Regardless of the occasion, I always opt for a classic, comfortable piece of clothing. I believe when you feel uncomfortable your whole body language shows it.
Q: Tell us about your style statement?
A: I'm laid-back and casual, and I prefer to wear what I feel comfortable in. That's one of the main reasons why I avoid being experimental. As long as something makes me look good and feel comfy, I am happy.