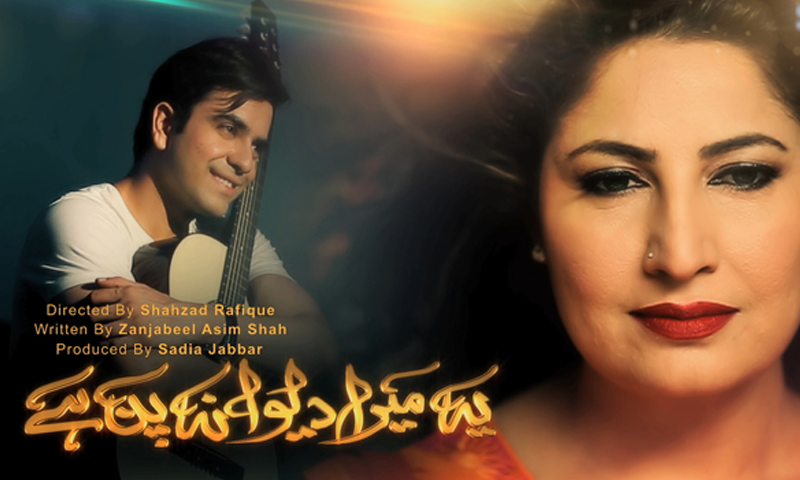 The serial is a love story about the older woman and the younger man

Yeh Mera Deewanapan Hai is a combination of Sadia Jabbar's production and Shahzad Rafique's direction and on airs on A-plus TV every Saturday and Sunday at 8pm.
Two episodes down, drama has created a magical spell. It is a splendid script by Zanjbeel Asim Shah (Bashar Momin), about the relationship of a son, Jahanghir (played by Junaid Khan) and mother, named Attia and, a love story of Jahanghir with an older woman Mehtab.
As the camera rolls on, a young boy Jahangir narrates the story of his life. Setting its establishing shot of Eid celebration, Jahanghir talks about everything; from the petty issues of his house, to the crumbling relationship of his parents. Seeing things from the eye of a child has magnified the neglected social issues.
Jahanghir's father Nafees, (Javaid Sheikh) cursed the looks of his wife and would always compare her with his ex-fiancé Nighat who was not his cousin, but also his class fellow in Medical college. His sisters were selfish and mean and managed to break the engagement of Nafees and Nighat.
You will find yourself well absorbed by Jahanghir's narration of how he felt about the happenings in his surrounding at such an early age. How he arrived at his own concept of beauty, love, and the 'perfect woman' to fall in love with from his father at the age of 10, which was the first seed bowed for the love of Mehtab in Jahanghir's heart.
Mehtab is a divorced nurse who lives on the ground floor of Dr. Nafees's house and works in his Clinic. Her role is played by none other than Saima Noor.
Yeh Mera Deewanapan Hai does not only takes you back to the beautiful roads of Karachi in the years of 1990s, but also has multiple perspectives highlighting the unforgivable taboos and deep rooted social issues at the within it.
This drama has so much on its plate, that one needs the ability to read between the lines a lot. It has a very unique story line, and in an interview, the writer had requested its audience to watch this drama with a calm heart and try to decipher the situation of Jahanghir. Instead of getting hyper about the story line being older woman, younger man. She wanted the audience to figure out the reasons of his love for Mehtab; The ambiance he has grown up in...the situations he had encountered at home at a tender age would have made him crazy had his love for Mehtab didn't exist.
Is his passion for Mehtab the escape from reality for Jahangir? Perhaps, yes...at least that's what I saw so far in the two episodes. If you have a sense of aesthetics, and the ability to see the visible but unseen issues of the society, this is your play. It is definitely a must watch. The two episodes have kept me standby for the next weekend to come. Every individual sees things in his or her own perspective. I am sure everyone can relate to the plot in one way or another, because drama shows inside story of every house. You just need to adjust your lenses accordingly to see the bitter truth.