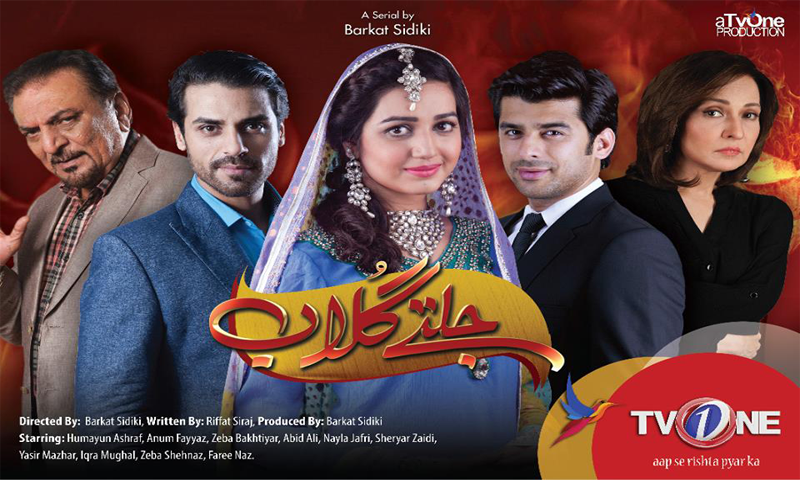 A new drama series, 'Jaltay Gulab' that has recently started on TV One is a serial by renowned director, Barkat Siddiqi. The cast of this new series includes Zeba Bakhtiyar, Abid Ali, Humayun Ashraf, Anum Fayyaz, and Yasir Mazhar.
The nub of the story revolves around a beautiful romantic affair that is threatened by the fury of a malefactor. The tale is not only about relationships and how it is influenced by villainous characters of the drama, but it also highlights some serious issues that are currently prevalent in our society.
This is a drama that foregrounds the issue of acid throwing on young women and how this gruesome act is no longer associated to taking revenge and personal grudges only, but has adopted the shape of a proper business.
Anum Fayyaz as Roshni is playing the role of a young and attractive doctor who possesses the valor to face crisis and tough situations of life with dignity and staunch determination.
The play is about Roshni and how she saves her relationship with a human rights lawyer - Salman (played by Humayun Ashraf). Rustam and Seth Poonawala, played by Yasir Mazhar and Abid Ali respectively, are playing negative roles in the serial to create hurdles in Roshni and Salman's relationship.
With veteran actors like Zeba Bakhtiyar and Abid Ali in its cast and a powerful storyline, this new drama serial has all its potent factors to impress the audience.
On another note, It would be interesting to see which sort of reviews this series is going to garner though.