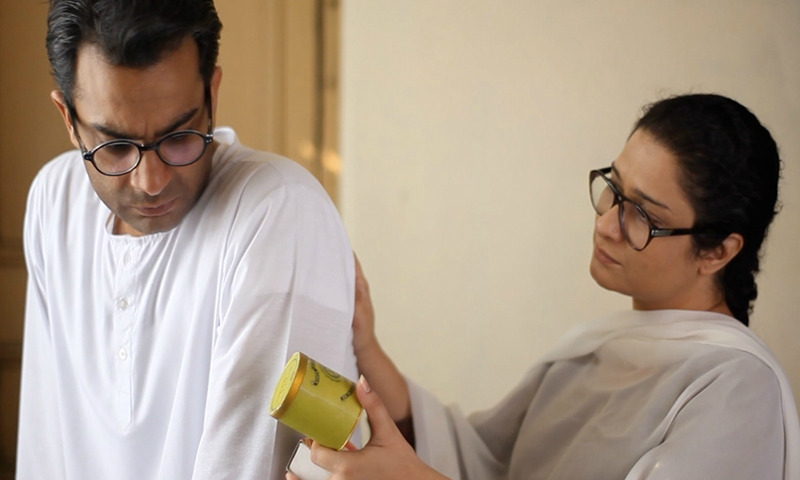 With power packed performances and without any commercial elements, 'Manto' is an absolute must watch!

It was only a couple of weeks ago when Manto's director - Sarmad Sultan Khoosat, in an exclusive interview with me revealed that he did the project with "full responsibility". At that time I did not understand the nuances of his words, but after watching the film I got to know what he meant by that.
Also Read: Nothing wrong in having favorites in the industry: Sarmad Khoosat
To make a film on a controversial figure like Sadaat Hasan Manto, is itself an arduous task as there have been a lot of sensations attached to him. Just like others, I too was curious to know how the director would encapsulate the life of a literary genius in a movie along with the narration of his famous short stories.
Kudos to the director, as without relying on any commercial elements, he gave us a glimpse into Manto's life and also highlighted taboo topics like rape, subversive sexual slavery of a woman, and the Hindus carnage post partition followed with badly crushed human emotions.
Manto is primarily based on the last seven years of the writer's life – the dire financial crisis he faced during that phase, the influence of Indo-Pak partition on his personality coupled with the rejection by society and criticism on his work.
The film opened up with a thought provoking dance performance by Suhai Ali Abro, setting the tone for the film ahead. With the classical dance moves, she introduced us to an ideal female character of Manto's novels– who was rebellious yet subversive to circumstances too.
Sarmad steals limelight with power-packed act
Sarmad Irfan Khoosat has proved his spirit as an accomplished director with several award-wining drama serials to his credit. And whereas he has acted in several dramas before, this was his chance to prove his acting skills as a lead– and he did it flawlessly!
Since the film's major portion is based on the troubled last years of Manto's life, it was indeed a daunting task to present his complex character on-screen. As the leading character, the actor brilliantly carried the entire film on his shoulders and that he put his soul into this project was obvious in every scene.
Read: Nothing wrong in having favorites in the industry: Sarmad Khoosat
As an alcoholic, an adoring father, and a controversial yet popular writer, the character has so many shades to it and Khoosat has done justice to every single shade. You hate him when he buys sharab instead of getting medicines for his ailing daughter, but earns some sort of sympathy when throws it away. Your empathy increases when he is shown lying on the bed in a vegetative state after terrible electric shocks at the mental hospital.
The way he bravely faces the fiery literary criticism by contemporary writers at Lahore's iconic Pak Tea House, was beautifully shown on screen. The actor's command over facial expressions becomes obvious when he is shown in conversation with his alter ego.
Well-crafted script with brilliant execution
The team definitely did their homework on Manto and they have not only worked on his written stories, but with the people he lived with; from his relations with his wife, to Malika-e-Tarannum Noor Jehan's presence in his life, and his fame in the local brothel.
When Manto was ill, his good friend Noor Jehan paid him a visit hiding her identity in a burqa. Another scene shows her, when she came to his home just to attend his nephew's son's birthday party.
As far as performances of other artists are concerned, even though most of them had limited screen time, it didn't stop any of them from leaving an impression. They fitted the roles like a glove – be it Yasra Rizvi as a 'Sikh mistress - Kalwant Kaur' in Thanda Gosht or Hina Bayat as the elite begum of society.
Manto's wife's character has been of a strong pillar of support and the classy actress, Sania Saeed did full justice in portraying her as an ideal life-partner on-screen. Nimra Bucha on the other hand was intense and expressive as Manto's alter ego.
Music is another highlight of the film where the compositions aptly jammed with the story and the songs were intense and captivating.
The multifaceted Saba Qamar won everyone's applause as the glamorous Noor Jehan. She was great in adopting Madam's signature adaien and nakhre.
With great performances and an intriguing script, Manto is a great addition to our film industry's revival. In fact, Sarmad Khoosat has actually raised the bar with this quality production containing Manto's spirit in totality. Even though I have never read Manto before, after watching the film the urge to get a hold of his books has increased two fold.
Stars comments about the film