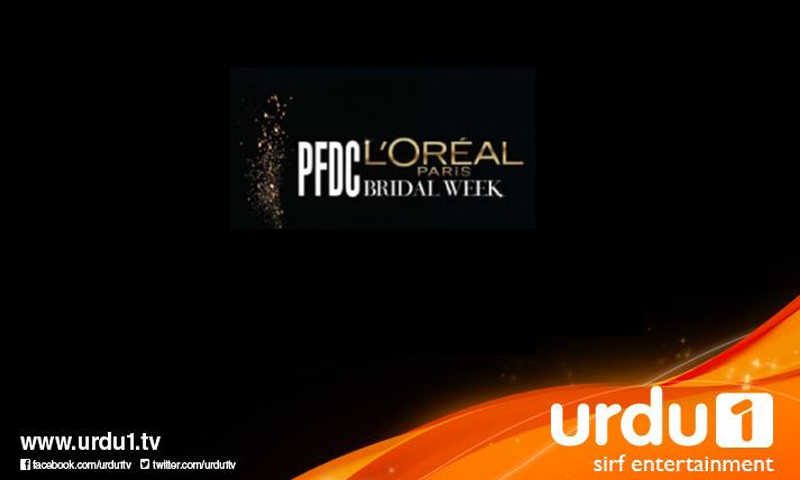 'Urdu 1' received the exclusive rights to promote PLBW, commencing from today

Urdu 1 has announced its collaboration with Pakistan Fashion Design Council (PFDC) and as part of the collaboration, the channel is now an official media partner of L'Oreal Paris Bridal Week (PLBW) 2015.
The bridal week is to commence from today and will continue until September 18th in Lahore. As an official media partner of the most anticipated fashion extravaganza, Urdu 1 has exclusive rights to promote PLBW 2015. The channel announced its collaboration with PLBW through its social media accounts (Facebook and Twitter) and is actively promoting the bridal fashion week.
PLBW is a platform set to define and present contemporary and traditional Pakistani Bridal fashion, while fusing hair and makeup trends to create looks for the upcoming bridal season of 2015-2016. Designers showcasing at PFDC L'Oréal Paris Bridal Week will represent a diversity of Pakistan's bridal aesthetics across 22 independent labels as full solo shows and capsule shows alike.
Previously the bridal weeks have been endorsed by other channels, but it's the first time Urdu 1 has officially partnered with PFDC to promote PLBW. Urdu 1 is relatively a new channel, but in a very short span of time the channel has managed to carve out its own niche among the audience with the help of its unique and different content.
Take a look at the red carpet pics of PLBW 2015, an Urdu 1 sponsored event:
Ali Xeeshan
Amna Baber
Mehreen Syed
Sara Shahid
The red carpet host for Urdu 1 - Natty