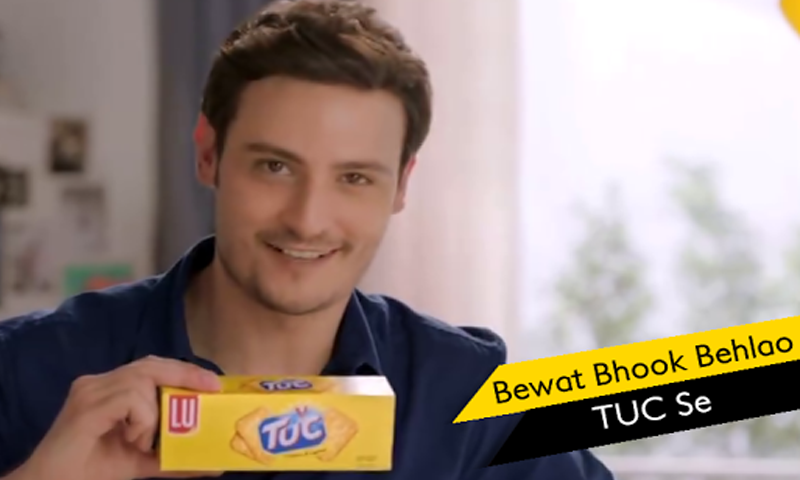 Osman Khalid Butt steals the show with the way he reads his copy in the advertisement

TUC recently released its two new TVCs featuring Osman Khalid Butt and Ushna Shah. The advertisement was released in two parts the first of the TVC features Osman Khalid Butt and the second part has Ushna Shah. Both the celebrities are telling how they deal with their sudden cravings and the answer is obviously TUC.
The basic idea of the TVC is same; however, featured celebrities and copy is different. The advertisement that features Osman Khalid Butt shows him working on a table and then he starts conversing with himself ranting about how annoying sudden cravings can be, but as long as TUC is there these cravings are not hard to handle. The fun part of the advertisement that makes this TVC interesting, is the way Butt converse with himself gives an impression that he is talking about a girl and reveals in the end of his copy that its sudden hunger shooting pain that keeps him restless.
The copy and theme is same for the second part of the advertisement starring Ushna Shah; whereas the settings of the advertisement is entirely different. Butt's part is shot in a room showing him working on a table and the second part of the advertisement is shot in kitchen showing Ushna coming back from grocery.
Both Shah and Butt are reading the same copy in the advert, but its worth mentioning that the way Butt has delivered the message is far better than Shah. Butt delivers each sentence of his copy with perfection and by truly feeling the true essence of the copy. On the other hand, shah's look a little carried away and exuding a tad more excitement than required. The background score of the advertisement is same "halki phulki bhook main halka phulka TUC" with same sweet tunes.
Overall the new TVC of TUC are simple, cool, and delivers its message effectively but we think that it's high time that the brand should introduce some new concepts. Merely changing celebrities and altering the copy of the advertisement have become so monotonous.