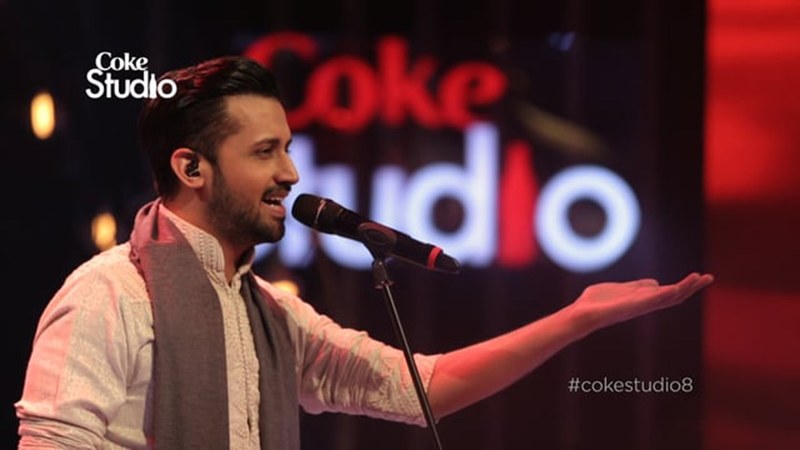 'Tajdar-e-Haram' by Atif Aslam is the number one HIP pick from season 8 of Coke Studio

Coke Studio is a Pakistani music television series which features live studio-recorded music performances by various artists. This program has eight seasons till date and every venture gets better than the previous one. Rohail Hyatt had produced the show till Season six but the last two seasons were produced by the Pakistani band Strings.
Every episode of Coke Studio has four songs each and here are the top 5 HIP picks from Season 8:
1. Tajdar-e-Haram by Atif Aslam
Atif Aslam is known for his melodious voice, but this qawwali took him to another level. This song has some beautiful lyrics which would mend your heart and give you goosebumps while you are listening to it. Amjad Sabri, the original qawwal of the song, praised Atif Aslam for his performance.
'Tajdar-e-Haram' is not a fun or upbeat song; its more on the subtle side but will stay in your favorites for some time. Even if you don't like qawwalis, you are sure to enjoy this one. The chorus 'Aao madine chalen' is the most addictive part and it stays in your mind from the first time you listen to it.
2. Rockstar by Ali Zafar
Every Pakistani was drooling over 'Rockstar' since the time it got released and Ali Zafar just added to it with his performance on the stage. Without a doubt, Ali Zafar is a rock star himself and giving a performance like this wowed the viewers. The song 'Rockstar' is rocking! Celebrities and people from all around the world went gaga over it including Bollywood's Hrithik Roshan, who took to twitter to express how mesmerized he was after listening to 'Rockstar'.
The song starts on a low base, but when he took to the stage and held the mike, we saw the true rock star in him. It simply blew the minds of his fans and music lovers.
3. Sammi Meri Waar by Umair Jaswal and Quratulain Balouch
Umair Jaswal has a tremendous voice, but at times his pitch gets to the ear buds. This collaboration caused a huge debate on social media and Umair Jaswal even received hate mail from all around the world. However, that collaboration is why the song worked and made it to our top 5.
The song received two million views in the first two weeks, which was more than Ali Zafar's 'Rockstar'. Umair has never sang such a song, 'Sammi Meri Waar' is more of a shaadi song and both the artists did a great job.
4. Man Aamadeh Am by Gul Panrra and Atif Aslam
This is a pure romantic track and has Persian lyrics, which makes it soulfully peaceful. To know the actual meaning of the song visit the link click here or ask your friends who know Persian to explain the song. Man Aamadeh Am translates into 'I have come'. The love song is mixed with a little sadness and more tranquility.
5. Jiya Karay by Ali Haider and Sara Raza Khan
Pakistani pop legend Ali Haider made his debut on Coke Studio with this song. In season eight, Ali Haider was seen along with Sara Raza Khan and they shared a great sync with each other which was prominent in their upbeat track 'Jiya Karay.' The track turned out to be a jolly and lively one, which is why it made it to our top 5.
So here you have it; HIP's top 5 Coke Studio, season 8 picks.