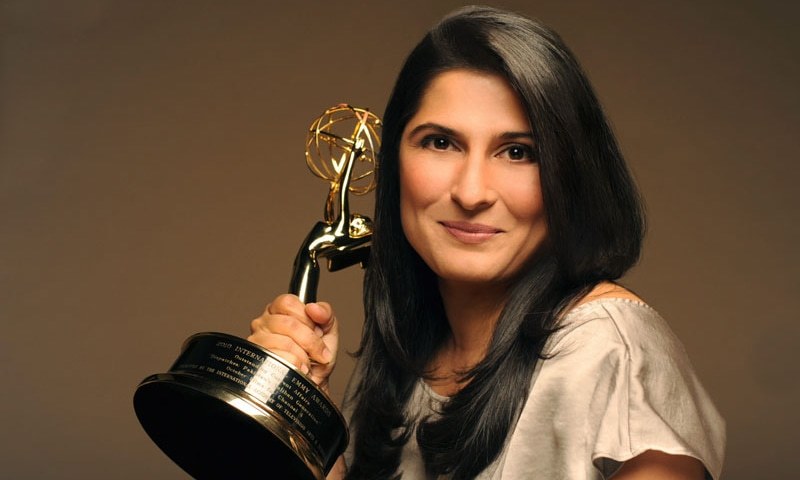 "My documentaries aim to facilitate change in the lives of those who are in the same circumstances," says Chinoy

Sharmeen Obaid Chinoy is a name synonymous with not just women's rights, but also human rights. She is a Pakistani journalist and documentary filmmaker who won an Academy Award for her documentary Saving Face in 2012 and became the first Pakistani to win an Oscar. She also won an Emmy for her documentary Pakistan: Children of the Taliban in 2010 and is also the first non-American to win the Livingston Award for Young Journalists.
From documentaries, she forayed into film making and under ARY Films banner, directed 3 Bahaddur, Pakistan's first feature-length animated movie. The movie released earlier this year and was a huge hit in the country; clearly anything she touches, turns to gold. Recently we caught up with her to see what she was up to these days.
Read on to see what she has to say:
What made you get into films and documentaries?
My interest in documentary filmmaking and narrative based story telling was sparked in 2011, when the tragic events of September 11th shifted the world's focus to Afghanistan and Pakistan. I was a print journalist at that time, and had had the privilege of growing up in Karachi, and being educated in the United States. As someone who could successfully understand both worlds, I thought that I could play a constructive role in relaying information from the East to the West. Documentary filmmaking was an organic shift in terms of the content that I was trying to capture; film has a way of bridging differences and providing visceral accounts of situations that may seem foreign or unimaginable in print.
Shortly thereafter, I made my first film, 'Terror's Children', which was about Afghan refugee children living in Karachi. That experience taught me that there is always more to the story than what makes it to the evening news, or what graces our headlines the next day, and that those stories are the ones that need to be explored in order for us to understand conflict as a social and real thing, rather than an abstract idea. This sentiment has guided my career as a filmmaker, and has established a theme of sorts; I go after stories that give a voice to those that are not usually given the opportunity to speak for themselves.
How does it feel to be the first Pakistani (that too a woman) to win an Oscar?
Winning the Oscar was an indescribable moment in my career. It was the stuff that dreams are made of. It was a testament to my long-held belief that if you work hard and strive for excellence, the world will appreciate your product and your efforts will be recognized.
You were also on Time Magazine's top 100 most influential women; thoughts on that?
It was a privilege and an honour to be featured on such a prestigious list. Angelina Jolie wrote an article about my work for Time magazine's 100 most influential people in 2012. I was honoured to learn that she had watched Saving Face and dared "anyone to watch this film and not be moved to tears and inspired into action."
Why did you make Saving Face? What were you trying to accomplish?
The aim of my documentaries is to facilitate change in the lives of those who are in the same circumstances as my subject. Saving Face was shot over a year, in which we explored the lives of Zakia and Rukhsana, two survivors of acid violence who were in the pursuit of justice for the crimes committed against them. During this year, we witnessed remarkable developments in their lives, from Zakia winning the court case against her husband, to Rukhsana giving birth, to the passing of historic legislation that increased the punishment awarded to perpetrators of such violence. Shooting the film was equally invigorating and severe; the realities of acid violence were undeniable, yet the resolve of the survivors was heartening to see.
I believe that film can be a powerful tool to convey complex and difficult problems in a way that prompts dialogue and empathy. My aim is to produce content that pushes people to look at the world more critically, thereby creating an environment for social change and development.
How hard was it to make such a documentary?
During the shooting of Saving Face, there were many times when I felt overwhelmed and disheartened by the atrocities around us, but I found hope in my subjects. I was inspired by the stories of survivors and it instilled me with a sense of purpose.
Do you feel a responsibility in making such documentaries?
As an investigative journalist, I feel that it is my duty to address issues that people do not want to discuss. I've always been interested in topics about human rights and women's issues that many people find controversial. I choose to film subjects that spark difficult conversations and make people uncomfortable. Change only comes about when people are forced to discuss an issue, and that's what I hope my films do by highlighting the issue.
Where do you think Pakistani cinema is going these days?
The Pakistani film industry is slowly beginning to stand on its own two feet again. Filmmakers are experimenting with style and form and we are slowly starting to carve out a place for ourselves in the international sphere. This year, we have seen the release of over 10 Pakistani films – that's twice as many from the previous year - so the resurgence of cinema is occurring at a rapid rate. Pakistan is a country of 180 million people, and the resurgence of its film industry is catering to growing demands for quality entertainment.
What do they need to do compete internationally?
An enticing script, good cinematography and authentic acting!
Going from documentaries to 3 Bahadur, was a complete shift, why did you decide to do that?
For me, the shift from documentaries to fiction film has been a very challenging yet rewarding experience. I have wanted to do something for the children of Pakistan for a long time but when we started the project 3 years ago, we weren't sure how the material would be received. In a world of Dora's, Ben 10's and Chota Bheems, the fact that we have given our children local mentors and heroes is one of our proudest accomplishments.
What's next?
I recently released two documentary films this year: A Thousand Mile Journey: Peacekeepers, a film about Bangladeshi policewomen who are serving as peace-keeping forces in Haiti with the UN, and The Price of Forgiveness: A Girl in the River, a film about one girl's journey to forgiveness after her father tried to kill her in the name of honour. I am also working on 3 Bahadur Part 2 which we will hopefully release next year.
As a Pakistani woman in are there any hindrances you face in Pakistan or the US?
People are surprised when I tell them that being a woman in this field is overwhelmingly an asset in my field more than it is a hindrance. I am alive today because I am a woman. I believe that I am viewed as weaker, and thus less threatening as compared to a male journalist. I also am able to work in communities that observe strict division based on gender, as I am able to speak with and film women.
What do you want to accomplish? What is your ultimate goal?
Ultimately, I am a storyteller – and I will keep telling stories that do not fit with the current narrative, the stories that often remain untold. My films force viewers to focus on the forgotten and give a voice to the voiceless.
What would you like to say to young woman wanting to do the same?
My advice to young female directors would be to pay no heed to naysayers; don't wait for an opportunity to open up, instead be proactive. Use whatever resources are available to you and continue to practice and persevere. Whether it is using your cell phone instead of a fancy camera, or submitting a short film to a local festival, do the best with what you have. Spend time learning and perfecting your craft, and don't let your ego get the best of you.