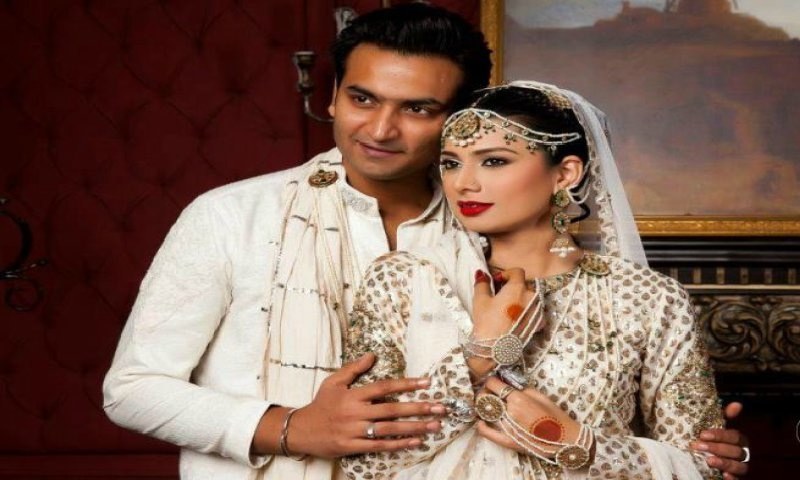 As per the couple, the craziest thing they ever did was plan their wedding and get married, all within 20 days

One of the newest segments in HIP interviews is the 'Hip for Each Other.' We ask 10 questions to the hip and happening couples of our industry for our readers to enjoy.
For our first 'Hip for Each Other' we picked the extremely beautiful Fia Khan and her extremely talented husband, Qasim Ali Mureed. Fia Khan is a power house of talent being a model and an actor. Her 'LSA 2015' performance on Rahet Fateh Ali Khan's song is one of the most talked about performances of the night, even three days after the event.
Qasim Ali Mureed is one of the best photographers in our industry, having huge projects credited to him like Pyare Afzal, Khuda Zameen se Gaya Nahi, and the first drama ever to be televised on the Indian channel Star Plus, Mera Naam Yousuf Hai.
Take a look at what this couple had to say:
1. Where and how did you meet?
Fia: May 2009 at a drama shoot.
Qasim: We met on a drama shoot on the 24th May 2009 in Jehlum.
2. How long have you been together?
Fia: Almost 5 years
Qasim: it's been good 5years
3. What do you call your partner?
Fia: Shakar pakre or sometimes with his full name :)
Qasim: I love her real name Sofia, but sometimes I call her Shakre, Fifu, and my favourite is Malika e Aliya and Jaan e Jahan
4. What's the craziest thing you have ever done for him/her?
Fia: Getting married within 20 days
Qasim: Crazy moments are an every day thing in our lives. But the most craziest was when we planned our wedding in 20 days. Those 20 days were a roller coaster ride for us.
5. Who gets up first in the morning?
Fia: Mostly him
Qasim: Whomever has work early. Most of the time it is me.
6. What's the best gift you have ever given to him/her?
Fia: A Tagheuer watch
Qasim: On December 29, 2010, which was on her birthday, I gave her a ring.
7. What is the one thing that annoys you most about him/her?
Fia: You can try and wake him up as much as you want but he sells his horses and sleeps ;)
Qasim: She is very blunt, straight forward, and sometimes just like an Alpha women
8. Who makes up first when you guys have arguments?
Depends on who's fault it was. In any fight though it's difficult as we both are quiet strong headed people .
9. Favorite performance of your partner?
Fia: He is an excellent DOP no doubt about it. As everyone knows he is very famous for his lights. All of his dramas speak for themselves, but my favorite is Khuda Zameen se Gaya Nahi, Maine Quaid Ko Dekha Hai, and the sensational Mera Naam Yousaf Hai, which is the very first Pakistani drama televised on the Indian channel Star Plus.
Qasim: I love all of her performances, but her classic performance in 'Bridal Couture Week' was phenomenal and how can I forget the 'LSA 2015' performance which just happened few days back?
10. Three words to describe your partner?
Fia: Tall dark handsome ;)
Qasim: I think she knows all the trades of living, but three qualities I like the most of about her are that she is strong, supporting, and a caring person.
Here you go guys; Fia Khan and Qasim Ali Mureed in 'Hip for Each Other.' Let us know what you think and if we missed any questions, or if you want to know something more about your favorite celebrity couples, let us know!