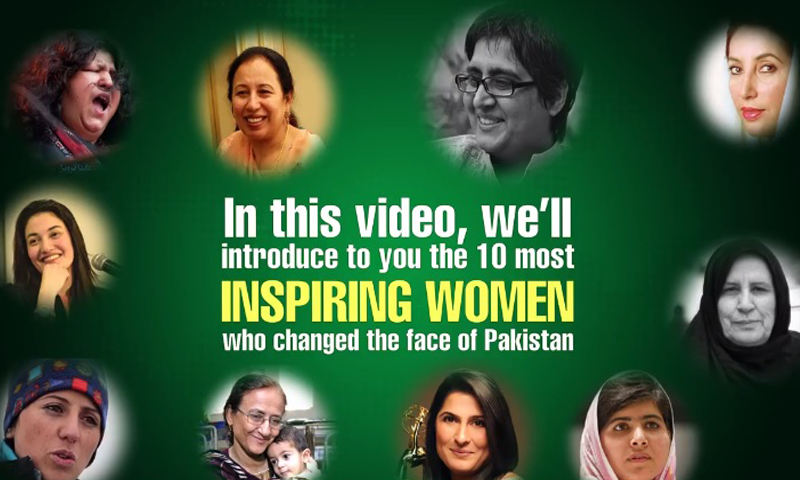 With a video presentation, Khaleej Times portrays a positive picture of Pakistan

In our country, there is no shortage of smart, talented, and strong women who are thriving and making ways to go ahead. But, there are a number of women who have not only changed their lives but they have also created a strong mark of their talent and potential all over the world. Such women are surely an asset for Pakistan to project a very strong and positive image.
Recently Khaleej Times, a daily English newspaper published in United Arab Emirates paid tribute to our feminist heroes. They made a video presentation, that enlist 10 most inspiring women of Pakistan and shared it on their Facebook page. Through this video they paid tribute to all the inspiring women of Pakistan who have had, and who are continuously striving through their lives, to bring change and to do some meaningful work.
The 10 inspiring women that are highlighted in this video include:
Malala Yousufzai
Abida Parveen
Sharmeen Obaid Chinoy
Samina Baig
Benazir Bhutto
Bilquis Edhi
Muniba Mazari
Zahida Kazmi
Sabeen Mehmud
Tahira Qazi
The video is a slideshow that introduces above listed women one after another and states their claim for fame. The slideshow is designed with green color as its background which is a color that signifies our nation. With a soothing music in the background, people are introduced to these inspiring women and how they have changed their lives and how they are still making waves.
Just after this video, Khaleej Times also made another video that talks about top 10 women in sports from Pakistan. This is indeed a great effort by Khaleej Times, since a huge portion of UAE's population comprises of Pakistani expats. Indeed we need more such efforts to project a real and a positive face of our country.