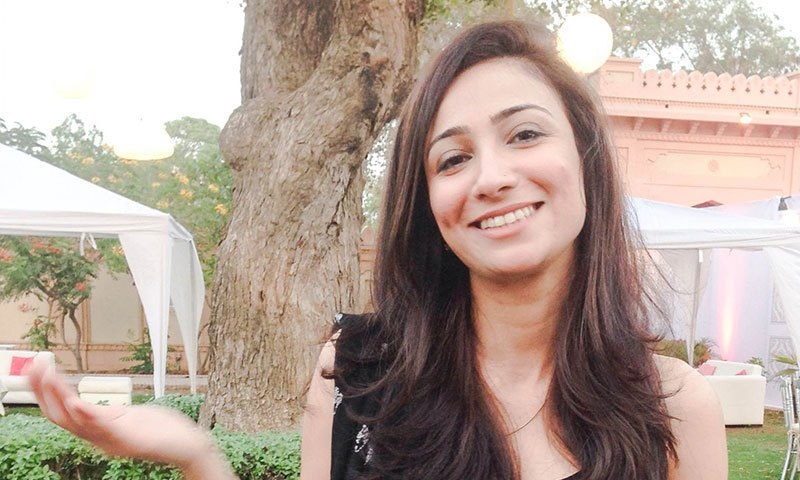 "People were hospitable and very welcoming when they were told we were from Pakistan," says Anoushey Ashraf

Anoushey Ashraf was the first female Video Jockey of the country and the face of MTV when it launched in Pakistan. From modeling, acting, hosting, radio, and producing, she has done it all. She is the face of the younger generation and she puts her heart and soul into everything she does.
Recently Anoushey Ashraf was in Delhi, India to host a show and she gave us some highlights of the trip.
Where did you choose to go and why?
I went to Delhi. Let's just say I didn't choose this trip but the trip chose me rather! :) it was to host a show for the Pakistan High Commission under Shaane Pakistan's banner showcasing Pakistani talent across be border.
Who do you like to travel with?
I love traveling with at least one other person who should be a good friend. The idea is to meet other people, locals, while you travel so you get a taste of the real deal. Traveling with too many people can also be troublesome with coordination etc
What five things did you pack for the trip?
My top five things include nice shades, cause they make for better pictures, a pair of comfortable walking shoes, sun block, a good book, and an iPod stored with your favourite playlist make great traveling companions!
What are the best shopping spots there?
I loved Khan Market, an upmarket, hippie-esque place where you get some really cool jewelry and food! Chandi chowk for cheap sari's, fabric, bangles and khussas, but also its like saddar multiplied by 9. Hardcore. Janpat is another place that's remained a favourite for many many years for ethnic goodies that make for fun presents and souvenirs!
Items you purchased during your trip?
A lovely lovely chicken kari sari. Ethnic lotus bowls for my room and Lucknow 'haath' ki embroidery wali kurtis. Also some fun accessories from here and there!
What was your favorite meal/restaurant?
We loved the vegetarian food at Haldirams. Once again, would recommend going local and trying all the thali's, dossas, idlis and Sambar you possibly can. That's all I had. Also, another must try is the palak chaat at Khan market. Am drooling just thinking about it
Tell us about the sites that no one visiting Delhi should miss out on?
Delhi is like a big big version of Lahore. They too have a lovely fort 'Lal Qila' as their claim to fame. The Jama masjid is a beautiful place to go and see. Also some big temples and Gurdwaras if you're into sights, sounds and history! My favourite drive is past the Rashtrapati bhavan when it's lit up at night, quite nice! The metro isn't a sight to visit, but a fun experience too!
What places would you suggest for a perfect night out?
Delhi is amazing in terms of the variety of food available to satisfy every palette! I went out of my way to explore the vegetarian food in the city and found it all over the place. But a couple of 'fancy' nights out and we ended up at a place called the tower at Khan market which was lovely and another restaurant called 'The Olive.' Lovely lovely lovely!
What can you do there to relax and unwind?
Our hotel had a lovely spa where we all got ample foot and body scrubs/massages. It's a hectic city like most cities in our part of the world, lots of traffic too so I'd suggest a good massage and a dip in the pool before heading out for a hectic, but absolutely fun day of shopping
What was your most memorable/favorite moment?
We were invited to a dinner at a very lovely lady's house. She served us a 13 course desi meal, gastronomic wonders from heaven, literally. Mini Bindra had a lovely place where she invited us all and it was a night full of fun, laughter, conversations and great food!! Perfect. Another memorable moment was to be able to represent Pakistan in India. Hosting for a 1000 people at the Pakistan High Commission in Delhi and getting to talk about Pakistan in a positive environment in India was an honour and a definite highlight :)
Please tell us about your overall trip and experience.
I find both the countries very similar to be honest. Only that the women in India have the freedom to walk around the streets in a pair of jeans and ride their own scooters and rickshaws. People were hospitable and very welcoming when they were told we were from Pakistan. They speak the same language and eat similar food so overall, my experience was pleasant, but a lot like being home so I don't know if I'd want to visit over and over again only because I look for drastic changes when I travel.
Finally, any tips about the city?
Don't keep all your money on you at the same time just to be safe. Buy a sim at the airport as getting it out of the city is quite an issue. Get your money broken once or twice so you're charged less in taxes and get one taxi driver for your trip. Fix a daily rate and make him a friend; that way you're safer, know the guy, and they're at your disposable at all odd hours! Relax, smiles and enjoy your trip!!
And there you have it; a little glimpse into Anoushey Ashraf's trip to Delhi. Hope you are enjoying HIP's feature of Travel Diaries.